Italy has produced a potential world record wels catfish in the shape of this 250lb brute, hauled in by Roberto Godi.
The fish, which has been submitted to the IGFA for the 'All Tackle' category, took a bream livebait, fished on the River Po at Mantova.
The take resulted in a back breaking 45-minute tug of war, eventually won by Godi. The fish was weighed and released on a customized weighing tripod frame and weighing-mat designed to support the immense size of the wels, before being returned alive.
The exact weight claimed is 113.5kg (250.5lb) – beating the existing record landed by globetrotting big fish angler Jakub Wagner in February 2009.
Jakub's incredible international big fish exploits, including catching a different world record for the camera, can be viewed online by clicking the link below:
JAKUB WAGNER FISHING VIDEOS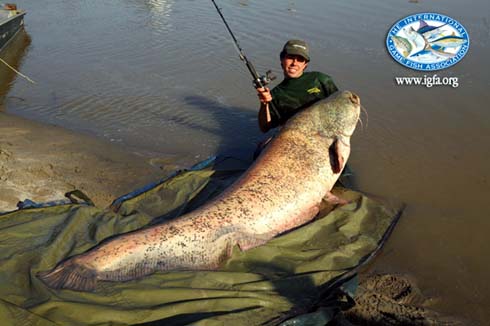 At over 250lb this catfish from the River Po in Italy is a potential world record.
Angler Profile:
Angler: Mr Roberto Godi
Captain: IGFA Captain Alberto Bartol
Catch Date: 02/05/2010
Place of Catch: River Po – Ostiglia, Mantova, Italy
Species: wels (Silurus glamis)
Weight: 250.3 lbs (113.5 kg)
Fight time: 45 minutes
Rod: Sportex Magnus
Reel: Shimano Cardiff A401
Bait: Breme