Ben Leach with a typical Bathampton tench.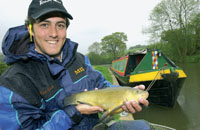 CRACKING fishing is not all about commercial waters. There are more traditional venues where shorter evening sessions can give great sport with quality fish.
The Kennet and Avon Canal is a typical example of a 'wild' water where you can cash in on some brilliant summer sport with a variety of species.
Bathampton Angling Associa-tion controls several miles of the venue from Bath to Limpley Stoke, but the stretch at Bathampton Bend? Well, that's just a 'cut' above – and former junior World Champion Ben Leach showed us why.
Ben fishes for the crack Daiwa Dorking squad, a team some regard as now the best in the country, but he lives in Bath, hundreds of miles away from the Surrey super team's base. And whenever he can, he heads off after work to the Bathampton Bend for some special summer-evening sport.
Bathampton Bend is just a short walk from the road bridge by The George public house. Here the cut widens out and while the swims in the bay are counted among the best the cut has to offer, Ben also rates highly any of the narrower swims leading up to it.
"They offer some cracking tench, bream, big hybrids and even the odd carp and 20lb is a realistic target – in high summer you could catch upwards of 50lb on the right day," enthused Ben.
The Milo-backed angler lives a few miles from the bend and you can actually see his house from the swims.
A few seasons back extensive dredging and maintenance work of the lower reaches of the canal saw the area dry and devoid of fish for a while. But the temporary loss of the quality sport was exactly that, and once the water was back to normal again the fishing came back better than ever. In fact, Ben rates the sport as 'excellent'.
Of course, like most canals in summer, holiday boat traffic can present a problem. But in truth it's not as bad as some would have you believe, and in fact the boats themselves are helpful in creating fish-holding areas, although Ben usually looks for more natural features.
"I like to fish swims where I can reach across with my pole and look for far-bank features," he said. "Most of these swims have a lot of natural bankside growth along the far side but several offer tree roots and overhanging branches that are definite fish-holding areas.
"You have to watch out for the moored boats too. Often, it's a case of fishing in between them, so your favourite far-bank feature might not be available to you. If you are pleasure fishing, look for a suitable alternative; there are several similar swims.
Ben put this catch together in a short summer evening session.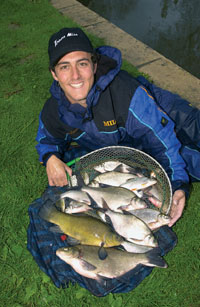 "Just because I like to fish to far-bank features, it doesn't mean that's all I will do," he continued.
"While it is the most likely area to catch the tench, and occasional carp in particular, to fish it exclusively could reduce your overall catch. It is better to feed it and leave it to attract a few fish and let them start to feed confidently before dropping in over there for the first time."
Ben explained that, on the Kennet and Avon, you need to have other options while you wait for the far-bank action to kick in. That's where the shorter lines come into play.
"I like to have two – one at about 10 to 12 metres towards the bottom of the far slope and the other at about five to six metres at the bottom of the near slope," said our ace."Bonus fish can come off these lines, especially bream and big hybrids around the 2lb to 3lb mark, which is probably due to the slightly deeper water found in these areas of the cut."
Contact: Dave Burnham, club general secretary, daveburnham@hotmail.com
Day tickets: Details from Dave Burnham.
Restrictions: For a full list of rules, see the website: www.bathampton.org . Maggots dyed with chrysoidine, auromine and rhodamine are banned. The use of bloodworm and joker is allowed from October 1st to June 15th. Open all year.
How to get there: Bathampton Angling Association waters on the canal commence at the confluence at Bath, uninterrupted for approximately five miles to Limpley Stoke road bridge. To visit the Bathampton Bend stretch take the main A36 Warminster Road out of Bath and after a couple of miles there is a left turn into Bathampton village. Take this turning and follow the road into the village until it crosses the canal, then turn immediately right into the lane in front of the village school. There are usually several parking places available along the lane.