For more than a century now, people across the globe have been enjoying the recreational sport of big-game fishing, lured by the thrill of tracking down giant fish that can be bigger than you are, from far-flung and sometimes remote locations. If you are yet to get on board, here's a handy guide to help get you started.
Freshwater Or Saltwater?
Big game fishing isn't just limited to targeting giant marlin in exotic saltwater destinations. There's also an ever-growing freshwater scene with peacock bass, arapaima, Nile perch, giant catfish, tiger fish and golden dorado all among the potential big game targets.
Afloat at sea and alongside billfish like the magnificent blue and black marlin you can expect to catch other tackle-busting species too, including tuna, tarpon, sharks of many kinds, wahoo, giant trevally — GT for short — kingfish, tarpon and sailfish all within saltwater scenes. If you want to know how big any of these species can grow, visit the International Game Fish Association website. They keep the all-tackle world record lists – www.igfa.org .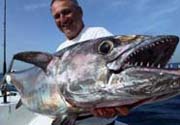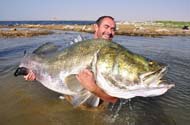 Big Game Fishing Tackle
Of course, you will find it hard to catch any of the fish mentioned above if you haven't got the correct equipment. Take the time to pick high-quality rods, lures and bullet proof reels and you will be one step closer to making the catch of a lifetime.
RodsWhen targeting fish that can be well over 100lb you simply cannot afford to use an inadequate rod. It will simply break and shatter under the strain. But personal preference plays a big part when it comes to choosing your rod for a big-game fishing jaunt, and there are those who prefer the properties of an all-graphite blank, some who still like the qualities of fibreglass and many who go for a composite of the two. All of them boast different properties of power, action and sensitivity and the key is to talk to an expert about where you are going and what you are targeting before parting with your cash.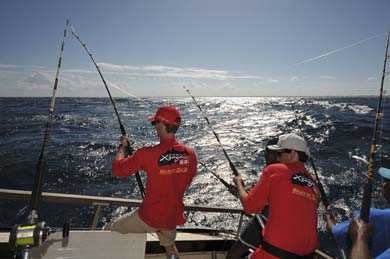 Big Game Fishing Lures
Your choice of lure will depend on a few scenarios, including the type and size of fish you are hoping to catch and the timing of your big-game fishing trip, plus whether you will be casting to fish, pirking or trolling behind a boat. Lures can float or sink, dive deep or dive shallow, rattle or splash but one key with big game fish is that the hooks, swivels and rings must be super, super strong.
Big game fish can be caught on the fly, including peacock bass and golden dorado in freshwater and sailfish in saltwater. Again though, hooks need to be super strong and sharp and you will often have to use a wire trace rather than a mono leader to prevent these sharp-toothed predators from simply biting through the line.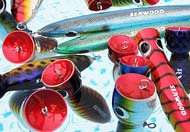 In terms of colours, it's sometimes said that light colours and metal sheens should be used on bright and sunny days, with dark tones and bright colours more suited to dull and cloudy days. But in fishing every day is different and it's good advice to listen to the local experts, but not to rule anything in or out.
Reels For Big Game Fishing
Buying your big-game fishing reel is something that you should not rush, as quality is very important with this vital piece of equipment. Many an under-gunned reel has literally exploded under the strain of a charging marlin or shark as the rod bends double and line peels off the reel's drag.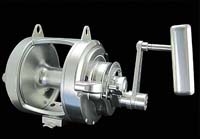 Opt for a budget reel made of low-quality materials and even if it does not 'explode' on you, do not be surprised to see the gear wearing and the reel becoming more and more difficult to use over a short period of time.
However, the problems become less common with high-quality reels as they often use multiple ball bearings to aid smoothness and longevity. Furthermore, if you order your reels from a specialised store like House of Bruar, you can choose from lightweight aluminium or stable platinum — great materials for handling the challenges of big-game fishing. Multiplier reels were the traditional fare of big game anglers and still are for many, but there are some high-quality fixed spool reels available these days for those who prefer them.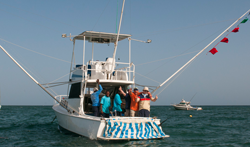 Big Game Fishing Destinations
If you have decided the type of big-game fishing you would like to pursue and have the right equipment ordered, you need to decide where you are going to enjoy the sport.
If you have the money for a fishing getaway, there are some countries that shouldn't be missed.
If peacock bass are your quarry, head to the Amazon where www.amazon-angler.com are the specialists in putting anglers on some fantastic fishing, particularly in Brazil. In Guyana they also run possibly the very best trip on the planet for a realistic chance of catching a wild arapaima, an awesome, prehistoric, air-breathing giant that can weigh over 300lb!!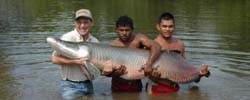 The Amazon is not a place to head for without an expert guide, but in Steve Townson Amazon-Angler have the most experienced European angler on the Amazon out there. Steve also heads up trips to the Argentina/Uruguay border at La Zona and Salte Grande – a destination which is currently providing the best fishing for golden dorado in history, and to Bolivia, where beautiful, big dorado can be caught in the foothills of the Andes on the fly. This stunning golden freshwater predator will smash a lure to pieces and grows to well over 60lb at La Zona – in fact the world record has been boated several times in the last 18 months there. The Amazon also holds some of the world's biggest catfish, including the daddy of them all, the Paraiba, which can reach 12 feet in length!
For big game fishing saltwater style the world is your oyster, although the sport was developed in places like California, Florida, The Bahamas, Australia, New Zealand and Hawaii, which all benefited from the presence of large numbers of game fish relatively close to shore, within range of the boats of that era. Now it's a cross-continental sport and with boats able to reach ever further from shore, more and bigger game fish have come within the angler's compass. Note that many species like marlin are seasonal and plenty of research will be needed before booking.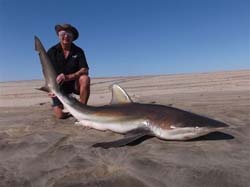 Although mainly done from boats and often using trolled lures, there is some big game fishing to be had from the shore. One example is Namibia's Skeleton Coast, where huge copper sharks can be landed on heavy gear from beautiful sandy beaches.
For tiger fish head to the Zambezi River in Africa. These stunning looking, toothy predators tend feed at last light and against a backdrop of hippos, lions and buffalo they make for an unforgettable target. If the huge Nile perch are your quarry, northern Africa is your destination with www.africa-angler.com one of the specialists.
There is so much more to go at, but at least with the Internet we have the perfect research tool. If you have any big game stories to tell us, use the comments form below….