The Meadows Fishery, Drayton Bassett, Staffs, B78 3SE
The Meadows Fishery gives anglers the rare opportunity fish for 'mint' un-caught carp in the beautiful Staffordshire countryside.

The fishery, now opened to a limited number of syndicate anglers for the first time, was farmland until it was quarried for gravel and sand over a decade ago.
The workings left five clear-water lakes, rich in natural food and ideal for angling, but although one of them was stocked with 80 carp in 2000, no fishing took place.
The nine-acre lake was stocked again in May 2009 with 800 mirror and common carp ranging from 8lb to 12lb, and another stocking took place in April 2010 of 80 big carp, from 14lb to 28lb.
However, only now is The Meadows Fishery at Drayton Bassett opening up to 250 syndicate members willing to pay £250 for the year.
The secluded lake is awash with features, with deep margins and several clearly-visible gravel bars to fish to.
The end near the car park is about nine feet deep, and it shallows gradually up to about four feet at the far end.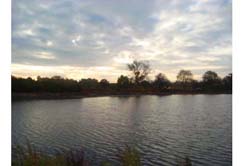 The food-rich, crystal clear water has seen the carp at The Meadows Fishery grow rapidly.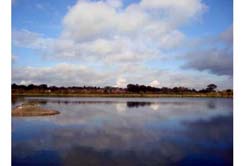 There are plenty of bars and features to fish to…. and the fish are in pristine condition.
At the time of writing the only person to test fish The Meadows Fishery has been bailiff Dave Newbould, who has been baiting up with barley and fishing plastic corn in conjunction with PVA bags of pellet or particles.
He reports the fish to be packing on the weight at the rate of 4-5lb per year.
"The carp are in absolutely mint condition," he says. "They have never been fished for, are super-healthy and at the moment are not wary of anglers, so are relatively easy to catch. I've caught plenty on the deck, but have also had them taking floaters and I expect the venue to produce some brilliant surface fishing in the warmer months."
If you are looking for some superb, untapped carp fishing near Tamworth, there can be few if any better options than The Meadows Fishery.
Venue Fact File
The Meadows Fishery, Drayton Bassett, Staffs, B78 3SE

How To Get There: From junction 9 on the M42 Drayton Manor turning (B4091), head towards Drayton Manor Park. Drive past the entrance to the park on your left, and 200 yards later after some houses on the left, turn right into  small driveway/lane. Drive down here past fields and you will come to the fishery and the gates to the fishery car park.
Facililties: Parking. Toilet on site.
Rules: The fishery gate must be kept locked at all times. No driving behind your pegs. Night fishing is allowed by prior arrangement but otherwise fishing is from 6.30am to 9pm in the summer, 8,30am to 4.30pm in the winter. Anglers must carry and EA licence and tickets are NOT transferrable. No more than 15 syndicate members are allowed on the fishery at any one time. No fishing from April 1st to May 1st for fishery maintenance purposes.  Keepnets and sacks are banned and you are not allowed to use line under 10lb breaking strain. Pre-baiting and bait boats are banned.
Membership: Fishing is on a syndicate basis only, limited to 50 members. There are no day tickets. The season runs from April 1st March 31st.
Contact: Dave Newbould, bailiff, 07527391236
Website: http://www.themeadowsfishery.co.uk/
Email: themeadowsfishery@hotmail.co.uk
---