Bob Nudd and John Bailey are just two of the star anglers at the new Burghley House Game, Country and Angling Fair in which there's a £1,000 of cash prizes on offer to the anglers who they are the best caster at the show. The event takes place over Spring Bank Holiday May 3rd, 4th & 5th 2008.
Burghley is accustomed to running major events with its magnificent setting and rolling landscape. The 2008 fair includes a quality angling show offering superb practical demonstrations and tuition, guest appearances from top UK & European anglers including four times world champioin Bob Nudd (MBE) and author and tcf (Total Coarse Fishing) magazine regular writer John Bailey.
Other big names from angling include Micheal Evans, Carl Hutchinson, David Wolsoncroft-Dodds and carp legend Chris Ball.
All of whom will be on hand to give advise, demonstrations and tuition.
To find out more about the show, read on or CLICK HERE
The schedule includes daily casting and Spey casting competitions with trout distance, salmon distance and accuracy competitions, with a first prize of £1,000 on offer.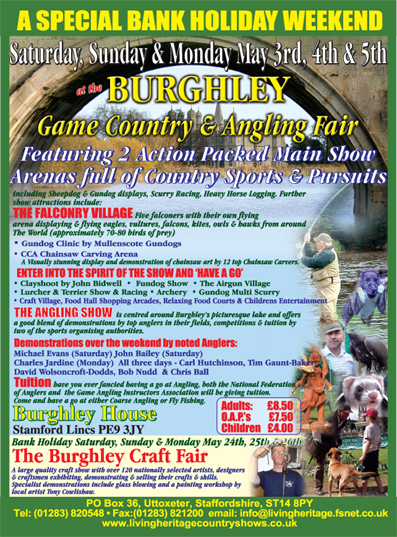 Organisers of the event, Living Heritage, the biggest regional Game & Country Fair organiser in the UK, is ancouraging enquiries from quality traders from Angling and Fishing (all areas) to exhibit at Burghley in 2008. Their shows have a proven track record spanning more than 20 years. Exhibitors will become part of the Angling Village And Fair experience and can contact Living heritage direct on www.livingheritagecountryshows.co.uk for further information and exhibitor details.
The Fishing Village includes a number of professional demonstrators, anglers and organisations such as the Salmon & Trout Association, the NFA (National Federation of Anglers) and game angling instructors.
The event is a great family day out and offers an unparalleled country shopping experience and many country' past times to explore as well. Two action-packed main show arenas full of country sports and pursuits, beautiful country crafts, endless speciality food & country store shopping take centre stage.
Those interested in finding out more about country life will revel in the arenas providing all-day entertainment and featuring gundog displays, heavy horse logging, sheepdog displays, mounted games, deer stalking, long netting and decoys, national and regional heats for scurry driving championships, falconry displays and superb side–saddle riding, plus more events on the day.
The world of the countryside comes to life for visitors with the chance to try out falconry, clay shooting and archery.
A major new attraction has been included at each Living Heritage fair throughout 2008 and is causing quite a stir.
The Falconry Village has over 80 of the world's rarest and most beautiful birds of prey appearing together in indoor and outdoor arenas, creating the largest gathering of these beautiful creatures ever seen at a fair.
Food lovers can choose from a sumptuous array of regional countryside and farm produce with the inclusion of a food hall at the show ground. Succulent sausages, cheeses and home – made delectable's are just some of the tasty treats on offer.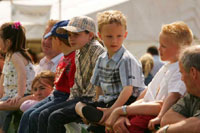 A fabulous family day out is in store with stacks for the kids to enjoy.
In addition, the Burghley Game, Country & Angling Fair offers a wide variety of dog competitions and challenges for the family pet including agility classes, 'Chase the Bunny' and a fun dog competition, where visitors can enter their own canine marvels. So bring the family pet for a chance to win ' Fastest Bonio Eater' 'Best 6 legs', 'Loveliest eyes', 'Best rescue dog' or even 'Dog and Owner look alike'.
Children's enjoyment is never left to chance with special fun and games planned just for them. It's fun for all with the Fur and feather marquee, carousels, simulators, climbing walls, pony rides, puppet making and face painting to enjoy.
Mark Hulme from organisers Living Heritage is looking forward to the major new event in 2008 and said: "Burghley is world famous for world class events. Visitors to the Burghley Game, Country & Angling Fair can expect an exceptional day out with the best in everything the countryside has to offer.
"There is a tremendous opportunity to develop a top quality angling show, within the framework of our successful Game & Country Fairs. We hope the 2008 fair will prove popular with visitors and locals alike and we hope the 2008 fair will be the first of many."
Other events include:
Chainsaw art – country clothing and specialist gear stands – craft stands -ferret racing – steam Carousel – dog obedience – fur and feather– Archery – Ferret demonstrations– puppet shows – steam carousel – Juggling workshops
Show venue and dates:
Burghley Game, Country & Angling Fair
Burghley House, Burghley, Lincolnshire, PE9 3JY
10.00am – 6.00pm Daily
Adults £8.50 concessions £7.50 children £4.00
Website: http://www.craft-show.co.uk/othershows/Burghley_Angling_Fair