The Angling Lines venue Laroussi starts every year with a bang… and this year's been no exception with a rake of big fish captures topped by the new lake record mirror "Big Cheeks" at 70lb 2oz.
The monster mirror was caught by Jason Baker from Exeter on April 1st – and it certainly wasn't an April fool's joke. He was fishing "La Pointe" swim and placed a birdfood boilie 10m from the far bank in 3m of water.
Jason takes up the story;
"At 5.30am I had a slow take which then developed into a one toner. I pulled into it and the fish shot off around 50m down the lake. The fight was slow & ponderous until it saw our headlights when it went mental! However, after a few scares she slipped into the net. Once on the scales I couldn't believe it… the needle was bouncing between 70 & 71lb but after much checking we can definitely say it weighed in at 70lb 2oz. I was one happy chap!
"The previous 3 nights, I had been using my Korda throwing stick to get 3 or 4kg of boilies out to my mark on the far margin but on the Monday I hired Mehdi's baitboat and dropped 10kg of parti blend, plus 4mm trout pellets with a squirt of Mainline hempseed oil and a few boilies matched to the hookbait. The rest as they say is history.
"In Devon, my PB was a 25.04 from syndicate water near Exeter but that pales into insignificance compared to this beauty."
This wasn't the only big fish in the week as there were further mirrors of 52lb (bringing the known total to 10 different 50's) and 49lb plus a fantastic common of 44lb to Samantha Collins.
For more information on Laroussi call Angling Lines on 08712 004466 or visit www.anglinglines.com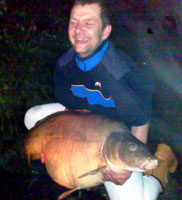 The best picture of the '72' to Jason Baker.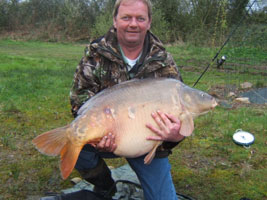 A '52-pounder in the same week.