Sunday 29th Aug 2010 open/league Lookout Horrendous gusts of wind 44 mph!
Conditions: Torrential Rain at start, then Partly Cloudy and rain through match, ambient temp 13 deg, wind at start W 16 mph then swung N 22mph with gusts to 44mph!!!!!!!!, humidity 88%, barometer 1009.1 mb, moon phase waning crescent, DO 8.7 ppm, Water temp 14.2 deg, PH 8.3, MV 76. One very windy day hard work!!!
1st Chris Owers 43lb 6oz peg 9
2nd Tommy Marshall 42lb 15oz peg 4
3rd Neil Brown 42lb 2oz peg 1
4th Paul Jackson 35lb 3oz peg 15
5th Tony Watson 34lb 4oz peg 3
6th Ray Wallace 30lb 15oz peg 31
Wed day time 25th Aug 2010 open Bowes
Conditions:- Fair, ambient temp 14 deg, humidity 77%, Wind WNW 7mph, barometer 1011.9 mb, moon phase Full, water temp 14.3 deg, PH 7.97, DO 7.4 deg, MV56
1st Alan Mc Guire 90.00lb peg 40 all on pellet waggler and angel 10mm pellets
2nd Dave Pearson 64lb 7oz peg 37
3rd Ricky Bennett 58lb 12oz peg 22
4th Derek Fox 49lb 12oz peg 12
5th One 46lb 3oz peg 24
6th Ray Wallace 34lb 15oz peg 34

General
Fish are feeding up very strongly as though they know autumn is on the way. Fishing tight to margins or out against the island is producing very well, so is 11meters out, some stunning carp coming out and giving great sport fighting well, all species feeding up well, in margins at 3ft of first shelf, or 6 foot of second shelf, 11 meters out, up in the water or dead bottom, make sure you use watercraft to choose pegs and then decide what method you are going to choose to fish.
Best baits on the hook have been angel banded 10mm pellets, expander pellets, soft hooker pellets, maggots, casters, worm, mussel, sweet corn and paste (try making paste out of angels 3mm pellets works a treat,), for feed chop worm and caster, maggots, angel feed pellets, or soak angel feed pellets with some groundbait.

Bowes
All species are feeding up very well,, some stunning carp coming out and giving great sport fighting well, Large numbers of big bream out to 11lb 2oz, Ide approx 1.5lb coming out also in good numbers, tench, golden tench, rudd, roach skimmers, Orfe, all catching,
Email received-
'hello ann, another excellent days fishing on Thursday ,, just wondering is this a golden tench what my son caught on Bowes,, thanx ,,, we had about 60 fish between us in a full day all on cage feeder and 10mmm angel pellet, carp , bream, skimmers, roach, and the golden tench' Andrew Marshall
Pegs 3 & 23 cast to the aerator tight in to it, peg 1 fish to your right or to the island, peg 40 fish out or to your left, corner pegs are very productive close in, careful of the monsters they love the corners and boy do they go when caught, pegs facing the islands bomb or feeder out tight to reeds and high up as close as you can get.,
Alan Mc Guire caught 90lb in Wednesdays match and lost more than these by the fish spitting the hooks at the net.

Lookout
Is producing some quality fish as well as quantities, getting the methods and feed patterns correct will get you some good fish and some great numbers of fish. For carp,& tench, fish tight in margins, for silvers fish of the 2nd shelf at 6 ft depth or up in the water for rudd, skimmers and bream are close in about 8 meters out dead bottom, crucians tight in by reeds, Orfe, ide , perch, roach about 11 meters out. Jon Ruddic from Cumbria together had a great day with over 150 fish caught, comprising, rudd, skimmers, tench, carp, crucians, orfe and ide. His best fish was a 7lb carp and he caught his first golden orfe.

Bassetts
Fishing very well with some amazing carp out, lots of crucians, tench and silvers, great maggot, paste and soft hooker pond, feed 3mm angel pellets for great results. Young Luke Foster 12 yrs old on a one hour coaching session caught over 20 fish from carp to silvers.

Angling coaching
Every Saturday morning at 9am till noon or block group sessions through the week.
…………………………..
Sunday 22nd Aug 2010 open/ League Lookout
Conditions: Partly cloudy, ambient temp 16 deg, humidity 77%, wind W 13mph, barometer 1018.9 mb, moon phase waxing gibbous, water temp rose to 16.5 deg, DO 7.5, PH 8.04, MV61
1st Peter Cairns 56lb 12oz peg 37 worm in margins to left of first shelf
2nd Jeff Webster 55lb peg 31
3rd Anth Richards 53lb 2oz peg 21
4th Chris Gowling 47lb 10oz peg 42
5th Tony Watson 44lb 7oz peg 2
6th Paul Jackson 43lb 5oz peg 27
Friday 20th Aug 2010 afternoon open 1pm draw Lookout
Conditions: Heavy overnight rain, and through match, with Partly cloudy, ambient temp 22 deg, humidity 94%, Wind SSW 9 mph, barometer 1005.1 mb, moon phase waxing gibbous, water temp rose to 15.5, DO 6.8, PH8.29, mv53
1st Chris Owers 76lb 14oz peg 23-pellet waggler with Angels 10mm pellet on hook & fed
2nd Tony Watson 59lb 13oz peg 2
3rd One 57lb 11oz peg 6
4th Ricky Bennett 55lb 9oz peg 1
5th Dave Catchyside 51lb 8oz peg 15
6th Ray Wallace 36lb 6oz peg 11
Wed eve 3 hour open 18th Aug 2010 Bowes Last eve match next week day match
Conditions: – Partly cloudy, ambient temp 14 deg, humidity 77%, wind W 12 mph, barometer 1004.1 mb low, moon phase waxing gibbous, DO 8.5, Temp 15.5 deg, PH 8.36, MV53
1st ONE 39lb 12oz peg 3
2nd Tony Watson 30lb 7oz peg 23
3rd Tony Robertson 28lb 15oz peg 9
4th Richard Lansbury 20lb 4oz peg 25
5th Dave Catchyside 18lb 14oz peg 40
6th Ricky Bennett 15lb 9oz peg 24
General
Swim feeders, Pellet wagglers, waggler, bomb and pole have been methods to catch this week, with some days catch rates have been very high and then when the rains came in torrents it switched the fish of as the rain dropped water temperature down 2 degrees, when the temperature rose again so did catch rates.
Every species is feeding up well with the shorter day light hours, it is important to get the feed patterns correct and the method of fishing to get good catch rates. Feeding a second and third swim so you have different areas to target fish have worked well, feeding up in the water for Rudd has produced some excellent catches. Margins up in the water both by peg and of far bank catching well and just of the second shelf dead bottom also doing well.
Lookout
Some cracking catches with Luke Bruce catching over 100 carp plus many may silvers in a seven-hour session all carp averaged 5lb all caught on Angel 10mm expander pellets.
Fridays match Chris Owers caught 76lb 14oz of carp on pellet waggler on peg 23, some excellent crucians coming out also tench, common carp, mirror carp, koi, ghosties, rudd, roach, ide, Orfe, perch, skimmers and good sized bream to 7lb 4oz.
Best baits, Hook: – 10mm angel pellet banded, worm, caster, maggot (multiples), paste, soft pellets, and cubes of luncheon meat.
Get feed patterns correct little and often very often.
Bowes
Make sure your tackle and end tackle are suitable for this lake, minimum 8 lb line and 6lb hook length and at least a 16 elastic, Be warned this week the carp are full of fight and several anglers have been ragged or snapped of, even having the pole or rod pulled out of your hands!!!! The fish are feeding well especially when the water temperature came up after all the rain, best carp weighed in was a mirror of 25lb 6oz and best Bream was 11lb 7oz, however tench, rudd, roach, ide, Orfe, crucians, and carp all feeding well and catching well.
Best baits, Hook: – 10mm angel pellet banded, worm, caster, maggot (multiples), paste, soft pellets, and cubes of luncheon meat.
Get feed patterns correct little and often very often.
Bassetts
Excellent catch rates with both pleasure anglers and students catching good numbers, don't go to light on tackle but 4lb line will get most fish in. carp to 4lb being caught as well as lots of 1.5 lb carp, Orfe best out this week was 3lb 2oz, ide, rudd, roach, tench, skimmers, crucians, gudgeon, all being caught up in water, in margins and of second shelf dead bottom.
Angling Coaching
Every Saturday 9am to noon or groups and one to one through the week please phone to book
…………………………………………………….
Sunday 15th Aug 2010 open/league Lookout

Conditions:- Foggy start to morning, Mostly Cloudy, ambient temp 15 deg, humidity 82%, wind NNW 5 mph, barometer 1026.1mb, moon phase waxing crescent, water temp dropped to 14 deg, DO 8.7, PH 8.63 (after rain bought in pollutants) MV72

1st Garath Malham (malman floats) 82lb 2oz peg 1 Cage feeder, worm caster 8meters, then paste
2nd Chris Owers 53lb 15oz peg 38
3rd Tony Watson 51lb 15oz peg 11
4th Richard Landsbury 50lb 13oz peg 7
5th Chris Gowling 50lb 3oz peg 38
6th Craig Thompson 41lb 8oz peg 2

Wed 11th Aug 2010 eve 3 hour open Bowes

Conditions:- Overnight rain then Partly Cloudy, ambient temp 18 deg, humidity 56%, wind W 18 mph, barometer 1008.1 mb, moon phase waxing crescent, water temp 16.6, DO 10. , PH 8.9, mv 87, started raining 5 mins from end.

1st Tony Watson 43lb 5oz peg 2
2nd Alan Mc Guire 40lb 5oz peg 4
3rd Neil Brown 37lb 1oz peg 23
4th Dave Pearson 29lb 12oz peg 40
5th Tony Robertson 25lb 6oz peg 16
6th Paul Tuff 19lb 6oz peg 24

Next Wed eve match is the last evening match then we revert back to Wed day matches
General

Fish are very aware of the shorter day light hours and feeding exceptionally well as they know Autumn is around the corner and feeding up for the winter ahead to get into prime condition.
Some great catches have been had by pleasure anglers who have got the feed patterns and choice of pegs as well as the choice of methods for example pellet waggler, feeder, bomb or pole and are targeting species specific.
Some excellent carp out best one again on fly was a 27lb 10oz common on Bowes. Koi and Ghosties and carp on Lookout as well as some big bags of silvers. Best tench out this week was on Lookout by young Johnny Heworth 14yrs old on Mussel on peg 38 a 8lb 3oz green male tench he also had two crucians one at 3lb 2oz and a 2lb 7oz as well as carp, and skimmers.

Lookout
Cracking fishing on this lake for silvers, carp, tench
Young Johnny Heworth 14yrs old on Mussel on peg 38 an 8lb 3oz green male tench he also had two crucians one at 3lb 2oz and a 2lb 7oz as well as carp, tench and skimmers.
At the moment it is very easy to target species specific with some big bags of rudd and golden rudd and Koi also Ghosties up in the water, Orfe, ide, good tench, skimmers, bream, carp and roach at dead bottom, whilst some good perch also coming out especially in the margins where crucians are also being caught.
All baits being taken on the hook but get your feed patterns of angel pellets correct to bag up.

Bowes
Quote from Andy Marshall by email Fished Friday 13th Aug 2010 on Bowes "after a half days fishing in torrential rain with my 11 year old son jack on pegs 21 and 22, he is finally hooked on fishing we caught 45 fish between us, jack catching about 25 of them with his p.b of a lovely 7lb mirror carp all caught on 10mm banded angel pellet to island, while I caught some lovely bream 6,7 and 8lb in the margins also on 10mm banded angel pellets, cant wait for next trip thanx.. andy and jack marshall…. washington "
Fishing very well with some fantastic catches on 10mm angel pellets banded, paste made from angels 3mm pellets also doing exceptionally well, especially tight in of the second shelf. Maggot, caster and chopped worm bring in some large catches and angels 10 mm expanders are now coming into there own as water temperatures cool down to 14 degs.
Luke Bruce on a session on Bowes caught 102 carp all on angels expander pellets and fed them as well.

Bassetts

With the end of National Fishing Month this pond has seen over 250 new anglers start to learn how to fish, its been a very productive pond with most new anglers catching double figures of fish.
With the winds this week lots of pleasure anglers who wanted a day out took to this pond as it is very sheltered and all were rewarded with great catches, best Orfe was a golden at 3lb 13oz and best carp out was 4lb 6oz.

Gary Middlemass in a 4-hour session caught over 80 fish all on paste made from angels 3mm feed pellets.
John Smith fishing peg 12 caught over 80 carp average of 1lb 8oz as well as silvers all on maggot.
Whilst Jordan Smith 12 yrs old from Langley Park caught 60 carp in a four and a half hour session on pellet, maggot and paste.

Angling Coaching
Continues on a Saturday morning or block bookings through the week.

………………………………………………………………………………………………………………………………………………………………………………………………………………………………………………………………………..
Sunday 8th Aug 2010 open Bowes

Conditions:- Partly Cloudy, ambient temp 15deg, humidity 77%, wind calm, barometer 1020 mb, moon phase waning crescent, water temp 16.4 deg, PH 8.64, DO 7.2, MV 71

1st Neil Brown 70lb 12oz peg 3 Conker with feeder to side of island
2nd Ricky Bennett 63lb 1oz peg 4
3rd Tony Watson 56lb 13oz peg 2
4th Ray Wallace 45lb 6oz peg 24
5th Chris Owers 42lb 13oz peg 21
6th Chris Gowling 40lb 14oz peg 40


Big Waters AC Sunday 8th Aug 2010 Lookout

Conditions:- Partly Cloudy, ambient temp 15deg, humidity 77%, wind calm, barometer 1020 mb, moon phase waning crescent, water temp 16.2 deg, PH 8.49, DO 7.6, MV 57

1st Barry Evans 55lb 9oz peg 42
2nd Nigel Beardsley 46lb 8oz peg 6
3rd John Mitchell 41lb 11oz peg 1
4th Tommy Smith 29lb 6oz peg 11
5th Phil Watts 26lb 6oz peg 12
6th Davy Job 22lb peg 5


Friday afternoon open Lookout 6th Aug 2010 open

Conditions:- Partly Cloudy, ambient temp 16 deg, humidity 68%, wind S 10mph, barometer 1009.1 mb, moon phase waning crescent, water temp 15,8, DO 8.95, PH 7.95, mv 45

1st ONE 93lb 6oz peg 1 (52lb 2oz silvers, 41lb 4oz carp) all on paste (angels 3mm) top 3
2nd Anth Richardson 66lb 8oz peg 24 (41lb 1oz silvers 25lb 7oz carp)
3rd Ray Wallace 55lb 2oz peg 25


Wednesday Eve 3 hours 4th Aug 2010 open Bowes Ton Up!!!! New match Record for Bowes

Conditions:- Partly Cloudy, ambient temp 15 deg, humidity 72%, wind WNW 8 mph, barometer 1005.1 mb, moon phase waning gibbous , water temp 16.4 deg, PH 8.37, DO 9 ppm, MV66

1st Tony Watson 124lb 10oz peg 3 (was 129lb 14oz but went over in 1 net)
2nd Dave Pearson 37lb 2oz Peg 10
3rd Norman Laing 36lb 13oz peg 23
4th Richard Lansbury 36lb 8oz peg 24
5th Neil Browwn 34lb 7oz peg 1
6th Alan Mc Guire 34lb 4oz peg 40

Well done Tony a good weight for a 3 hour match.
Tony Fished Pellet Waggler and angel 10mm pellets, lots of doubles carp being caught by several anglers but spitting the hook at the nets.


General
Another Ton Up and a match record achieved in 3 hours!!!!! On Bowes 129lb 14oz of Carp from peg 3 by Tony Watson on pellet waggler and Angels 10mm feed pellets banded to the aerator.
All lakes are fishing exceptionally well and fish are feeding up for the autumn ahead, you need to be on stronger elastic as well as stronger line as otherwise you will get snapped off, ragged all over or the hook straightened.

Some quality fish being caught on all lakes as well as quantity.
Paste is fishing well made from angels 3mm feed pellets, as well as 10mm angels feed pellet banded on to the hook, also working is the conker which is angels 10mm feed pellet banded then wrapped in paste made from angels 3mm feed pellets, worm and caster is bringing in bream and skimmers as well as perch, but silvers catching in great numbers as well.

Lookout
Fridays match produced by ONE a total catch of 93lb 6oz from peg 1 (52lb 2oz silvers, 41lb 4oz carp) all on paste (made from angels 3mm feed pellets) on top 3.
Fishing very well and great catches of silvers as well as carp, although carp feeding early and late in the day with season ticket holders coming around dawn and then dusk to get great catch rates.
Pellet, paste, maggot, worm, caster all catching well, sweetcorn is OK and luncheeon meat cubed is also doing well, try mussels for tench.


Bowes

Tony Watson 124lb 10oz peg 3 (was 129lb 14oz but went over in 1 net) caught carp on pellet waggler using Angel 10mm banded feed pellets in 3 hours on Wednesday night match which is a new match record. , So fishing excellently if you get the feed patterns and tactics correct on the day,
Fish still following wind if S or W so choose pegs accordingly.
Fly fishing for carp on a evening from 5pm to 8pm still catching well.


Bassetts
Great fishing again this week with pleasure anglers getting large numbers so are the people who are on our coaching sessions with good numbers also caught by all who have tried out coarse angling-some good numbers of new anglers have been developed.

Angling Coaching
Saturday mornings for individuals and goups are arranged through the week, as well as one to one coaching.

………………………………………………………………………………………………………………………………………………………………………………………………………………………………………………………………………
Sunday Aug 1st 2010 open/league Lookout
Conditions:- Partly Cloudy, ambient temp 15 deg, humidity 88%, wind W 10 mph, barometer 1009.1 mb, moon phase waning gibbous, water 16 deg, PH 8.4, DO 7.3, mv 57

1st Tony Watson 67lb 5oz peg 13 & golden peg
2nd Paul Jackson 59lb 7oz peg 16aa
3rd Chris Gowling 43lb 4oz peg 37
Section 1 Norman Laing 27lb 11oz peg 1
Section 2 Dave Pearson 26lb peg 28

Friday 30th July 2010 afternoon open Lookout
Conditions:- Partly cloudy, ambient temp 18 deg, humidity 83%, wind SW 8 mph, barometer 1009.2 mb, moon phase waning gibbous, water temp 17.3 deg, PH 8.22, DO 10.4, MV62

1st John Foster 74lb 10oz peg 25 half silvers half carp
2nd Davey Catchyside 53lb 4oz peg 1
3rd Ray Wallace 37lb 12oz peg 16aa

Wednesday 28th July 2010 3 hour eve open Bowes draw 5pm
Conditions:- Partly Cloudy, ambient temp 15 deg, humidity 88%, wind W 8mph, barometer 1014.9 mb, moon phase waning gibbous, water temp 17.6 DO 10.2, PH 8.47, mv55

1st Ray Wallace 54lb peg 3
2nd Dave Pearson 40lb 7oz peg 5
3rd Norman Laing 32lb 9oz peg 18
4th Ricky Bennett 28lb 7oz peg 16
5th Dave Foster 24lb peg 34
6th John Foster 19lb 1oz peg 25

General
Lookout and Bassetts are producing very tight in margins or tight to far banks for carp and silvers , tench, skimmers just of the second shelf at dead bottom, Rudd ide and orfe up in the water.
Bowes select your pegs acording to wind conditions and great catch rates can be caught.

Lookout
Some cracking silver fish have been caught in good numbers, the average skimmer is now 1lb 6oz and being caught in large numbers, carp are at your feet tight in margins or tight to far bank. Rudd up in the water are being caught on maggot and feed maggots but you need to get throught the perch to get the rudd. On the matches on Friday afternoon John Foster caught 74lb 10oz peg 25 half silvers half carp

Bowes
Catch rates have been exceptional when you use watercraft to choose your pegs, for example David Collins from Sunderland choose Bowes to fish on the tip, peg 16 and used chopped worm and caster for a half day session in SW 7 mph wind and caught, Roach average 1lb, skimmers average 2lb, 3 large bream of 10lb 1oz, 9lb 3oz and 9lb 6oz as well as numerous carp of an average of 5lb.

Fly fishing on Bowes (5pm to 8pm except Wednesdays, ) has also been very productive and some good catches which include 21 yr old Richard Lansbury catch a 24lb 6oz common carp and brought it in to the net in 18 mins,
Ide and orfe are well over 1.5 lb now , carp have been putting on good weight and are fighting fit, Rudd, Roach are a good 1lb average, and tench also feeding up well.

Bassetts
Awsome fishing is the description being given on this pond this week.
Lots of students have been on this pond again this week as part of National fishing Month both individually and as groups with everyone catching good numbers of fish.
Angling Coaching and See if you want to learn to fish session continue for the next 2 Saturdays for individuals and through the week for groups. Ring Ann on 0191 4100449 to book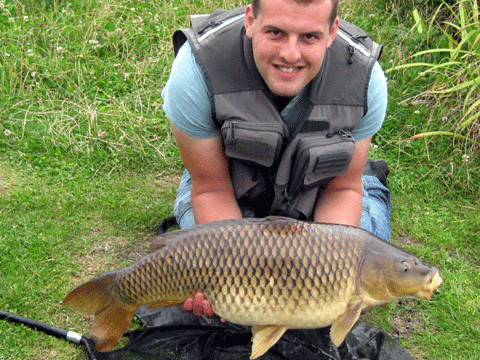 Richard with 24lb 6oz carp caught whilst fly fishing for carp on Bowes