Barston Bowl 2009

Andy Fullylove, and 18-year-old angler from Allesley in Coventry, took this year's 100-angler Barston Bowl by storm, after catching 100lb 10oz from fancied peg 17.
The pegs near the car park produced a string of good carp weights and dominated, and Andy's Method tactics accounted for fish to 15lb, plus a few big skimmer bream.
Andy went home £1,000 better off, and with the fantastic Barston Bowl silver trophy to keep for a year.
The second placed angler was actually not pegged in the teens, but across the lake on peg 123 where Tim Bull fished long for an all-carp net going 73lb.
Last year's winner Maurice Williams put up a solid defence and weighed in 65lb from the peg next to the winner.
Sections: (100 fished)
A Dave Lewis 42.6
B Andy Fullylove 100.10 (overall winner)
C Mick Bull 56.14
D Mark Casemore 14.6
E Rob Cooksey 37.6
F Lee Barry 28.0
G Dave Rossi 31.0
H Tommy Pickering 31.6
I Lee Werritt 32.10
J Tim Bull 73.6
…………………………………………………………………………………………………………………………………..
Barston Lakes Christmas Match
After some terrific weights in practice in the run-up to this match, anglers at the annual Barston Xmas match struggled after the coldest night the year saw the lake frozen over.
In fact owner Nigel Harrhy had to hold back the draw and re-peg when it became clear some anglers had decided to stay indoors and that it was going to take longer than expected to break the ice. I spoke to Nigel the day before the match and he'd just blanked with pinkie – you basically needed bloodworm and joker to have any chance.
In the event the match was also shortened to four hours with only every other peg put in, but still no-one mustered double figures.
Top of the pile was Simon Willsmore who drew peg 63 and fished pole, bloodworm and joker to a level 8lb, with Rich Offler second on 6-8-0 and Andy Johnstone third with 4-12-0.
Section winners were Darren Davies, Sean Gold, Luke Downing, Paul Holland and Matt Hall.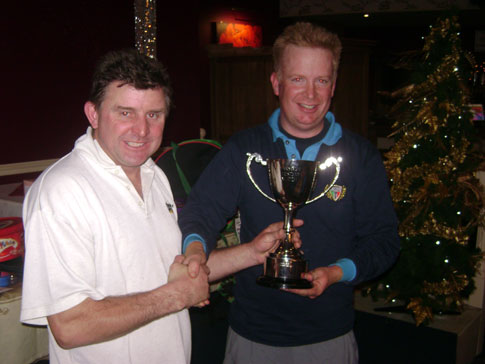 ---
Sensas Team Challenge, Barston Lake, Solihull, West Midlands
Gary Miller (Van den Eynde Essex County A) 14k 960g, roach and skimmers to waggler/pole and bloodworm, peg 33; Wayne Swinscoe (Van den Eynde Essex County A) 12k 750g; Steve Hemingray (Daiwa Dorking) 11k 870g; Jon Whincup (Van den Eynde Essex County B) 11k 450g; Bradley Titmas (Daiwa Dorking) 10k 360g. Teams (all qualify); Daiwa Dorking 14; Van den Eynde Essex County B 18; Team Barston 25; Van den Eynde Essex County A 26; Kamasan Starlets A 28; Dick Clegg's Mark One Sensas 32; Kamasan Starlets B 35.