FEEDERS DIRECT is the specialist online shop for anglers interested in selecting from an extensive range of top quality swimfeeders and feeder fishing accessories.
Whether its plastic open ended feeders, block end feeders, cage feeders, inline feeders, rockets, pellet feeders, chopped worm feeders or more specialist items like pole feeders, jumbo cage feeders, pellet cones, little stinkers, floating feeders and super long range feeders, we have it and can deliver direct to your door.
We also sell accessories including bungees, tail rubbers, skimmer links, shock links, shock leads, clip-on leads, snap links and swivel beads, plus pole accessories and a range of pike fishing sliders and pencil floats.
Our aim is to provide an easy guide to buying the products you want, with a safe, secure payment transaction, to make your online shopping experience a pleasurable one! We no longer have a minimum order value and Feeders Direct now delivers to the UK and most parts of Europe with payment accepted in either Pounds Sterling or Euros.
If you have any queries email us at info@feedersdirect.co.uk .
JUST SOME OF OUR PRODUCTS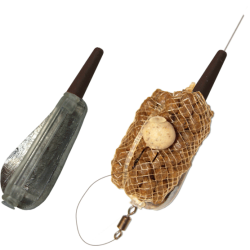 PVA Feeders

The idea of these leads are that they are basically a 'Feederless Feeder'.
Simply slide a small PVA bag under the elasticated strap and position your hook bait right on top by nicking the hook into the bag. Absolutely ideal when you need to feeder bigger food items accurately or when you don;t want to use groundbait.
Two sizes: 28gr, 36gr
£4.25 for a pack of two
……………………………………………………….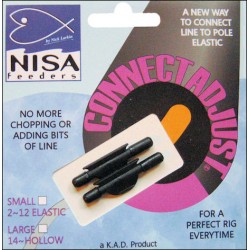 Connectadjust
No more chopping or adding bits of line when changing depth. Just wrap or unwrap the required line from the integral winder, reposition float and carry on!
The CONNECTADJUST© allows you to maintain the desired distance between pole tip and float without having to change rigs!
Easy to adapt to changing conditions, in seconds! A definite advantage for anglers with limited top kits.
Two sizes: Small (2-12 elastics) and large (14 elastic and above)
£4.24 for a pack of two
……………………………………………………….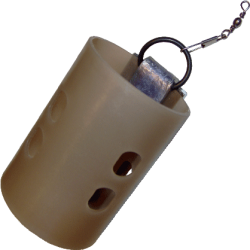 Open Ended Feeders

We have a huge range of open ended feeder for short, medium and long range; both standard and inline for a huge range of applications.
The one pictured is regarded as the No1 groundbait feeder by most of the top anglers in the UK, due to the vast range of sizes and weights, with good durability and design.
They are suitable for both river and stillwater work and are made of tough polyproplene and a flexible Nitrile ring which incorporates a quick American Snap Swivel.
16 available sizes
£1.10
……………………………………………………….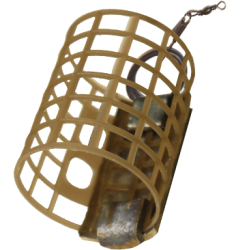 Cage Feeders

We have an extensive range of cage feeders from mini right up to jumbo sizes.
The model pictured empties quickly, so if a fish is hooked soon after casting, your bait will not be spread all over the swim as you play it back.
They come in a variety of sizes and weights and are also compatible for use with Clip-On Leads.
16 available sizes
£1.10
……………………………………………………….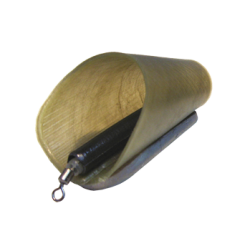 Pellet Cones

These feeders are made of a soft, flexible material which 'gives' slightly when feed is 'wedged' in.
Once in the water the reverse happens and feed loosens quickly and is forced out through the large open end. These feeders are quick and easy to fill and allow any size of pellet or particle to be used as well as groundbait, or a combination of both.
The inline version allows a short hooklength so that the hook bait is near the feeder, or can be tucked into the feed as you would with a Method Feeder. This version incorporates the unique Shock Link system, which is fish safe and prevents hook pulls.
One size
£2.35
……………………………………………………….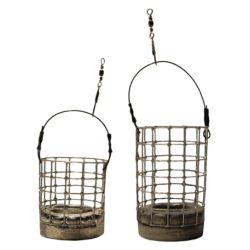 These metal cage feeders have a permanent 'integral' lead loading at the base, which greatly aids long accurate casting.
These are very popular on the continent where extreme range is often necessary but also have many uses on open UK waters where distance will give you a key advantage.
They can also be used as a pole feeder as they sit 'upright' on the bottom.
Two sizes: large and small
£2.25
……………………………………………………….
For the full range of products visit www.feedersdirect.co.uk