An angler who has banked the biggest verified salmon for over 30 years from the Hampshire Avon has described the capture as the 'defining moment' of his angling career.
Surrey based Stewart Allum hooked the massive 32lb 12oz fish on the fly on the famous river between Fordingbridge and Ibsley. He weighed and measured the mighty salmon before returning it to continue its epic journey.
And the capture might just make him a TV star, as he will be returning to the spot where he caught it to tell his story in an episode of OnlineFishing.tv's 'Game Fisher's Diary' series.
The male or 'cock' fish is the biggest confirmed salmon from the famous river since Dave Stewart's 39lb 8oz fish from Ringwood in 1979, and is also almost certainly the biggest English river salmon in that time.
Stewart describes himself as 'a typical coarse fisherman' – although he has gravitated towards the specimen fishing side and was the first secretary of the Perchfishers and a founder member of the Chub Study Group. He caught his first salmon in 1993 and although he has had a few since then, this is his first salmon on the fly.
"I'm totally thrilled and feel very privileged, but above all else this is just fantastic for salmon fishing," said the 56-year-old.
"It will galvanise anglers to know that there are fish of this magnitude to be caught."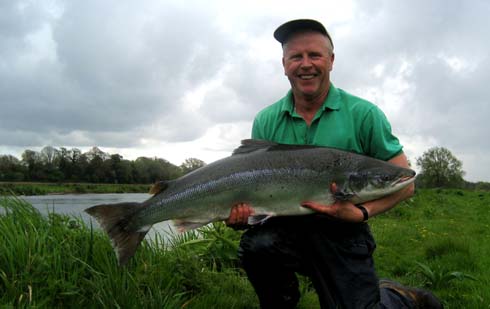 Stewart Allum with his breathtaking 32lb plus salmon from the Hampshire Avon – thought to be the
biggest salmon caught from any English river for over 30 years.
The impressive fish came from a stretch of river owned by Rae Borras, who is presenter of OnlineFishing.tv's exclusive 'Game Fisher's Diary' series and a committed salmon angler himself.
"As someone who loves the Hampshire Avon and still remembers the days when the river was regularly producing big salmon, it warms the cockles of my heart to know that, although the species is in trouble, there are still magnificent fish like this swimming in the river," said Rae.
"Every now and again we get a glimpse that the gene pool that made the river famous for producing big salmon is still there, and if we if we look after them we can help them survive for future generations. Netting at sea has been reduced, so let us hope the salmon is making a comeback."
The first angler Stewart called after returning the mighty fish was TV presenter Matt Hayes, a long-time fishing pal who he has known since long before he became an angling celebrity. Matt has been captured by salmon fishing in recent years and spends a lot of his time fishing for them in Norway, yet even there he's never had a fish of this magnitude on the fly."
Because he lives over 100 miles from the Hampshire Avon, Stewart only travels to the river when he knows that the conditions give him the best chance.
"I feel that I've only just got the hang of double handed casting and had already decided to concentrate on fishing the fly for the whole season," recalled Stewart.
"This was my third trip this year and everything was right – the tide was high, the river was falling and yet it was carrying just a little colour and we had just had a full moon.
"I arrived at 11am to find I had the section to myself. I was fishing a known pool and had planned to use a black and red tube fly known as a Munro Killer. However, I wasn't totally happy and switched to Waddington fly, which has a bit more flash and silver in it – the fish will take these tube flies very close to the surface and I just felt I needed something a bit more visible.
"With nothing doing I moved to a new section and for once I did everything right – placing the landing net in the middle of the length gradually covering the water and moving down. As I got close to the middle of the length I had the most amazing take. I knew straight away it was a salmon, I just didn't know how big.
"Then I saw this huge tail and next thing, this massive salmon leaped clear of the water. Immediately I knew I had hooked something extra-ordinary and I was already pretty certain the fish was over 30lb.
"I kept telling myself that I simply had to land this fish. I have hooked two salmon on the fly before and lost them both. I knew that if I didn't get this one in, first of all no-one would ever believe me; and secondly I would never get another chance like this in my life."
Although his heart was beating like mad, Stewart used his years of angling experience to play the fish strategically.
"I was in deep water and couldn't wade out, but I knew that I had to stop the fish from heading downstream where there was an overhanging tree on a bend. If it got past there it would be able to shoot off and I would definitely lose it. So I moved downstream of the fish and sure enough it went upstream.
"The fish was incredibly heavy – it was like I had hooked a bus. I knew that I had to keep control and as I was fishing a 25lb leader I was able to play the fish aggressively."
Eventually after an arm-wrenching 10-15 minute tug of war, the fish began to wallow on the surface and Stewart had his chance to make angling history.
"Although I could see that the size 8 trebles had a good hold in the corner of the fish's mouth, this was the most hairy moment – drawing the fish through the current to the net," recalled Stewart. "I had quite a lightweight, fine-mesh landing net and the first two times the fish just wouldn't go in – it was just too long and wouldn't fold into the net. I tried once more and it was third time lucky."
But even then that was far from the end of the drama, as the fish went crazy once in the landing net.
"Because I had played the fish hard, he still had plenty of fight left in him and he went crazy once in the net. Before I knew it he'd ripped a huge hole in the side of the net and was back in the water out of the other side of it.
"The line was going through the net and out the other side with the fish still attached. You can imagine what I was thinking – to lose it now would have been heartbreaking. But my luck held. When I told Matt Hayes this he said that my 'name' was on this fish. I was able to give a bit of slack and scoop it into the net again without the hook hold going. The fish was mine!"
Stewart knew that if he was to save the salmon, he could not 'mess about with it'. He couldn't raise anyone on his mobile phone, so after weighing it quickly he took a couple of self take photos and took him to back to the river.
"I knew that if I retained the fish and waited for someone to come along it could easily have died. I believe I have a responsibility as an angler to return big salmon – especially one with the genes of a fish like this one. I lay down with the fish in shallow water for about half an hour but it was just wallowing and not really recovering. So I had to move it into deeper water and perch on the edge of a piece of bank that was all but giving way. After a while I felt it shudder and then he just swam out into the main flow. I went downstream to check he didn't come up again, but he was fine.
Reflecting on the magnitude of the capture, Stewart added: "I will never catch a better fish than this. I still have targets in angling – like a 3lb roach or an 8lb chub – but even if I achieve them they won't come close to this capture.
"You simply can't set out to catch a fish like this. The odds are millions to one that the fish survives all the natural and commercial pressures, that you are there when it's coming through the river, that you are fishing the right fly, in the right conditions, and that the fish takes and that you get it in."
Break Outs
The fish was almost certainly bigger than the weight Stewart is claiming. He weighed it hurriedly on a set of Avon scales that by his own admission were not really up to the job in order to return the fish swiftly. He did, however, have time to measure the mighty cock salmon which at 44.5 inches comes out at between 36lb and 39lb on the widely-accepted Sturdy scale.
To reach over 30lb a salmon will have spent a minimum of three years at sea, and is known as a multi sea winter fish. It will have probably have been five years, old, having spent two years in the river as a par and three years at sea. It's unlikely that it has ever run the river before, as most cock fish die during spawning.
---