Total-Fishing.com Glebe Festival, The Glebe, Leics, Pools 1, 2, 3, 4, 5 6, 7 (52 fished)
Jarrad Smith became the first angler to win this annual festival twice, with a perfect two-point score over the two days.
But it was mighty close, his 334-8-0 total being less than 7lb ahead of Andy Williams, who also scored two section wins. Whitwick angler Jarrad made the most of an end-peg draw on day one, bagging 45 carp for 204lb from The Glebe's Pool One. With only light winds he was able to fish 6mm pellet shallow on the pole at 16 metres, and he also caught down the edge at 14 metres.
However, his weight wasn't even enough to win the lake, JCB manager Andy Williams weighing in 209-8-0 from peg 22, mainly on feeder and dead red maggot combined with Marukyu EFG130 groundbait.
When Hilton based Andy (44) drew end-peg 76 on Pool 5 on Day Two he was strong favourite to take the festival win, especially with three empty pegs next to him. And he duly won his section with 118-12-0 of carp taken on feeder, plus several fish on the pole at 5m on corn and red 10mm JPZ pellets, on a day when a cold easterly wind hit the sport on the Leicestershire complex owned by Roy Marlow.
But Jarrad (21) fished a blinder in the middle of Pool 6, feeding caster, maggot and micro pellets through the feeder and sticking with the same far-bank line all day for a section winning 130-8-0 and the festival win.
Total-Fishing.com stalwart Kev Sims also scored two section wins and his 299-12-0 two-day total saw him take third spot and a trophy.Leicester based Kev (44) fished krilled maggot feeder from peg 68 on Pool 4 on the first day, adding a few fish shallow on the pole, for 169-10-0.
On Day Two he easily won Uglies Pool (Pool 2) from peg 50 with 130-14-0 – seven carp on bomb and pellet and then pole and pellet, including a fish of 20lb on the pole.
This event, which is open to all Total-Fishing.com members, has raised some £20,000 over the years and the £1810 raised this time around will be split between Fish Legal and other charities.
Results: 1 Jarrad Smith, 2pts, 334-8; 2 Andy Williams, 2pts, 327-12; 3 Kev Sims, 2pts, 299-12; 4 Darren Wright, 3pts, 319-8; 5 Terry Shaw, 3pts, 243-8; 6 Andy Boffin, 3pts, 236-6; 7 Ian Lloyd, 3pts, 191-10; 8 Pat McInnes, 3pts, 143-6; 9 Carl Henrick, 4pts, 315-0; 10 Ian Larnder Cox, 4pts, 246-4.
Glebe Festival 2012 Thread

Glebe Charity Thread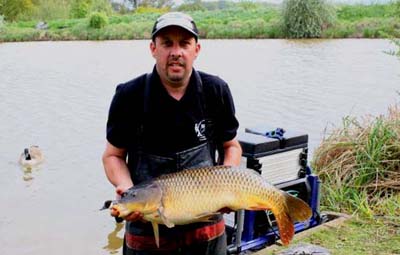 Kev Sims included this 20lb common carp on the pole in easily winning
on Day Two On Uglies Pool.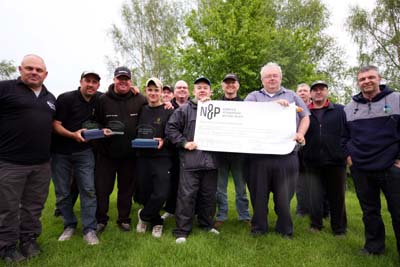 Some of the competitors from the 2012 Total-Fishing.com Glebe Festival
who raised £1810 for charities.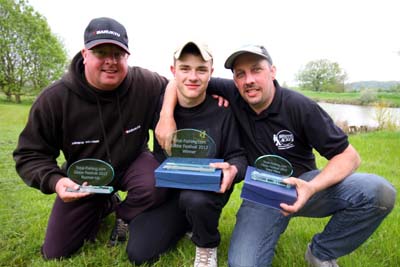 The top three from the 2012 Total-Fishing.com Glebe Festival; from the left
Andy Williams (2nd); Jarrad Smith (1st); Kev Sims (3rd).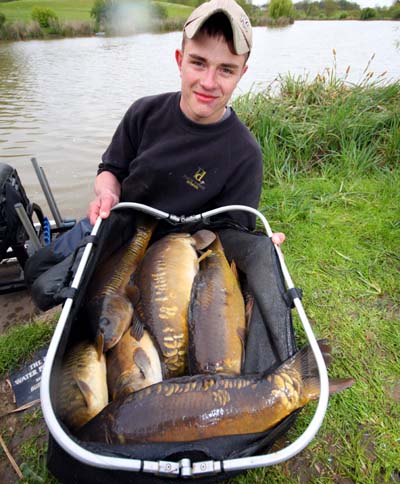 Jarrad Smith with some of his 200lb-plus Day One catch from Pool One.
Jarred is the first Total-Fishing.com member to win the festival twice.