Russ in action on the Huntspill.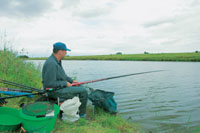 I'VE match fished Somerset's River Huntspill for many years, writes Thatchers 2000's Russ Tinklin, and, in my opinion, it is among the finest match venues there is, especially for team events.

It was once renowned for big bream hauls and while they do still occur they are now less of a factor. Truth is many areas hold so many roach, skimmers, hybrids and perch that the pole is a very consistent performer. I rate this place as one of best team venues in the country and would say that, apart from the odd bream shoal that can still stuff it up a bit, it's a very fair venue.
In fact the bream fishing is more isolated these days, but you can catch two or three skimmers out of most pegs. In the old days they used to say that for good bream fishing on the tip you needed a big southwest chop straight up the river, but it's not so important now.
The pole has opened up good opportunities and you can frame off a lot pegs with the method. A lot of anglers, including myself, still start off a match by fishing for skimmers on the tip, but if you've not caught them within an hour there is no point staying on it when you can catch 10lb to12lb of roach off a lot of the pegs on the pole. Add a couple of bonus bream or a few big skimmers and you could be on for a win. You should be able to catch 5lb of fish off any peg and I'd be gutted if I didn't catch this off any swim here really.
I've brought the Match Fishing cameras along to the Puriton Bridge stretch and I am going to run through my approach to balling it in with groundbait, which I reckon is a highly effective tactic on this type of river. In my mix I include one kilo of Sensas Lake 3000, the same amount of Sensas Roach and Silver Fish plus another kilo of Sensas Gros Gardons – three kilos in total – and I blend these together dry for starters, then add water steadily and mix through until I achieve a nice tacky mix that will hold a decent amount of loose feed, because I am going to add a full pint each of casters and hemp and a big handful of chopped worms.
I mix the groundbait so that it is on the damp side to make it firm and sink down when in the swim. After riddling the mix all the loose stuff goes in. I will use all three kilos of the groundbait at the start, and that means 12 balls. Six are hard, four not quite so hard and I'll end with a couple of soft ones to make the initial carpet.
I like to leave the groundbait to settle for an hour after balling in, so this is a good time to fish the tip for a while, although for this feature I went straight in on the pole and caught immediately.
Sometimes you need to assess the potential of the swim before adding all the loose feed to the groundbait – some areas can be harder than others and so I would put less loose feed in the mix. But here at Puriton it's a good all-round area with lots of small fish, a chance of bream and one or two better roach. You can get 8oz to 10oz fish here. Stampers are 3oz to 4oz skimmers right up to full-size bream, which you can often pick up on the pole. You'll be going in and catching roach, roach, roach then all of a sudden you hit a slab.
At Woolavington you can get some big roach, with fish up to nearly 1lb. There are still quite a few eels in the river but these days they tend to be bigger and it becomes more of a gamble to fish for them. Not many teams target them and those that do usually get a few blow-outs.
Perch can be picked up in among the roach, hybrids and skimmers and in some areas there are gudgeon to be had close in if it's really hard. The old 'motherless minnows' are still about and if it is that hard you can usually catch a couple of pounds of them.
So it isn't always a case of chuck it all in and catch loads of fish. In some places you'll catch big roach, in some swims small roach and in other areas you'll catch more hybrids. In a downstream wind you tend to catch little skimmers, so you have to take lots of things into account.
The river is generally quite shallow but on the long pole line here there is about eight feet of water, which is quite deep for the 'Spill. The depth varies – it drops to about four feet close in then slopes away gradually. On some pegs where they have levelled the bank the swims have a more pronounced ledge.
Generally 13 metres is an ideal line and I like to set the float a few inches over depth, which I find is spot on.
The key to success on the pole here is to find the flow, or to be more precise the tow. The normal state of affairs is that the river flows against the wind, which is mostly southwesterly. However, the Environment Agency can take water out from both ends so it can flow either way and you have to present your tackle depending on how the flow is going. It usually fishes best when, like today, it flows with a very light tow towards the sea, which is perfect. It can tank through on occasions, and some days the wind and the tow go the same way. Then it can be difficult and all you can do is anchor line on the deck.
Single caster is my favourite bait on the hook, although by using it you might sacrifice quantity for quality. I like to fish the caster with either the hook point showing, or buried so just the very tip shows. Hempseed is also effective in August and September and a single grain on the hook can catch well, with red maggots a good alternative hook bait.
I set up three rigs and the main one for this session is based around an 0.8g Sensas float with a fairly bulbous, round body and a long bristle, something I can hold back if I need to. Shotting comprises a strung-out bulk of number eight shots that can be bulked together or spaced further apart if I need to. The rule of thumb is to arrange the bulk in the way that best picks up the prevailing tow. I prefer to pick up the tow with shot strung out because I find that I tend to miss less bites that way. Two droppers sit below the bulk, an eight and a 12. The latter, four inches above the hook, is just off bottom and helps register lift bites. The 0.08mm hook length is eight inches long and tied to 0.12mm rig line.
My hook choice is a size 18 Sensas 3411 pattern that comes ready tied to nylon and I now use them for all my roach fishing.
The kind of silver fish sport you can expect.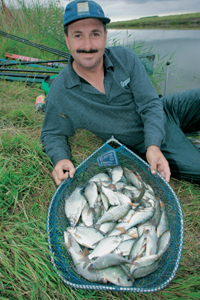 Sometimes you will catch at dead depth, sometimes just off, so you need to adjust the rig to the conditions on the day in question. Conditions can change throughout the day and that's what makes the 'Spill a proper fishing venue – you can't keep catching with the same rig set the same way all day. I always have one rig set up with a longer line of about 18 inches to two feet from pole to float in case I have to go a long way over depth.
I have a couple of other rig options using the same float pattern. One is lighter at 0.6g, intended for calm conditions, with similar shotting to the main rig. The other is a heavier 1g rig, with a size 16 hook on a 0.12mm hook length tied to 0.14mm main line, and I use this for presenting a whole or big bit of worm for eels or bream.
Because of the light tow today I ball in the groundbait one metre downstream of where the float will go in. I don't let the float travel too far, say a metre or so, before lifting the rig out and dropping it back in again. When the conditions are like this I find that by laying the rig in with the pole tip downstream the float picks up the tow better. To vary the presentation I will sometimes drop it straight down.
Early on in the session I expect a lot of fish to come into the swim so I will fish with more bristle showing, but as the bites become fewer and there are not so many fish darting around I will dot the bristle down. Once the rig has settled I generally leave it for up to 30 seconds before lifting it out again, although if I am catching quality roach I just leave it still which I find works better for the bigger redfins.
My starting point for the shotting is a closely-strung bulk which I can spread out if there are not too many fish becoming a nuisance up in the water. If it turns out that there are a lot of fish down on the bottom then I can tighten up the bulk. If the float isn't going through with any tow that's not to say that the river isn't actually towing, and you are more likely to find what tow is there by spreading the shot.
If I miss a bite I lift the pole skywards so the rig is clear of the water and check the caster is still on the hook. If it is I drop straight back in, which saves a lot of time wasted in shipping back and forth. You can end up putting next to nothing in your net if you are continually shipping in and out to check the bait.
I don't like to loose feed, preferring to let that initial three kilos of feed do all the attracting and holding throughout the session, but if the fishing dries up there are a few things you can try.
The first thing if it goes quiet is to consider that a big bream has moved in so a switch to the heavy rig would be in order. Five minutes on that with a decent piece of worm should see if that is the case.
If the bites have not actually dried up but become less frequent or difficult to hit, consider laying more line overdepth or shallowing up off the bottom to see if that makes a difference. You can also work your way through hook baits trying double maggot or a single grain of hemp.
This session went like clockwork with the initial balling-in soon pulling in small roach, skimmers and hybrids plus the odd perch. No big bream today but the casters helped me to a nice 20lb of fish, proof that feeding just once at the start of a session can pay dividends. I'm sure there are other rivers and big drains around the country where this approach will work well, so give it a try if you compete on these types of venues.
Venue Fact File
River Huntspill, near Bridgewater, Somerset
Controlling body: Bridgewater Angling Association.
How to find it: Just south of Highbridge on the main A38. There are various access points: enquire at local tackle shops for details.
Day tickets: £5 (2005)
Contact: 01278 422397
Bans/restrictions: No dogs, guns, boats or bathing; no chest waders; no aniline dyed baits; no tins or glass; no bloodworm and joker.