The UK canal match record was taken here.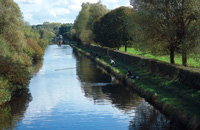 THE Autherley Junction pound at Penderford is undoubtedly one of the best canal stretches in the whole of the Midlands, producing top catches of silver fish year-in, year-out.

It's not just silver fish either, as the match record is a massive 107lb of carp, just 13 fish taken by Paul Turner from noted peg 10. It's thought this is a national canal match record. More usually thought 15-20lb will be needed to win an open here.
Holding 52 generously-spaced pegs, of which pegs 30 are permanently marked, the length takes in two bridges, a couple of bends and an out-fall below the lock above peg 2. All in all it's an interesting and pleasing stretch of canal offering great variety.
The Shropshire Union joins the Staffs/Worcester Canal here, and with the 'confluence' of two waterways, boat traffic can be more hectic than Spaghetti Junction in the rush hour during the summer months.
Realistically it can become very annoying, although early morning sessions before the boaters have woken from their slumber can reap big dividends for the opportunist summer angler, as can short evening sprints.
However, as the sun gets a bit lower in the sky come October, the holidaymakers return home and the majority of boats chug towards their winter quarters.
"This is when the 'Shroppy' changes its mood considerably and anglers can enjoy less interrupted and first class day time sport," says match regular Phil Rhodes of Wolverhampton AA.
Phil Rhodes with a typical Pendeford catch.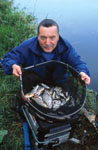 "The water is often heavily-coloured during the day in summer, but in winter it becomes much clearer, while fishing remains of the highest quality."
Fishing here is mainly pole work, and Phil uses a 'soft-set' No3 elastic running through a top two for his main catching rig. Meanwhile, a much stronger No6 is brought into action when fishing across or in one of the more snaggy pegs, where bigger fish can be expected to show at some stage during the day.
Phil usually uses 0.09mm or 0.08mm main line and 0.07mm or 0.06mm hooklengths, his favourite lines being Shimano Ultegra, Super Shinobi and Strof. Hooks also come in three choices too. Drennan Polemaster Wide Gapes in size 22 and sometimes a 24 are used for fishing squatt, while Drennan Carbon Caster size 18s come into play for the caster line. The Tubertini Series 808 is another pattern he likes to use when he needs some power to draw big fish away from cover.
Phil usually takes far more bait than he is likely to use. A pint each of casters, squatts and hemp are all served up, with half a pint of pinkies, a few big maggots and some worms as a back-up.
His usual groundbait mix is 50:50 Sensas Match Blend and Van den Eynde Supercup to give a soft mix that the resident roach, skimmers and bream seem to prefer. Brown crumb is added on occasions to make the groundbait go further when the fish want more groundbait than normal.
The canal here averages 14 metres in width, with three feet of water in the edge and on the far side.
"There is a progressive slope down into the track, which varies from peg to peg between five and seven feet deep with an average of six feet," explains Phil.
"However, as you get further up into the higher un-numbered pegs, the depth gradually shallows to about four feet, although it still holds stacks of fish."
Phil always feeds three lines, starting with a large cup of groundbait accompanied by a few casters and squatts at about 10 metres, which is fed two-thirds of the way across. Cold and clear water will see the opening groundbait approach replaced in the form of a golf ball of liquidised bread and punch on the hook – then it's a case of 'suck it and see'.
Caster is loosefed towards the far side wall or any far bank feature, and finally hemp is introduced on a four-metre line.
"It pays to have a look on this hemp line at regular intervals," advises Phil. "The roach can switch onto the seed at any time, even in the depths of winter.
"Chopped worm is also worth a try in the colder months as the canal holds a big head of small perch, and there is always a chance of latching onto one of the resident very big stripeys.
"Some pegs will also hold pockets of gudgeon and if you contact one of these, they can be caught at speed before doing their regular disappearing act," he adds.
You can expect to catch well right from the start of any match or pleasure session here at Autherley Junction but even in winter one or two narrow boats will come along.
"You must wait a few minutes after the boat has gone through before topping up the feed," says Phil. "Even though the bottom is hard, a sandy type of silt covers it and the vortex caused by passing boat traffic lifts this up into the water. Feed too soon and you'll be feeding half the canal!"
You can expect to catch close to double figures of roach to about 8oz, skimmers, perch and gudgeon here even in winter, although there are bigger fish about.
"When the water's clear, the bream often move right over to the far bank wall, where there is still plenty of depth, so it pays to keep a tightly-fed caster line going there," Phil says.
"There are some really big carp in the length too. They tend show from pegs 6-10 opposite the trees, which also hold chub to over 4lb.
"One lad, who fishes for them on a regular basis with meat and pellets had three for 45lb, including a 19lb lump in mid-November!"
TF top tip
Quality canal roach like this one fall to caster.

After adding water to his casters, Phil skims off the darker, more buoyant ones. "Not only do the roach and skimmers love 'em, but importantly they counterbalance the weight of the hook and make for a bait which falls slowly through the water. This is how good bags of fish are often put together and can often be the difference between a fair and good bag of redfins," he says. The hook is always completely buried inside the caster.
Venue Fact File
Shropshire Union Canal, Pendeford, Wolverhampton
Contact:
Roy Richardson, tel 01922 491487.
Tickets:
£2 day ticket issued on the bank. Season ticket is only £6.
Open matches:
Held every Saturday from the end of September to the end of March. Your contact for these is Roy Richardson. Paul Turner runs some matches in the summer, tel 07718 058302. Club matches should be booked through
Roy.
Restrictions:
No bloodworm/joker, no night fishing or livebaiting. Strictly no litter.
Nearby tackle shop:
Ian's Tackle, Penkridge.
How to get there:
From the M54 at Junction 2, follow A449 towards
Wolverhampton. At the first roundabout turn right, at the second island turn left for Pendeford and go straight on at the next island (The Droveway) until you come to the canal bridge where you can park for the high numbers. For low to middle pegs, continue and take first left into Dovecote estate (you can't miss the speed ramps!). Go past the pub and take a left turn into Catisfield Crescentand follow it down until you come to a cul-de-sac on the right.