Asia, the biggest continent, is abounding with plenty of fishing destinations whether for adventure fishing or other purposes. It is in Asia that we find most of the largest rivers in the world. There are also a good number of huge lakes and streams full of fish in unexploited places in countries like China and Mongolia. However, the increase in population is putting pressure on the fishing grounds, leading to overfishing. This is mostly the case on the coasts. As such, the best places for fishing are the most remote and distant inland grounds.
Here are some great fishing destinations in the Far East that you should visit to have great fishing experiences:
 

Mekong River, Thailand
The seventh largest river on the Asian continent makes its way from the Tibetan Plateau to Laos, and then Thailand, Cambodia, Vietnam, and Burma, covering a whopping 4909km.The river is a perfect fishing destination and even more so for the family. Some of the fish here include huge catfish, Siamese, and arapaima as big as a truck. Competitions are staged on this river every year to try to catch those fish.
 

Tioman, Malaysia
Do you want to take home a big catch? Well, Tioman could be a perfect place for you. There are plenty of fishing places on Tioman Island, which is teeming with marine life, and it has earned itself a name for Tioman fishing. Trophy fish are found in abundance on the island, giving anglers a chance to try all sorts of skills here.
     

Lei Yue Mun, Hong Kong
One of the things Hong Kong Island is most well-known for is plenty of fishing villages that are suitable for fishing expeditions. Lei Yue Mun is the best spot of all the many fishing places and will allow you to have a great time catching fish. It is just a narrow channel on the eastern side of the Victoria Channel.
     

Borneo, Malaysia
Borneo, the world's third largest island, has a wide array of marine species and boasts various fishing spots. Anglers from all over the world get a wide scope to explore one the best fishing areas on the planet. The many species of fish found on the island include blue and black marlin.
You can tour Borneo and other fishing destinations in the Far East to enjoy some great fishing experiences. To get to the region through Singapore, one of countries there and a getaway to the expansive Asia and the rest of the world, engage One Visa experts to process your Singapore visa hassle-free.
     

Ponoi River, Mongolia
This great and untrammelled river in Mongolia is home to taimen salmon, which is more than 70 inches in length and weighs in excess of 100 pounds. You will enjoy catching them.
      

Ceylon, Sri Lanka
If sport fishing is your thing, Ceylon is your perfect destination. You will get to catch species like sailfish, swordfish, marlin, and others. This fishing place is just off of the coast of Sri Lanka.
     

Flores, Indonesia
As one of the Lesser Sunda Islands, Flores is a superb destination to have lots of fun while spearfishing and other game fishing. The island is best known for fresh waters and plenty of fishing spots. Moreover, you can have the locals teach you their exclusive tips for successful fish hunting here.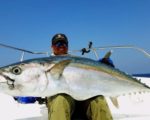 Phuket, Andaman Sea
The clear waters of the Andaman Sea are teeming with plenty of fish species of different sizes and shapes including sailfish, marlin, tuna, trevally, and others, including the brutal dog tooth tuna (pictured) which draws adventure sea anglers from all over the world. You would certainly have a lifetime experience fishing in the Andaman Islands as the place is becoming very popular with angling and game fishing.
     

Redang, South China Sea
Redang is famous for being the deep sea fishing paradise. Whether you are a beginner angler or an experienced one, this is a perfect place to exercise your fishery skills or sharpen them. The fish that you can get here include barracudas, snappers, sailfish, jacks, mackerel (the narrow barred ones), and others. But you would have to move far from the shore because Rendang and the Perhentian Islands are within a marine park and fishing is prohibited there.
 

Shurakuen Fishing Hole, Japan
Shurakuen Fishing Hole is situated in the heart of Tokyo and has existed for centuries. It is home to wild Japanese carp and a perfect getaway place within the city where you can get to do your fishing expeditions.
Conclusion
There are many places where you can enjoy fishing in the Far East, so the list above is not exhaustive, but just a guide. It does not matter if you want to explore the fishing destinations alone or with your family, you will certainly find places that will match your choice and expectations as well as your target.