Three top UK anglers reveal their favourite mixes covering commercial and natural stillwaters, and fishing for barbel on rivers.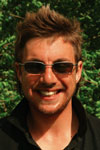 Alex Bones
Alex Bones, Dynamite Baits
Without a doubt, the best type of mix to use when targeting commercials is a crushed pellet/fishmeal-based groundbait.
On waters where they're allowed, you'll usually find that pellets are the number one bait. Commercial water fish have often been reared on them so accept them as the main food source.
For the majority of my open-end commercial feeder fishing I use Dynamite Baits' Marine Pellet and Dynamite Swim Stim Natural groundbaits. The ratio of each I use is dependant on how I want the mix to react in the water. In shallow swims I want it to release from the feeder very quickly, so I'll use 90 per cent Swim Stim Natural and 10 per cent Marine Halibut.
The oilier Marine Halibut binds better, so for deeper swims and open water feeder fishing a higher percentage of this is better because it prevents the bait from releasing from the feeder too quickly.
Additives-wise, I have been using Dynamite Source liquid quite a bit. I add this to the water I mix with the groundbait to ensure it's evenly distributed throughout the entire mix. Another little tip I like is to grate meat into my mix. To do this I mix the dry groundbait in the bowl and rub luncheon meat through a fine riddle onto the groundbait (use 150g of meat per 1kg of groundbait). Mix the riddled meat into the groundbait then push the whole lot through the riddle. Now you can add water and mix your groundbait as usual, again ensuring it's riddled. This is a great little tip when you're using cubed or hair rigged meat as hook bait.

Chris Ponsford.
Chris Ponsford, Barbel Specialist
I'll use a groundbait feeder for barbel only in a coloured water situation; when it's clear I'll switch to using Stonz, but I'll feed the same mix either way using PVA bags with the latter.
My mix comprises crushed hemp, micro pellets (no bigger than 3mm), crushed Waka boilies and some liquid flavourings – Corn Steep Liquor, salmon oil or Oyster Crunch from Bankside Tackle. The liquid sends a trail of flavour quickly downstream and the pellets are a superb attractor on most barbel waters, but I don't like to feed any large pellets.
The crushed hemp is crucial to the mix. It's very oily and all barbel love hemp even if they are taking a lot of pellets. Hook bait-wise I have most faith in boilies and I'll shave them so they are an odd shape like a pellet – this also lets the flavours out more readily.
If I'm after big fish, or fishing at night, I'm happy to use Waka boilies as big as 22mm, but in the day I'll fish smaller boilies around 10mm. If a lot of pellets go into the water, though, I will fish pellet – again the mantra of feeding smaller pellets in the day, and larger ones at night or in coloured water, holds true.

Mark Downes.
Mark Downes, Sensas
Bream in the UK love fishmeal-based groundbaits although interestingly they haven't responded to them yet in Ireland. My mix for bream and skimmers is 50 per cent Crazy Bait Gold and 25 per cent each of Lake 3000 and plain brown crumb. You want a fairly inert mix for bream and skimmers, but I like the little bit of activity the Lake 3000 gives me. The Crazy Bait Gold gives the fish the fishmeal they want and the brown crumb bulks out the mix – fish in England have been brought up on eating crumb and they still like it. This is a combination the fish want to eat and it will keep them in your peg.
I'm not a fan of mixing the groundbait the night before fishing – in warmer weather in particular the groundbait will ferment and go sour. I use Brasem as an additive quite a lot as it stimulates the fish to feed. In summer I use the liquid added to the water that's mixed with the groundbait. In winter, the oil in the liquid coagulates in the colder water and goes sticky which can put fish off – that's when I use the powdered additives.
The whole object of the exercise, of course, is to get fish feeding on your hook bait – I'll usually spend 15 minutes putting in around a pint of chopped worm and caster with a Nisa jumbo cage feeder before I start fishing. I'll start past my feed and gradually move back to fishing right over it with a smaller feeder.

---