The largest fish to be caught at borwickfishing.co.uk has broken the venue record for the species. Fishing through the night, the first person to take out Syndicate Membership, Andy Peel from nearby Lancaster, was rewarded when he caught the Carp known as "The Big Common".
The fish weighed in at a massive 33lb 8oz and must rank as one of the biggest Common Carp in the North of England. The Carp is anticipated to weigh even more over the next month or so as fish start to feed in earnest and fatten up prior to spawning. The larger fish have started moving in Jimmy's Lake, though to date this is the only one of the known bigger fish between 33lb and 38lb to have been banked.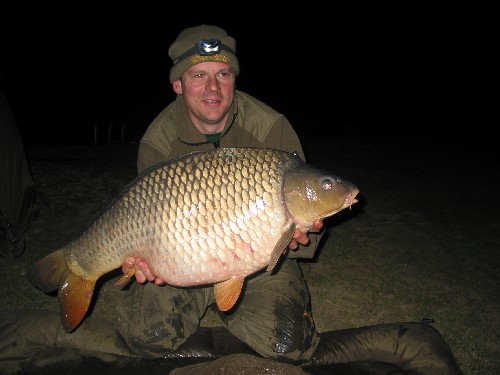 Borwick's new carp record – The Big Common at over 33lb.
Elsewhere at borwickfishing.co.uk all species are beginning to feed with more enthusiasm and anglers are being rewarded with good catches. Fish are starting to move to into shallower water and feeder rods are no longer necessary to make big catches. A big shoal of 3lb/4lb Carp is concentrated at the shallow end of Dewhurst Deeps and plenty of 2lb Carp are being caught in nearby Griffish. On Fingals pole is producing bags of more than 20 Carp from 3lb to 7lb at a sitting with a fair sprinkling of Roach and Ide mingled in.
Ide, Rudd and Orfe are starting to show on the surface in the smaller "fun" pools, while maggot or pellet fished a bit deeper down produces Ghosties and Tench with always the chance of a few surprises.