Total-Fishing.com has teamed up with Liberation Entertainment to give five users the chance to win the new complete set of fly fishing and fly tying DVDs from fly casting champion Hywel Morgan, which have only just been released.
Hywel Morgan's Stillwater Flyfishing – Just For Starters
From tackle to flies and casting, there's a great deal to discover and finding the right instruction can be the real difference between a pleasant few hours fishing and actually taking home a trout for the table. Just for Starters has everything you need to know, with Hywel Morgan on hand to guide you through the pitfalls.
Running time: 60 mins
Hywel Morgan's Stillwater Flyfishing – Main Course
Join Hywel for a stillwater flyfishing masterclass that will shape your technique and quite literally point you in the right direction. From tackle to casting, let Hywel show you how it's done, following his step by step guide to getting the very best out of any water you choose. Learn first hand the secrets of Hywel's success and take note of his top tips for reading water conditions and understanding the basic entomology.
Running time: 60 mins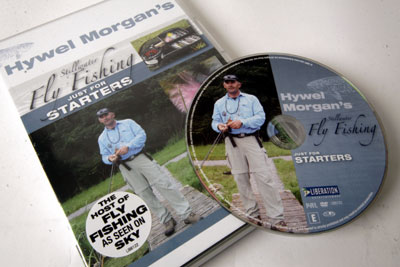 Hywel Morgan's Stillwater Flyfishing – Just Desserts
Join Hywel on some of his favourite waters. If you already having a basic working knowledge of fly fishing and regularly bring home a good catch, let Hywel demonstrate how to tighten up every aspect of your technique and help you achieve your maximum potential. To fly fish is a joy, by to fly fish well is an absolute delight, and with Hywel as your guide, you can be assured of your just desserts…
Running time: 60 mins
Hywel Morgan's Fly Tying – Just For Starters
Unlike many other forms of angling, fly fishing demands at the very least a basic knowledge of entomology, and an understanding of nature and the countryside. The seasons of the year, the weather and the life cycles of various insects used as bait are all factors to take into consideration, and for many who enjoy this most traditional of sports, it isn't long before Fly Tying becomes a skill they want to acquire. Join Hywel and see for your self in close detail how to get started in fly tying, with all the materials and equipment needed to make the perfect fly that is sufficiently lifelike to fool even the wiliest trout. From Buzzers to Boobies sort the fur from the feathers and whatever level you have reached as an angler, give yourself that extra edge with Fly Tying – Just For Starters.
Running Time: 60 mins
About Hywel Morgan
Hywel is the son of Welsh fishing guru Moc Morgan and perhaps unsurprisingly he was introduced to the pleasures of fishing at an exceptionally early age.
He first wet a line at just two and a half years of age and spent his early years fishing the Rivers Teifi and Ystwyth for wild brown trout and sea trout.
Since then he has fished extensively throughout the UK, Europe, Australia and in the USA. Hywel started casting at local country fairs, then progressed to the CLA Game Fair where for three successive years he won every event.
As a result he was asked not to compete any more so that others could have a chance of winning… and all this before he was sixteen years old.
He then turned to the British Casting Association and started to compete at British, European and World casting championships. During this time he amassed the following titles:
World Games Accuracy Casting Champion
European Distance Casting Champion
European Silver Medallist (Accuracy)
14 British casting records
6 times All Round British Champion
Over 100 British Individual titles
World Record holder for multiple casting (66 rods cast simultaneously)
The set of four DVDs are now available – for more information visit www.liberationentertainment.co.uk or Hywel's own website, www.hywelmorgan.co.uk
What You Can Win
We have five complete sets of the four DVD's to give away to the senders of the first five correct entries pulled out of the hat at random after the closing date of January 31st, 2008
How To Win
All you have to do to be in with a chance of winning is to answer the question below correctly and fill in the form in our Competitions section. Closing date is January 31st, 2008
Question
Hywel Morgan holds the world record for the number of fly rods cast simultaneously. How many rods did he cast?