On a scorching hot day, the Grand Union Canal at both Luton and Tring produced good bags of fish without a dry net in sight. Although this put off the roach which had shown in good numbers running up to the match, it meant some of the canals larger residents played ball.
An outstanding team performance from Sau Phung and Steve Crawley topped the day, who both came second in their respective Red Lion and Ivinghoe sections. This led to a massive 36 points (38 the most available). Sau drew in front of the cottages at the Red Lion and caught well both short and at 11m catching skimmers, gudgeon and some roach to make an impressive 4kg 880grams. Steve drew at the top of the Ivinghoe stretch and made the most of his decent boat draw. Fishing nearly 16meters across to the boats Steve managed two decent sized carp, which made up the majority of his 6kg 240grams and were both taken on Worm hookbaits.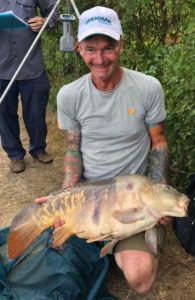 To add further excitement to the match the previous two carp weren't the only big fish caught on the Ivinghoe stretch. Drawing end peg 20 Phil Speakman had an incredible match landing three carp one of which topped the scales at 10kg 450grams or 23lb in old money! We think this is the largest fish ever caught since the event's conception and with the further two lumps he weighed an amazing 25kg 160grams for an easy first in section. Backing him up was the ever-consistent Simon Willsmore who drew peg B7 on Red Lion stretch. Simon caught very well at 5 meters with over 300 small roach, perch gudgeon and skimmers for a hard earnt 6kg 130grams and a crucial fifth in section.
Our thanks must go to both Tring Anglers for their continued support and to Luton AC who stepped into the fold to add some more diversity to the qualifier, the fishing really is some of the best in the country!
Anglers are reminded that there are still plenty of tickets for the contest available HERE.
Top Pairs
Q1) Steve Crawley & Sau Phung 36 points
Q2) Phil Speakman & Simon Willsmore 34 points
3) James Mead & Steve Rose 32 points
4) Allan Donnely & Andy Curless 31 points
Section A Ivinghoe
1) Phil Speakman A20 25.16 kg
2) Steve Crawley A4 6.24kg
3) Tony Salczynski A8 5.02 kg
4) James Lewis A1 4.66 kg
Section B Red Lion
1) Steve Rose B15 5.08kg
2) Sau Phung B11 4.88kg
3) Joe Robinson B1 4.5kg
4) Andy Curless B8 4.45kg