Last year more than 4 million people went angling supporting 20,000 jobs in related industries and contributing to a total spending of up to £2.75 billion each year on the sport.
But this is only half the story. Angling is proving to be good for self-esteem and well being and last week the Environment Agency gave one group an added boost with the gift of £500 for their funds.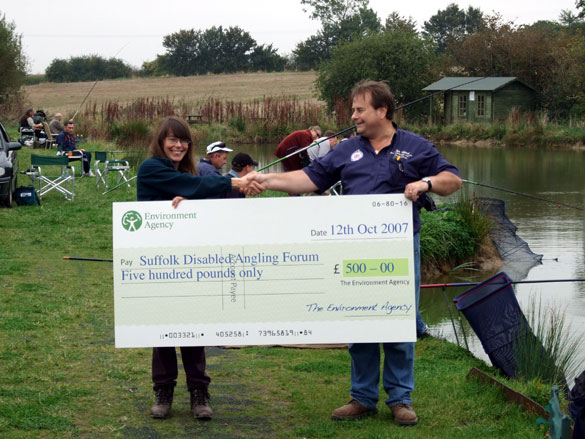 A giant cheque was handed over to the Suffolk Disabled Anglers Forum (SDAF) at Middle Farm Lakes, Barking Tye, which is managed by Gipping Valley Angling Club.
One of the aims of the Environment Agency is to make more people aware of angling and to get more people from all different backgrounds to take up the sport. To do this they actively encourage and support other organisations in increasing participation in angling from all races, genders, ages and abilities.
Disabled people are very interested in angling and for many more this could significantly improve their quality of life. 'We support angling in general and disabled angling in particular,' said Amanda Elliott, team leader of the Fisheries, Recreation and Biodiversity Team. 'Suffolk Disabled Anglers Forum had about 200 people attend their fishing events this year.'
Ian Wood, Chairman of SDAF said: 'Without this extra help from the Environment Agency we wouldn't be able to continue running as many events as we would like. This £500 will help enormously with running costs of the Forum.'
SDAF provides people with disabilities access to fishing in a supported environment; volunteers are available at each session to lend a hand with suitably trained and experienced angling coaches to offer advice on techniques and equipment.
No experience is necessary, equipment can be borrowed and bait bought for a small charge at each session. For more information on SDAF please contact Wendy Flinter, Membership Secretary on 01449 676 818.
Several other projects supported by the Environment Agency have shown that an interest in angling can be a very effective way of tackling anti-social behavior, educational under achievement and youth crime.