Total-FishingClub.com Angling Trust Festival, The Glebe, Leics (61 fished)

The Total-Fishingclub.com online match angling community raised a fantastic £2240 in the sixth running of this annual two-day event in which Roy Marlow gives up the peg fee at his fishery to allow money to be raised for angling causes.
The money will be split equally between 'Fish Legal' (the new-look Anglers' Conservation Association) and helping to fund England international teams without sponsorship compete in the World Championships.
Fished over Roy's Glebe and Foundation Lake complex in Leicestershire, the 61 lucky anglers weighed in over 9600lb between them in glorious weather, at an incredible two-day average of 158lb per man!
There was a slightly unusual outcome in that the overall winner was a fishery guest who didn't qualify for the title – Jarrad Smith winning his section both days and taking 385-6-0 to the scales.
Whitwick, Leics based Jarrad has been a Glebe member for two years and made the most of an end peg on Pool 4 on day one, starting on the feeder with meat on the hook but catching fish at 13m down the edge after only an hour right to the end for 32 carp in all and 192-2-0.
The second day saw the 18-year-old on Pool 1 peg 20. Again his started on the feeder and although he caught 14 carp the angler two down from him had more, so he switched to his margin line under a bush, firstly on corn and in the end on catmeat for around 35 fish and 193-4-0 for another section win.
In fact there were four anglers with a perfect two-point score and winning the Total-FishingClub.com trophy at the first time of asking – he had never entered this annual event or fished The Glebe before, was Derby bricklayer Jamie Jones.
The 32-year-old drew Foundation Lake peg 15 on day one, where he started fishing down the edge. However, the line quickly died on him and he was soon catching steadily up in the water on pellet, weighing in 203-14 for a section win and the best weight of the festival.
Day two saw Jamie on peg 91 on Pool 6 on The Glebe: "I started on a caster feeder tight over with three dead maggots on the hook, but after an hour Roy Marlow fishing the same way was well ahead of me," recalled Jamie.
"I knew I couldn't beat him to the section on the feeder, so I switched to the 14.5m shallow line I'd been priming and caught steadily for the rest of the match for 162-10-0."
Total-FishingClub.com hit the angling headlines earlier this year by introducing a 'World Series' competition this summer in which one member is going to win a trip to the World Championships. For more details visit the website.
Total-FishingClub.com spokesman Gareth Purnell commented: "Once again the online angling community has shows its generosity, although we could do none of this without great fishery owners like Roy Marlow. We have noted that some of the England teams struggle for funding, which is a joke really, and as match anglers we felt it right that some of the money raised should go to help them compete."
Names are already being taken for the Total-FishingClub.com Glebe Festival 2010, which will be limited to the first 60 to apply.
Result: 1 Jarrad Smith (guest), 2pts, 385-6-0; 2 Jamie Jones (Total-FishingClub.com Champion), 2pts, 366-8-0; 3 Lee Ensall, 2pts, 299-10-0; 4 Steve May, 2pts, 176-10-0; 5 Steve Porter, 3pts, 305-2-0; 6 Andy Day, 3pts, 287-13-0; 7 Rich Wells, 3pts, 213-1-0; 8 Mick Davies, 3pts, 190-0-0.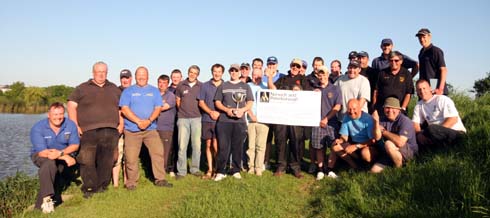 The top three in the Total-FishingClub event: (centre) Champion Jamie Jones and (right) second placed Lee Ensall. Rich Wells (right) took third after guest's results were taken away in the section count-back.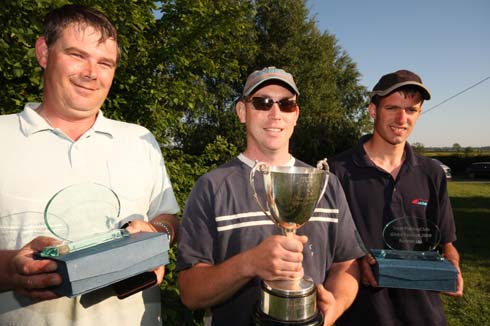 The Total-FishingClub anglers plus guests from Roy Marlow's Glebe Fishery raised over £2000 for the Angling Trust – some of the money will go towards England's World Championship bids.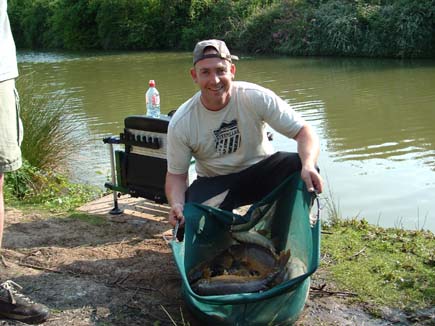 Winning the trophy on his first visit to The Glebe was Derby's Jamie Jones, pictured here with part of his 102lb first-day bag from Foundation Lake.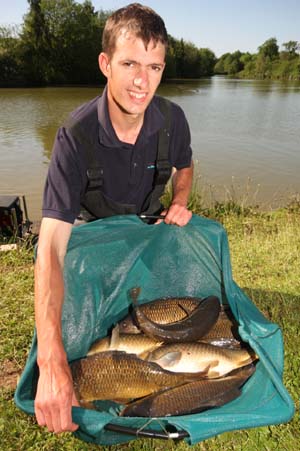 Lee Ensall with some of his section-winning weight from day two – his near 300lb two-point score was good enough only for third.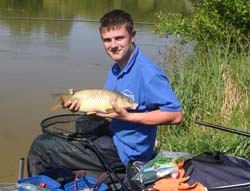 Guest Jarrad Smith was top scorer in the festival but didn't qualify for the trophy….
---