Fishery Description
Angel of the North Fishing Lakes is a premier fishing complex of beautiful carp and coarse fishing lakes in County Durham, near Gateshead, Tyne and Wear.
The three lakes include a pleasure and match carp fishing lake and extend over more than eight acres of water, set in 15 acres of carefully landscaped grounds.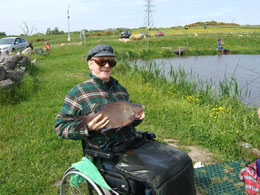 We welcome competent coarse and match anglers onto our day ticket two mixed coarse and a carp match and pleasure lake complex, which also includes a tackle shop, bait sales and snack bar. Toilets are available for male, female and disabled, and car parking is close to pegs. The site is very disabled angler friendly.
We are conservation minded and pride ourselves on providing a stunning environment and healthy habitat where the biodiversity of the site can be enjoyed by all – see http://www.angelfishing.com

CCTV is kept on for security of cars and equipment (you can reel in and leave your equipment on the fishing peg, but you must let us know to point a camera on your peg). Also CCTV is excellent for anyone with a medical condition which may trigger when on their own fishing (when asked we can keep a close watch over you, so you do not need to bring a carer or friend).
Bowes Lake – Pleasure and Match Lake
Bowes Lake extends over almost three acres and contains the most magnificent carp (commons, mirrors, ghosties and leather carp) with an a big head of fish averaging over 5lb plus smaller fish.
We aim to keep a constant water depth of 7 feet but in some areas it's only 6ft due to the undulating bottom. Bowes offers 40 bankside pegs, two disabled pegs, two wildlife islands, and a no-fishing area and wildlife sanctuary.
Lookout Lake
Lookout Lake covers over three acres and is stocked with a variety of coarse fish including rudd, roach, bream, tench to over 10lb, golden tench to 2lb 8oz, ide, koi, golden orfe, perch, small carp and we have a large quantity of gorgeous crucian carp which go from 2lb4oz to our special at 3lb11 oz. Again the average depth is 7ft.
Bassett's Pond
The small Bassett's Pond, of about one third of an acre, offers novice, family and some good general pleasure fishing for the
coarse angler, especially in adverse weather as it is the most sheltered of our lakes. We have deliberately stocked this differently with carp from 12oz to 15lb, rudd and golden rudd, tench, golden tench, golden orfe, crucian carp and some surprises.
The water depth is 6ft 6in and the pond has an undulating bottom with underwater features, bankside fishing pegs and two disabled pegs offering great fishing. Fishing here should be pre-booked, as the bank space is limited.
Beginners
Sea and game anglers are asked not to go fishing on our water without first booking onto our angling coaching sessions. This is to protect our livestock (fish), as all our livestock are caught on a catch and return basis and go back to the water to live out their lives in an incredible quality of aquaculture. Angel Lakes are run on a Fish Welfare basis.
Angling Tuition
We now offer qualified coaches (Professional Angling Association and National Federation of Anglers accredited) for one-to-one or group angling tuition.
The courses we offer are:
Beginners: On Bassetts Pond for people who wish to take up the fantastic sport of still water coarse angling. We supply the angling coach, the lake, 1/2 day ticket, all equipment, end tackle and bait. You just turn up and enjoy the sport of angling.
Refresher: On Bassetts Pond, tailored towards anglers wishing to convert from other forms of angling to those people who have not been coarse angling for some time, and wish to refresh their skills, as well as developing the beginner's skills after going through the first course.
Again we supply the angling coach, the lake, 1/2 day ticket, all equipment, end tackle and bait. You just turn up and enjoy.
Progression: After Beginners and Refresher, this offers the opportunity for you to develop your skills on your own but with the coach already on the water, coaching and tips and advice can be available.
Intermediate 1: On Lookout Lake, coaching for float, pole, maggot feeder, basic legering techniques, and seasonality of fishing techniques.
Intermediate 2: A more intense and in-depth tuition on pole, advanced legering, Method feeder, cage feeder and species.
Specialist: On Bowes Lake, this course is about developing your skills, knowledge and practical skills for targeting larger carp.
Costs: Juniors and adults (age 7 to 15) £15 per session (6 x 3-hour sessions to be booked and paid for in advance) Refresher etc £15 per session.
One to one, £20 per hour.
Group bookings available.
Refresher, Progression and Intermediate are available seven days per week.
Coarse fishing tuition is available seven days per week mornings, afternoons, evenings from March to November.
To register an interest in any of the Angel of the North Fishing Lakes angling courses please use our enquiry form (http://www.angelnorthlakes.com/home/enquiry.html). For bookings telephone 0191 4100449 or email (enquiries@angelnorthlakes.com)
Also available
Workshops and classroom presentations on watercraft, aquaculture, seasonality of fishing techniques, bait, zoonoses, species of fish, plus some fun workshops.
School/college visits can be arranged for angling coaching, pond dipping, butterfly, insect, wildlife, wildflowers, trees and shrubs.
Venue Fact File
Website: http://www.angelfishing.com
Email: enquiries@angelnorthlakes.com
Contact: Ann Adlington on 0191 4100449 or 07867 557974
Tickets: Half-day and day tickets are available and can be booked online. You can book in advance of when you want to fish and your ticket is guaranteed. If the lakes are fully booked the booking system will tell you so and you will never have to travel only to find we are full. You can call in at reception to book, but we do ask you to book online when ever possible.
Adult
Concession
Membership
£ 25.00
£ 15.00
Season Ticket
£ 350.00
£ 285.00
Day
Half Day
Day
Half Day
Fishing Ticket
£ 10.00
£ 6.00
£ 8.00
£ 5.00
Extra Rod
£ 5.00
£ 4.00
£ 4.00
£ 3.00
Non-angling Guest
£ 5.00
£ 4.00
£ 5.00
£ 4.00
Matches: Opens are now being held Wednesday Evenings (three hours), also Saturday and Sundays (five hours).
Night fishing: We offer night fishing to season ticket holders. This is for the safety and security of both anglers and our fish. Night fishing is strictly controlled and needs to be booked in advance. Gates will be locked during the night and opened only in an emergency. This is to ensure the security of all anglers and our fish. The site is monitored on CCTV.
Rules
All anglers and guests must report, pay and sign in at reception prior to fishing.
Fishing is from constructed pegs only.
Anglers must reel in if you leave your peg.
On-site toilet facilities must be used.
No swapping of lakes.
A current EA licence is required (anglers over 12 years old).
All fish caught are to be returned in a landing net (except in matches)
No under 18s allowed on Bowes Carp Lake unless authorised
All under 16s must be accompanied by an adult unless authorised
All anglers must keep to footpaths provided.
No alcohol allowed on site.
Please report any case of injured fish or wildlife to a member of staff
We would ask all anglers to take rubbish home or place in the bins at reception.
All nets, mats, weight slings must be dipped in the chemical dip tank for 10 minutes
Catch reports: These will be regularly updated on www.Total-Fishing.com – see latest fishery form/results button at the top of this listing.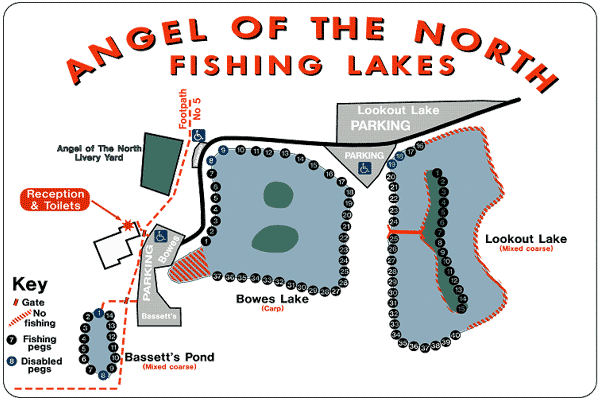 Latest Form

[posts-for-page cat_slug='angelofthenorthfishery' hide_images='true' num='20' read_more='
Read More »' show_full_posts='false' use_wp_excerpt='true' strip_html='true' hide_post_content='true' show_meta='false']