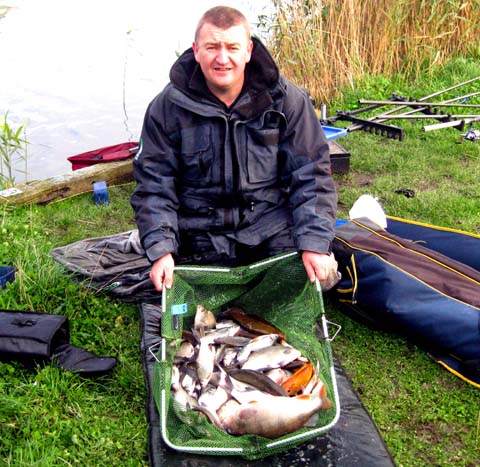 Tony Watson Sundays match winner front of net 2lb 7oz perch
Sunday 24th Oct 2010 open / League Lookout

Conditions:- Overnight cold and heavy rain (again), then partly cloudy, ambient temperature rose to 8 deg, humidity 66%, wind at first was calm, then changed to NW the N 12 mph, barometer 1016.9 mb, moon phase waning gibbous, water temp 6.1 deg, PH 7.15, DO 7.9, MV29

1st Tony Watson 34lb 10oz peg 31 inc 2lb 7oz perch on maggot
2nd Geoff Lincoln 23lb 1oz peg 15 on white maggot
3rd Neil Brown 14lb 9oz peg 23
4th Ian Gillis 12lb 15oz peg 1
5th Jonathan Broadbent 12lb 12oz peg 29
6th John Foster 8lb 4oz peg 12

Wednesday 20th October 2010 Open Bowes

Conditions:- Heavy overnight frost (again), then partly cloudy, ambient temp rose to 5 deg, humidity 81%, wind NW 8 mph, barometer 1016.8 mb, moon phase waxing gibbous, water temp dropped to 8.1 deg, PH 6.95, DO 7.10, mv 33

1st Ricky Bennett 24lb 8oz peg 24 all 10mm conker on bomb
2nd Dave Jackson 5lb 14oz peg 2
Rest DNW

General

Weather this week has varied from overnight frosts, to overnight rain and cold days together with rain, the frosts turned the sunrise into spectacular sights with the evaporation of the lakes reaching 6 ft and as sunrise started on the clear mornings rainbows and light refraction produced some stunning sights. The rain and frosts have however knocked the water temperature down to 6 degrees, and tightened the fish's shoals, they are feeding still but are far more gentle bites and very little feed is required to get the catches. Choose very carefully where you are going to fish with a walk around first being advisable to look for the tell tale signs of feeding fish, also sheltered spots away from the wind where fish will avoid cold thermals. Maggot is at the moment the lead bait, white catching more fish than other colours.

Lookout

Walk the banks before choosing your pegs as this week's weather has shoaled fish up tight. Some good bags of silvers as well as carp have been caught if you get into the shoals. Don't overfeed keep it very sparing and very little, but the fish are still feeding. If into a shoal you will need to increase the feed slightly or add some additives or groundbait to keep the fish in the swim. Pellet is working for carp even covered in paste as an attractant, and silvers on maggot, chopped worm and caster. Fish are tight in margins and some excellent perch to 2 lb being caught as well.


Bowes

Colder water temperatures have shoaled up both carp and silvers, follow watercraft to choose your peg, all fish still feeding however getting into the shoals is critical for good catch rates. Carp have been caught on conker with the paste around the pellet acting as an attractant but they are very tight to the island sheltering in warmer thermals. Silvers have favoured multiple maggots on the hook and feed has been maggot or micro pellets but not very much remember as water temperature took a big drop to 6 deg this week.


Bassetts
Carp feeding up very well with some great catch rates as well as silvers and we even had tench and crucians out. Feeding patterns need to be minimal about 4 maggots or 4 pellets every 5 mins and it is advisable to keep 3 swims going to get fish to other areas in your peg.
Best hook baits this week has been maggots, soft hookers, and sweetcorn.
Best feed this week has been angel micro pellets 1.5mm and maggots.

Angling Coaching
Bassetts again proved very good sport on Friday when a school group started their first learn to fish programme before half term, all the youngsters caught at least multiple carp on their three hour visit.
…………………………………………………………………………………………………………………………………………………………………………………………………………………………………………………………………………………………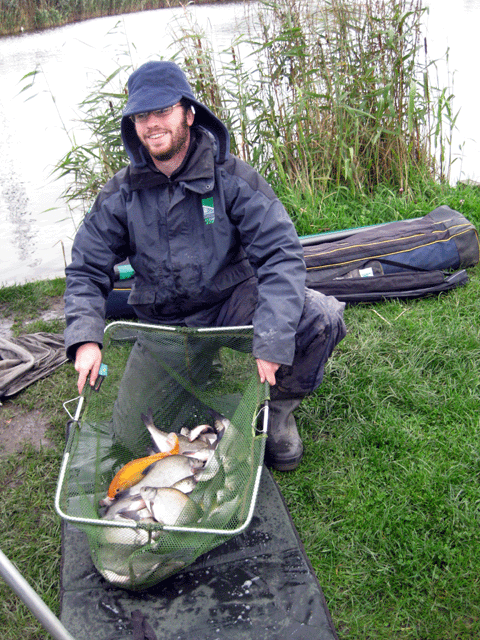 Ian Gillis Sundays match winner with one of his nets

Sunday 17th October 2010 Lookout

Conditions: – Severe overnight frost ambient temp down to 0 deg, and lakes with an evaporation mist lifting off them to 6 ft (very mystical in the sun rise), today was Fair, wind calm at first then rose to W 10 mph, barometer 1025 mb, moon phase waxing gibbous, water temp 9.00 deg, DO 6.8, PH 6.85, MV62

1st Ian Gillis 50lb 1oz peg 25, pellet tight to corner of bridge on tip for carp, and maggot at 8 metres for silvers,
2nd Chris Owers 45lb peg 4 all silvers / maggot
3rd Steve Mc Court 33lb 4oz peg 27 all silvers / maggot
4th Anth Richardson 26lb 2oz peg 12
5th John Foster 20lb 12oz peg 2
6th Jeff Webster 19lb 7oz peg 1


Wednesday 13th Oct 2010 open Bowes

Conditions: – Mostly Cloudy, ambient temperature 8 deg (cold), humidity 81%, wind calm then a chilled N wind, barometer 1022mb, moon phase waxing crescent, water temp 11.4, PH 7.25, DO 7.5, mv 23

1st Derek Fox 34lb 5oz peg 4, bream and one carp on worm, pellet for rest.
2nd Ricky Bennett 30lb 4oz peg 22
3rd Rob Emery 16lb 5oz peg 34
4th Peter Smith 11lb 13oz peg 40
5th Ray Wallace 8lb 6oz peg 16
Rest DNW

General
Still some cracking bream and skimmers, also rudd, roach, ide, Orfe, tench, perch, and carp coming out, as water temperatures go down, lighten your tackle and get some great quality fish. All the larger fish feeding up for winter and being caught for example on Wednesdays match a cracking rudd of 1.8lb being caught on Bowes.

With all the rain this week, cooler days and calm conditions water temperature has dropped to 9 degs, fish are feeding up still however do not over feed at this water temperature a little and often is the best way, very little feed needs to go in to entice the shoals to your peg.
Vary your methods of catching, start on tip to far bank on pellet and pellet in feeder, and when carp switch of change to float or pole close in or at 8 meters out, fish up in the water on maggot for silvers and get some great rudd bags, or go down to dead depth or over depth for skimmers and bream try worm and caster, or even pellets over feed pellets.

Lookout
Fishing well with 50lb 1oz caught by Ian Gillis on Sunday 27lb 15oz of silvers on maggot and 22lb 2oz carp, lots of good bags of silvers coming out with Chris Owers 2nd in Sundays match catching 45lb.
Care needs to be taken on feed patterns with very little and often being the key to catch rates, as is the choice of method of fishing, vary between float, pole, bomb and feeder for success. The water temperature drop has tightened the shoals but has not stopped the feeding of fish. Slightly lighten tackle however be aware the carp are still fighting hard and will rag you or head for the reeds very fast, spitting the hook on the way. Lots of anglers complaining of loosing of fish at the moment –it's a balance of getting the tackle correct at this water temperature, as fish still feeding and fighting hard.

Bait tips for feeding Chopped worm and caster, angel feed pellet, hemp, groundbait, maggots and caster. But remember small amounts.
Hook baits, pellet, worm, maggot, caster tipped onto worm, sweet corn, mussel, prawn, cubed luncheon meat and paste.

Bowes
John Atton from Whitley Bay fished peg 19 on 2 rods one with mussel and one with paste, caught Bream of 4lb 12, 5lb 9oz, 6lb 4oz, 6lb 6oz, 6lb 7oz, and 8lb 8oz all on paste, then carp on mussel, average weight of carp was 4lb with his best 6lb 1oz.
Leon Garner from Gateshead caught bream of 6lb 8oz and 6lb 4oz on pellet also a good mixed bag of carp and silvers .
Choosing your peg according to wind direction and watercraft is essential as the fish are shoaled and yet still feeding well with a water temperature of 9 deg. Some cracking silvers coming out with large Ide and Orfe, large bream and loads of skimmers, as well as Roach and Rudd over 1.8lb. Carp to good double figures and lots in the 5lb stamp being caught. Alternate your fishing methods from Float, Pole, to bomb and feeder as the bites dry up, giving you the best methods to keep catching all day. Balancing your tackle somewhat lighter is essential but carp are still fighting well and may smash you of if to light.

Bait tips for feeding Chopped worm and caster, angel feed pellet, hemp, groundbait, maggots and caster. But remember small amounts.
Hook baits, pellet, worm, maggot, and caster tipped onto worm, sweet corn, mussel, prawn, cubed luncheon meat, and paste.


Bassetts
This pond is amazing, carp and silvers catching all day long, with lots of anglers opting for this pond as temperatures drop, and winds get up.
Carp average between 1 ½ lb to 4lb and crucians about 10oz, silver sizes vary and some good tench including golden tench also Orfe, being caught.

Bait tips for feeding great for maggots, Chopped worm and caster, angel feed pellet, hemp, and caster. But remember small amounts. Please remember no groundbait allowed on this pond!

Hook baits, maggot (for carp and silvers), pellet, worm, caster tipped onto worm, sweet corn, mussel, prawn, paste.


Angling Coaching

A corking weekends coaching with excellent catches on Bassetts giving all newcomers a great sport. Please phone to book 0191 4100449.
………………………………………………………………………………………………………………………………………………………………………………………………………………………………………………………………………………………
Angel of the North Fishing Lakes Report to 10/10/10 (hey this wont happen for another 10 decades)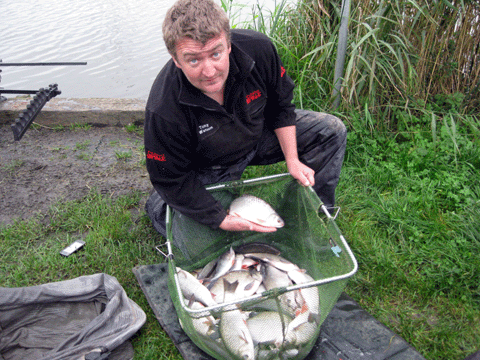 Photo Tony Watson with silver net winner on 10/10/10 open

Sunday 10th 10th 10

Conditions: – Fog early on, then mostly cloudy, ambient temperature 13 deg, humidity 88%, wind NE12 mph, barometer 1019, moon phase waxing crescent, Water temp 11.2 deg, DO 13.2 ppm, PH 7.19, Mv10

1st Tony Watson 34lb 10oz peg 16aa & GP
2nd Chris Owers 26lb 1oz peg 9
3rd Ricky Bennett 23lb 1oz peg 31
4th Geoff Lincoln 20lb 5oz peg 14
5th John Foster 20lb 3oz peg 24
6th Jonathan Broadbent 19lb 3oz peg 7

Saturday 9th October 2010 open Bowes

Conditions: – Light drizzle and Fog, ambient temp 13 deg, wind ENE 8mph poor fishing wind, barometer 1022 mb, moon phase waxing crescent, water temperature 11.3 deg, PH 7.43, DO 14.9 ppm, MV25
1st Ricky Bennett 57lb peg 23
2nd Richard Wildman 18lb peg 40
DNW

Wednesday 6th October 2010 open match Bowes

After torrential downpours yet again! the sky cleared to mostly cloudy, ambient temperature 12 deg, wind was calm then SW 13 mph, barometer 995.1 mb (low for fishing)-, moon phase waning crescent, water temp 10.1 in middle thermals with cooler water top and bottom, PH 7.45, DO 7.85, mv 29

1st Rob Emery 38lb 6oz peg 24 bomb and feeder, 6 in front and rest on conker to island
2nd Ricky Bennett 33lb 4oz peg 2
3rd Richard Wildman 22lb 14oz peg 34
4th Davey Hammel 19lb 2oz peg 2
Rest DNW even though some good bream weighed in separately

General

Weather wise this was a strange week, torrential rains, very thick fog, and yes we had some sun, the fish are feeding up for winter ahead and have started to shoal. Friday fish were up in the water and water temperature had risen to 11.3 deg, previous to this the fish were down on the bottom feeding.
Wind has varied from calm to W and S, making fish at times follow the wind direction.
Use watercraft to choose your peg, as hot pegs differ with wind direction, when N or E the fish look for calm waters out of the wind and therefore look for sheltered warmer thermals.

Some cracking silvers out of the lakes, and carp feeding up well but choice of pegs and the method of fishing will determine the quantity of fish caught, as well as getting the feed patterns correct-don't forget very very little feed at this water temperature.

Tips of the week,

Pole try margins and top 5 out, feed pellets 3mm in pole cup, and try pellet on hook.

Tip /feeder small cage feeder with angel 3mm pellets, to island, and angel 10mm pellet banded onto a hair rig.

Tip/Bomb of far shelf towards island, or back bank, in deep water, pellet or corn on hook, catapult small 6mm pellets around, search along bank to find fish, try high up then cast a little down bank, till you get onto fish.

Float try margins or out 4 meters up in the water for rudd, feed maggots and maggots on hook, or alternatively use pellet and fish dead bottom.

Hook baits working, pellet, paste, worm, caster, maggot, mussel, prawn, sweet corn, and cubes of luncheon meat. Or try conker angel feed pellet hair rigged and banded covered in angel 3mm pellets soaked to form a paste covering.

Feed angel pellets, hemp, groundbait, maggot, chopped worm, and caster. But feed very little.
Attractants of liquid additives can just boost your catch rate but not in large quantities just a little.

Lookout

If you are fishing up in the water some very good Rudd and Golden rudd numbers have been caught as well as Ide and Orfe, and at times some cracking carp.
Fishing on the bottom will bring in carp, tench, roach, and tight in margins has produced some lovely crucians, perch, and carp as well.
Carp feeding up and getting caught in numbers at early morning and late afternoon, silvers catching all day.
Tony Watson Sundays winner caught some cracking silvers including a 1lb.8oz Roach, and some good Ide and Orfe.

Bowes
Some good catches of carp and some cracking bream out to 8lb 14oz, as well as ide, Orfe, Rudd, Roach, tench and perch. Hot pegs depend on wind direction as fish are shoaling up as shorter day light hours and water temperatures lower.
Chose to bring, pole, tip for feeder and a bomb rod and if not catching on one method try another.
Don't over feed
Ricky Bennett won Saturdays match on peg 23 using conker (angel 10mm banded on a hair rig, covered in paste made from angel 3mm soaked pellets)
Bassetts

Still at great catch rates and loads of carp getting caught, crucians as well, silvers also feeding very well, loads of anglers like this pond in windy weather as it is very sheltered. Follow above feed regime but remember no groundbait allowed on this pond.

Angling Coaching still ongoing on a Saturday morning or groups or one to one through the week, please note these must be pre booked by phone.

Tele 0191 4100449 or email annadlington@btinternet.com web site www.angelfishing.com
……………………………………………………………………………………………………………………………………………………………………………………………………………………………………………………………………………………..
Sunday 3rd October 2010 Open/League Lookout

Conditions:- Heavy Rain all day, (yet again this week), ambient temperature 11 deg, wind calm to S 5mph, barometer low 991.1 mb, moon phase waning crescent, water temp dropped 10.1, PH 7.33, DO 7 ppm, MV 19

Heavy Rain, and more Rain and more Rain till 4pm

1st Tony Watson 56lb 14oz peg 3
2nd Johnathan Broadbent 46lb 4oz peg 15
3rd Geoff Lincoln 28lb 2oz peg 31 all silvers
4th Neil Brown 26lb 11oz peg 1
5th Ian Gillis 26lb 2oz peg 9
6th Ben Huggins 26lb 1oz peg 7

Saturday 2nd October 2010 Open Bowes

Conditions:- Partly Cloudy, ambient temp 8deg, humidity 93%, wind Calm, barometer 1001.mb moon phase waning crescent, water temp dropped 10.5 PH 7.41, DO7.7, MV28
After a week of heavy rains, wind and cold spells the match fished hard.

1st Eddie Collins 31lb 1oz peg 34
2nd Mark Wilson 26lb 4oz peg 40
3rd Rob Emery 16lb 10oz peg 2
4th Dave Jackson 15lb 3oz peg 22
5th Ted Hudson 12lb 4oz peg 24
6th Norman Laing 7lb 15oz peg 4

Eddie fished Feeder and bomb with pellet in feeder to far side then changed to caster and pellet at 6meters out.

Wed 29th Sept 2010 Open Bowes

Conditions:- Rain all day! Ambient temp 15 deg, wind SSE13 mph, barometer 1011.9 mb, moon phase waning gibbous, water temp 11.7, PH 7.45, DO 8.96, mv 31

1st Ricky Bennett 68lb 5oz peg 23
2nd Derek Fox 57lb 6oz peg 40
3rd Alan Mc Guire 39lb 4oz peg 17
4th Neville Langley 29lb 13oz peg 4
5th Tony Watson 29lb 12oz peg peg 22
6th Rob Emery 29lb 10oz peg 24

General
Still some good catches coming out despite the weather conditions this week, and all species still being caught.
A week of heavy rain with the odd good day in the middle, water temperature has fluctuated up and down by 2 deg, with warmer thermals being in the mid water level. Fish are starting to shoal together as if they sense the colder weather and shorter day light hours. It is necessary to use watercraft when choosing your pegs to get good numbers of fish, watch for the feeding bubbles of carp, crucians, tench and bream, and swirls of rudd up in the water.
Feed very little but you do need to have some in your swim to get the fish to move to the feed, add attractants of liquid additives, or pure fish meal, even a very small amount of groundbait to enhance smell to attract the shoals.

Carp are well into dawn to 10.30 am and 3pm to dusk feeding patterns, and silvers feeding all day if you can get them into your swim. Definitely winter feeding tactics now.

Bowes

Carp when feeding are full of fight offering great sport, and carp feeding up well for winter, do not go light yet on your tackle yet as the carp will snap you of after ragging you all over so keep to summer tackle strengths for now to get the carp in.
Some cracking silvers are being caught if you target them all have pilled weight on the year, and tench, ide, Orfe, and bream feeding very well.
Feed very little but you do need to have some in your swim to get the fish to move to the feed, add attractants of liquid additives, or pure fish meal, even a very small amount of groundbait to enhance smell to attract the shoals.

Lookout

Some excellent quality fish being caught as well as lots of perch, important to get through perch to aim for bigger fish do this by bigger baits on hook or multiple maggots if using maggots.
Fish have started to shoal, watch for feeding bubbles to choose your peg and use watercraft now to choose the best pegs.
Some cracking carp, ghosties and Koi as well as silvers out this week all have put good weight on this year how I do not know because of the weather.

Bassetts

Carp catching well with a range of mirrors, common, leathers and ghosties being caught as well as crucians feeding up well, silvers, tench and Orfe all still feeding well. Maggot and pellet are best hook bait at the moment on this pond and feed very very little.

Angling Coaching every Saturday please phone to book, its 9am till 12 noon.