The borders between carp and match fishing get ever more blurred and there's no doubt that in the right circumstances boilies are an excellent hook bait on commercials.
The main difference is that while the big fish boys are often trying to avoid smaller fish and thus use big hook baits, match anglers often want to catch everything that swims. Bag 'Em matchbaits have had their Micro Fluoro Boilies on the shelves for a while, and they have now added to the range with a pop-up version.
The Micro Fluoro Pop ups are tiny hand rolled 6-8mm baits in orange, white, green, yellow, pink and purple. Former matchman of the year Neil Machin is backed by Bag Em and he rates them for use when fishing The Method. An un-flavoured 200ml pot is £6.99, which should last you the whole season.
Product File
Bag 'em Micro Fluoro Pop Ups
Price: £6.99 for a 200ml pot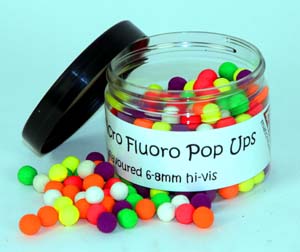 The new Bag 'Em pop-up boilies…
---