Barston Lakes is growing in stature every year as a match, carp and pleasure venue.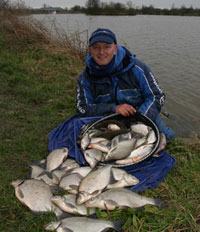 The skimmer fishing on the big lake can be sensational.
Barston Lakes is growing in stature every year as a match, carp and pleasure venue. The 125-peg, 21-acre main Barston Lake already holds some major events including Fish O Mania qualifiers and the Drennan Superleague final, and due to its varied stocking is gaining a reputation as providing extremely fair angling.
Although there are plenty of sliver fish and skimmers, there are also a lot of carp in the main lake and night fishing is allowed. Facilities are absolutely top rate as the venue is directly connected to the superb West Midlands Golf Course and anglers have use of its facilities. Fifty of the pegs have car parking right behind them.
As well as the main lake, there's also a 24-peg Match Pool which is designed to be a fair test for pole matches. All have car parking.
Methods and Advice
Although a commercial fishery, Barston Lake is still pretty new and you will find that most traditional methods will produce fish.
It is more of a natural fishery than your regular commercial and has been stocked with as many silvers and carp. The skimmers are now over a pound, and skimmer nets are now competing with carp nets in the matches.
Current favoured methods for match fishing in the summer are pellet on the pole line for carp and skimmers or the Method with red boilie or red maggot.  In autumn and spring the skimmer fishing is excellent, and worm and caster is the preferred method, waiting for a carp on the feeder or Method can be risky, but worth it if it works.
Winter fishing, again worm and caster can work if it's mild. Bloodworm and joker is best if it's very cold. Few carp show in winter, but cold weather catches of silvers can be over 30lb still.
For big carp, boilies with pellets in PVA bags or on PVA string seem to be the most popular methods.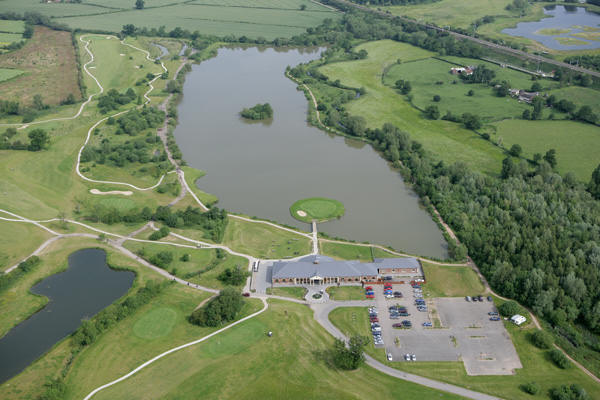 Barston Lakes
 Barston Lake – Fishing Advice
Pegs 1-20
These pegs are regularly used for matches as all matches are on this bank, and if the wind is coming from the north, the end peg will be full of fish. All pegs four feet deep.
Pegs 21-40
These pegs have some hidden features and if you draw the right peg and find the feature, you will bag up if you get it right! The island is also a realistic target for casting to. Pegs 33 to 37 are on the island. All pegs are four feet deep on the pole line.
Pegs 41-60
Certain conditions can favour these pegs and they are probably the ones that get fished the least, so you will need to figure out how best to catch on these pegs. Four feet going down to seven feet deep at peg 60.
Pegs 61-80
The water deepens underneath the electricity wires from around 7′ to 15′ so these can be good pegs in the cold if the fish are searching for some depth.  Otherwise try catching on the drop, or in the margins.
Pegs 81-100
When the wind comes from the south you may find the fish in the top corner around peg 80 but the whole section 80-100 have produced decent weights. All pegs are four feet deep.
Pegs 101-125
This is a well-fished section with lots of feed going in. Popular pegs include the ones opposite the island which is reachable with a good cast. Some pegs are on the back of the island, a good 90 yard chuck. All pegs are four feet in depth again.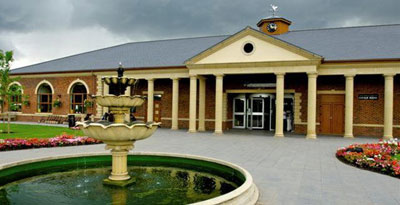 Anglers have use of the fabulous golf course facilities.
Wheelchair Access At Barston
Particularly good pegs for wheelchair users are between 90 and 120 – these have nearby parking. Please note that there is a public footpath around the lake (including a bridle path down the riverbank) and we ask that you do not block the footpath.
Beware of leaving poles in particular on the path, as you might find the occasional horse or bike coming down the path.
Match Record
163lb 8oz, Craig O'Brien, Maver
Caught on a peg on the right hand bank during summer of 2006, Craig beat the old record by a long way after finding big carp at an underwater feature fishing the method.
Carp Fishing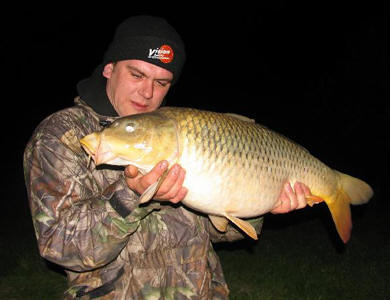 The big carp at Barston tend to show at night.
Although Barston Lake has been fished on and off since it was created more than 25 years ago, little is known of the original resident stocks of fish, although it had a reputation amongst locals for holding some big carp which are believed to run to more than 30lb and decent heads of bream, roach to over 1lb, rudd and tench to about 8lb.
However, these fish have been supplemented with more than 14,000 common and mirror carp, some 3,500 roach and perch and more than 750 common and mirror carp up to 20lb were introduced from British Waterways' Naseby Reservoir. These fish are now showing regularly and are stacking on the weight because Barston Lake is such a large water with plenty of natural food. In addition to 'The Scar' at 30lb 6oz fish (caught in mid-May 2005), lots of other mid-high 20s have already been caught.
As a result, Barston is quickly attracting a regular and growing following amongst specialist carp anglers from throughout the Midlands, who can bivvy up near their pegs and fish for virtually as long as they wish.
Best results for the carp seem to be had by night anglers fishing two or three rods using boilies and modern carp fishing techniques along the left hand bank. However, this bank is most popular simply because you can drive your car to the pegs.
If you are prepared to walk along the right hand bank there are plenty of areas where you can bivvy up which are much quieter but where the fishing is equally good.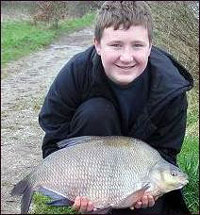 If you are planning to stay overnight or for a longer period, it may well pay you to try this bank, particularly if you want to enjoy a bit more solitude. However make sure that you check the sign in the shop for the forthcoming matches as club matches are held on this bank at the weekends.
Biggest Fish
The end of June 2005 saw Barston's first '30' coming to the net – a mirror nicknamed 'The Scar' which weighed 30lb 6oz. Last out in October 2004 when it weighed 29lb 6oz, it was taken from open water on a large pellet fished over a big bed of 4mm pellets.
Double Figure Bream
Scott Travis from Cubbington, near Leamington in Warwickshire took what is thought to be the Barston's biggest ever bream when he landed a superb 10lb 8oz specimen.
Fishing 4lb line and a size 16 hook baited with a single bronze maggot, Scott was float fishing for whatever he could catch when the big slab took his bait. Scott said afterwards: "I'd caught a few roach and rudd but knew I'd hooked something big as soon as I struck. I haven't stopped talking about it since because it even beats my dad's personal best!"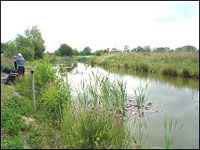 Match Pool – the perfect pole water…
Match Pool – Fishing Advice
At 12 metres wide with a central island running down its length, the 24-peg Match Pool has been designed specifically with the pole in mind.
Depths vary from two feet around the sides to seven feet in the middle. The pool was initially stocked with 7,000 carp between 12oz and 2lb, but these have grown quickly and the biggest are now running to between 7lb and 8lb.
In colder weather it is advisable to fish maggots, caster and worms for the rudd and silver fish and when it warms up to use pellets and sweetcorn to target the carp. The pool fishes well from all pegs all year round, but fishing to the features – up against the island, near to the lily pads or close in by the side has tended to provide best results so far.
Match catches are improving steadily all the time and are now typically being won with weights of between 40lb and 60lb, and it is anticipated these will improve further following a stocking of crucians, skimmers, roach and rudd.
River Blythe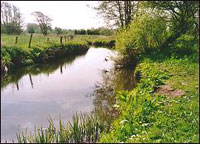 Anglers who like to keep on the move will love the River Blythe.
Barston Lakes' stretch of the River Blythe varies between shallow, fast-running stretches to slow-moving lengths with deeper holes, where an angler can stay for much of the day.
Although only narrow, the size of the River Blythe belies its reputation as a fishery as there are a wide variety of fish available, many of them running to decent sizes. These include good sized pike into double figures, chub to over 4lb, trout to at least 3lb, perch over 2lb plus good stocks of roach over 1lb as well as dace, carp and eels.
Whilst it often pays to move up or down the river once you have taken several fish from a swim, many anglers are content to stay in one peg for hours at a time waiting for the fish to come to them rather than try to follow the fish.
Whatever your preference, the Blythe is ideal for fishing the pole, trotting a waggler or stick float downstream or legering either in the quicker water or in the deeper pools which can be found along its length.
As for bait, virtually anything goes with traditional baits like maggots, worms, and bread being popular favourites as are paste baits, luncheon meat, sweetcorn and plain or flavoured coarse fish pellets.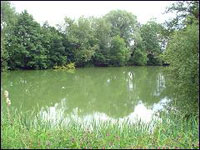 Ford Pool – ideal for small matches.
Ford Pool
Capable of providing 10 pegs, two of which have already been developed at the road end, the Ford pool provides sport for pleasure anglers.
Known to hold a good head of rudd plus golden orfe to 5lb and carp and crucian carp to 2lb 8oz.
An obvious pole or waggler water, anglers who have fished Ford Pool say that maggots, casters and bread are good baits with sweetcorn effective for the carp. They also recommend you find the pegs which are weed free, then loose feed with hook samples and use a 16 or 18 hook either on the bottom or midwater to find the fish. Further development will take place in the future to enable up to at least a dozen anglers and would mean that the pool would be ideal for small matches.
Venue File
Barston Lakes, Marsh House Farm Lane, Barston, Solihull, West Midlands, B92 0LB
Tickets: Eight hours £7; 12 hours £11; 24 hours £15. It's members only when night fishing, with free membership available. There's also a twilight tickets at £5. Juniors/OAPs can fish for £5. All prices allow the use of two rods. For three rods add £2
Download information leaflet and membership form for night fishing here
Contact: To contact us for enquiries or match bookings please call us on 01675 444890 or e-mail bookings@wmgc.co.uk . For fishery manager Nigel Harrhy, e-mail nharrhy@aol.co.uk
Website: www.barstonlakes.co.uk
Match bookings: Normal peg fee applies. For the Match Pool a minimum of 16 anglers is needed to book the whole pool. On the main Barston Lake the riverside bank is available for matches. The roadside bank is available for pleasure, carp and night fishing
Facilities: Anglers are welcome to come into the clubhouse for food and drink and to use the changing and shower rooms
Video: To see how to make a pole rig for Barston Lakes, http://uk.youtube.com/watch?v=FEKPHDWSQTs
Tuition: Professional tuition is available from three times Kamasan Matchman of the year Andy May or from Matchman of the Year Neil Machin. Contact Nigel Harrhy in the first instance
How to get there:
From A45 take the A452 signposted Leamington Spa and Balsall Common at Stonebridge Island (Malt Shovel). At next island proceed ahead (third exit). At next island double back (third exit) and turn left into Bradnocks Marsh Lane (next to Mercedes-Benz dealership). Under railway bridge turn right
From Solihull Option 1: At J5 of M42 head towards Knowle (Warwick Road), turn left into Jacobean Lane (opposite Copt Heath Golf Club). At staggered crossroads go straight ahead towards Barston, drive through the village and over the riverbridge and take the next left into Bradnocks Marsh Lane. Just before the railway bridge turn left
From Solihull Option 2: Go to Catherine De Barnes, drive through the village and turn right at the island signposted to Barston. At T-Junction turn left. At staggered crossroads go straight ahead towards Barston, drive through the village and over the riverbridge and take the next left into Bradnocks Marsh Lane. Just before the railway bridge turn left
From Kenilworth head to Balsall Common and proceed towards Hampton in Arden (A452 Kenilworth Road). Turn left into Bradnocks Marsh Lane (next to Mercedes-Benz dealership). Under railway bridge turn right