An emotional Charlene Louise Stevens won the NFA Ladies National at the first attempt on Saturday at Lakeview Fisheries Holwell. With temperatures at the draw a hot and heady 24ºC, Charlene, like all the other anglers knew that it was going to be tough match. However, perseverance and good decision making brought the best out of permanent peg 19 on Canal Lake.
Clear blue skies, little or no breeze and a forecast that gave temperatures reaching the low thirties by the afternoon meant that expectations of big weights were muted. Nevertheless, this did not deter the sixty six lady anglers and eleven teams from giving their best to compete for the Individual Ladies National Champion 2008 and Ladies Team Champions 2008.
For most of the competitors, the first three hours of the match were very difficult, with very few fish in the mood to feed. Inevitably this meant that there was no single individual or team running away with the match and so both titles where up for grabs well into the closing stages.
Charlene, a twenty year old, computer technician from Swinton, Manchester triumphed with a creditable 48lbs 2ozs. Fishing for Swindon Isis A.C she generously contributed her success to "Sandra Scotthorne, Wendy Locker, Helen Dagnall, Val Hillier and the Swindon Isis Ladies team for all the fantastic support, advice and encouragement they have given me since I started fishing, and of course, my dad". Charlene's first fishing experience was when she went with her dad at age of eight, but she really didn't take the sport seriously until she reached the age of eleven.
Charlene started, like most other anglers on the day, fishing tight to the far bank whilst constantly feeding a margin swim to her left with pellet. Persevering with the far bank swim for the first three hours and leaving the margin swim alone she caught the odd small carp, but wasn't breaking any records. On switching to her margin swim, alternating worm and corn on the hook, she started to catch more frequently, again small carp up to 2lb. The change in tactics paid off and at the end of the match she had a golden half an hour catching eighteen carp and losing further five.
In joint second place were Sandra Scotthorne, drawn on Oasis 5 and another young and up and coming angler, Kayleigh Williams, who both weighed in a level 44lbs.
On the team front with a combined weight of 115lbs 12ozs, the winners were Starlets A.S. comprising, Claire Dagnall, Helen Dagnall, Julie Abbott and Samantha Perkins. Second place with a combined weight of 111lbs were Barnsley and District Ladies, comprising, Kirsty Smith, Sandra Scotthorne, Pam Mason and Emma Pickering.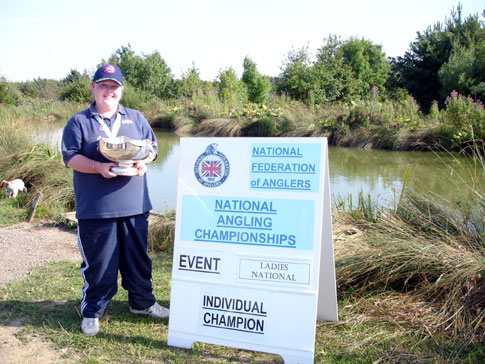 Winner, Charlene Louise Stevens