Commercial fisheries now play a big part in our fishing and chopped worms play a big part on these venues. Because worms are a natural bait all fish see them as potential food, none more so than carp. Les Thompson visits Warwickshire's Tunnel Barn Farm to see how he gets the most from this highly effective bait. Keeping it simple is a common theme that the country's top angler's employ – and Les is no different. Over to him….
The Rigs
I set up three rigs: one for fishing on the deck; one for fishing shallow on the same line; and one for fishing in the margins. This is because in the summer months the fish are very active and compete for the bait. This leads to the fish coming up in the water very quickly. I like to start on the bottom but at the first sign of liners or foul hookers I will switch to a shallow rig.
I have taken my time plumbing up and I've found a flat spot at 9m. I am going to start at this distance because in a match the bankside commotion would initially push the fish out.
A lot of anglers at this venue tend to fish close in and this would give me this line all to myself under match conditions.
My float is 0.6g and is shotted with a bulk and three droppers to allow a natural fall of the bait after the bulk has settled. Attached to this is a size 14 Preston PR28 hook tied directly to 0.15mm Power line.
My shallow rig incorporates a size 16 hook of the same make, again to 0.15mm. The float is 0.20g and is shotted with just a bulk at half-depth because I like to start at a depth of 2ft.
The final rig is also a 0.20g with a bulk. However, Tunnel Barn, along with the rest of the country, is experiencing a drought and as such the water level is down by approximately 3ft. When I plumbed up 4m to my right I found just 5in of water depth. Undeterred, I am quite confident that I will catch there later on in the session.
Bait Requirements
I will now prepare my bait for the session. I have brought with me two pints of casters, four tins of sweetcorn and half a kilo of dendrabaena worms.
I start by adding a quarter of a bottle of Sensas Aromix Gardons to the casters. I have had a lot of success using this additive and now always use it for carp fishing to get rid of any ammonia smells on the bait.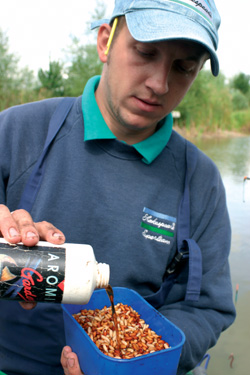 Les is a fan of adding Gardon Aromix to his casters.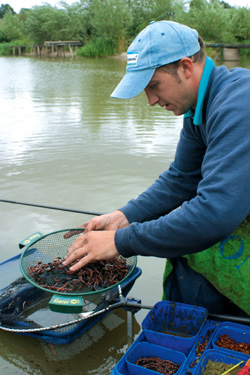 Wash your worms over a riddle to get rid of the
soil before chopping.
After riddling the worms to get rid of the soil, I take a big pinch of worms for the hook before chopping the remainder.
To the worms I add the casters and the sweetcorn and mix it into a sloppy mess.
Pot For Starters
I start by filling my pot with the mix and tipping it in at 9m. I've added six or seven unchopped worms to the pot and shipped out. I add a few whole worms to make sure they get to the bottom and attract some larger specimens. Gently, I lay the cup on the water and tip in the mush as quietly as possible. This is to try and keep the fish on the bottom. I then tip the same into the margin peg.
I quickly bait up with half a worm and ship out. The float cocks and disappears. The No12 elastic streams out and soon the first pastie-sized carp graces my keepnet.
I catch about five similar carp before starting to experience line bites. The float is twitching and bobbing constantly. I can't believe these fish have come up already. I pot in another load of feed, hoping to send the fish down to the deck, but all that happens is that the surface of the water erupts with swirling fish and masses of bubbles.
After five minutes of missed bites and liners I've decided to have a go fishing shallow.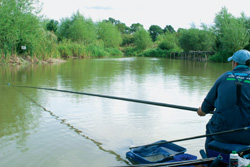 When trying to catch on the bottom, lay the cup on the water and tip out the mush…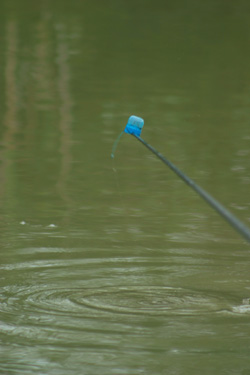 When fishing shallow feed from a height and lower your bait into the splash.
Fishing Shallow
I pick up my rig and fill the little pot on the end of the pole. This time when feeding, I'll tip the bait in from a height and then drop the rig straight in on top. I've baited up with a worms' head roughly the same size as a caster. The fish seem to prefer this size of bait when fishing shallow.
Elastic shooting out of the end of the pole signals my first bite shallow. From then on a steady flow of small carp are taken. In fact, in the first hour alone I have taken over 30 fish for around 18lb.
After every fish caught I fill up the pot and tip in a small amount of food. It's essential that bait is falling through the water constantly to encourage the carp to compete. In fact, I've had to shallow up to just 10in deep and have placed all the shot directly under the float.
The fish are still swirling and taking the food as it hits the water – I swear I saw one just laying there with its mouth open waiting for some more worm soup to drop into its greedy mouth!
I continue to feed regularly and caught equally as fast for the next 90 minutes or so.
I decide to try for a bonus down the edge. I've prepared the swim by potting in another full pot of bait and followed this up with two worms on a size 12.
I noticed fish feeding down the edge earlier but had decided to leave the fish alone to let them gain confidence in the very shallow water.
Again, first put-in and I've caught a small carp. This place is absolutely solid! There were some big fish down the side – I could see their backs out of the water but they shied off when the pole was placed over their heads.
I've also fed this line constantly with a small pot permanently attached to the pole tip and the fish are just coming out quicker and quicker.
I wasn't able to catch that bonus fish today, mainly because the small fish arrived there first.
Hook Baits
There are several ways to bait up with worms. The most popular way is to mount half a worm but carp on some venues have wised up to this. Other ways to hook worms include one or two small segments hooked like a maggot. When fishing shallow, a worm head tends to be best.
In three hours' fishing I have ended up with more than 40lb of fish, mainly carp up to one pound but with a few orfe.
It is fantastic fishing, a bite every cast. This is the power of the worm.
Venue profile
Name: Tunnel Barn Farm
Location: Shrewley, Warwickshire
How to get there: From the M42 junction 4, take the A34 Stratford Road to Hockley Heath where you turn left. Follow the old Warwick Road for around six miles. Turn right into Shrewley and the entrance to the fishery is on the right-hand side just before you reach the telephone box on the left
Tel: 01926 842975
Website: www.tunnelbarnfarm.co.uk
Pegs available: Approximately 135
Club bookings: Yes
Fishery rules: No floating baits as feed but other than that there are no bait bans: just a request to use it in moderation. Barbless hooks only, two keepnets in summer matches, keepnets allowed in winter practice sessions.
---