2020 Favourites – Fish, Flies & Flats
Fishing is good for the soul as many enthusiasts will proclaim. Staying active is important for an individual's overall health and fishing allows one to stay active while doing something they enjoy. Saltwater fly fishing might not be as popular or prevalent as the freshwater versions for a variety of reasons. In very rough seas fly fishing can be difficult if not impossible so fishing the saltwater flats is imperative. Saltwater flats are extremely prevalent in locations of the Southeast U.S. like Florida, with opportunities to catch a myriad of fish with different saltwater flies. Throughout the state's saltwater flats, it is possible to catch Snapper, Redfish, Pompano, Snook, Bonefish, and the ultimate Florida sportfish, Tarpon. Below are some tips to help make your first (or next!) saltwater fly fishing trip even more successful!
Understand Which Fish Will Bite Which Saltwater Flies
There are species-specific saltwater fly patterns that are known to attract a specific fish whether it is Redfish, Bonefish or Tarpon. The type and size of the target fish will influence the size hook. Thicker and larger hooks are necessary for bigger fish because the small hooks bend easily. If targeting Tarpon, it's crucial to get the best equipment possible in terms of lines, leaders, flies and hooks. These fish can grow over 200 pounds as well as put up a legendary fight, sometimes lasting hours to get a fish to the boat. There are also generic saltwater fly patterns that attract multiple types of fish, however many who fish in the flats do have a target fish in mind.
Strong Leaders and Fishing Line a Must Have
The fishing line an angler uses with saltwater flies must be far stronger than when fly fishing in freshwater. Many saltwater fish have teeth that are unlike any in freshwater species, and the gills on a Snook can cut even the strongest lines. A steel-leader line needs to be used to keep a prize fish from breaking off. And sometimes the line gets pulled into coral or other rocks, so it's crucial to get highly durable saltwater flies. Plus, with the saltwater and sand, the exposure to those coarse elements takes its toll when compared to freshwater.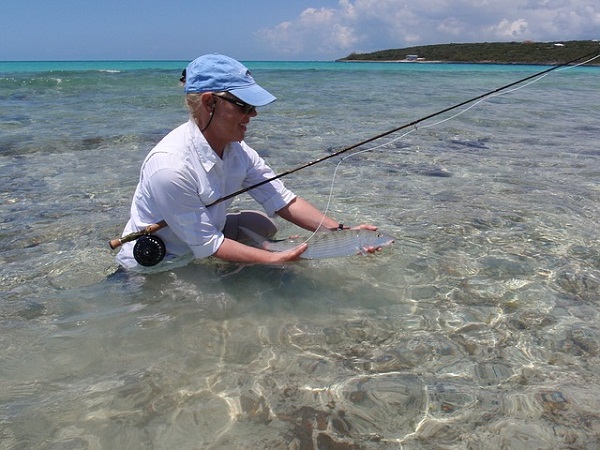 Best Locations in the U.S. to Fly Fish Saltwater Flies
As mentioned above, the state of Florida has the most access to saltwater flats in the United States. The vast amount of shoreline has made fly fishing in the saltwater flats a favorite for visitors and native Floridians. On the gulf side of Florida, Sarasota and the areas south have great fishing overall; and more specifically, great saltwater flats filled with mangroves which are the perfect environment for Snapper and Redfish. On the Atlantic coast of Florida, Boca Grande boasts some of the best fishing in the country, for both fly fishing saltwater flats as well as deep-sea fishing.
Savannah, Georgia also has a great fly fishing culture, in part due to this coastal city's huge fishing industry overall. Redfish are abundant and many charter captains closely monitor the tides to target some of the largest Redfish in the US.
While Louisiana is a fishing hotspot, it's not always synonymous with fly fishing. There are many fishing hotspots both natural and manmade where Yellowfin Tuna can be caught. Still, Redfish are abundant so there's plenty of fly fishing opportunity. You can also cast your saltwater flies out for Black Drum as well as Jack Crevalle, which pound for pound puts up one of the best fights of any fish. For those fly fishing fanatics that have not been to the saltwater flats, just know that it is a completely different challenge. To call yourself a true fly fishing enthusiast you really should try as many types of fly fishing as you can. It could open your eyes to an entire new realm of fly fishing.
As with any type of fly fishing, you'll want to take time to research the pros and cons of the multitude of saltwater fly patterns and the best species of fish to target. Wherever you choose, remember to make even more of the trip by doing some sightseeing in these wonderful US coastal cities.