The first ever Dreamstore Day at Stoke City's Britannia Stadium Saturday 11th October has been hailed as a huge success. Around forty participants attended, from all over the country, attending a series of seminars and demonstrations. The Day included presentation of the Dreamstore Active Awards 2008 and a demonstration of the highly innovative Dreamstore Education Action Zone.
Short courses included, First Aid and Child Protection refresher courses, and Coaching Disability and Access Awareness by the British Disabled Angling Association. There was a special presentation on Voluntary Sector Funding by Voluntary Action Stoke-on-Trent which was greatly appreciated by Voluntary group leaders.
The Dreamstore Day incorporated the Dreamstore Active Awards 2008. Two Awards were presented on the day: the Social Inclusion Award 2008, supported by Dreamstore and the Group Award 2008 supported by the Environment Agency. Dreamstore Active Awards are presented annually and across a range of categories. Awards raise the profile of individuals or groups where their activity has gained particular commendation over the previous year.
The Social Inclusion Award 2008 supported by Dreamstore UK was presented to John and Rozy Brooks, from Cornwall, who have individually and together, provided support to a vast range of social inclusion projects and programmes in Cornwall. Both Dreamstore Academy graduates they have supported Nine Maiden Centre in Redruth for community support to families, Helston College, Falmouth Primary School and the Dreadnought Centre for autistic young people. John and Rozy have been initiators and the dynamic of angling activities and bring passion and dedication to everything they undertake.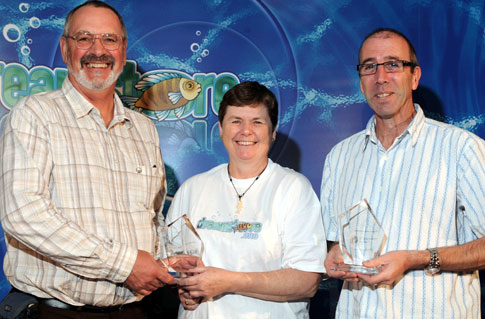 John and Rozy Brooks