After the success of last year's inaugural Catfish Challenge Cup at Cheshire's Lakemore Fisheries, Dynamite Baits have added fresh momentum to the 2008 event.
The Lakemore Catfish Challenge's unique format will see 14 match stars pair up with 14 top specimen hunters with extensive catfish experience on Thursday May 22 for a traditional match between 2pm-4.30pm. Then comes the main event, an overnight catfish contest from 8pm-8am.
A friendly event, it's open to spectators for the chance to meet, greet and learn from expert anglers for a nominal £1 entry fee – and Dynamite are giving away 100 1Kg bags of bait free to the first 100 junior spectators.
Last year's winning pair – 2003 Fish 'O'Mania champion Matt Hall plus big fish all-rounder Mark Barrett, Pike Anglers Club secretary – caught four cats including three 20s to 27lb. Both will be back, though not necessarily drawn together this time.
Other confirmed contestants from the match world are: Neil Machin, Steve Ringer, Wendy Lythgoe, Andy May, Jamie Masson, Kieron Rich, Steve Cooke, Geoff Ringer, Jeff Moors, Jon Arthur and Les Thompson.
On the specimen side, Mick Brown, Simon Clarke, Gary Newman, Richard Garner, Jan Porter, Matt Rand, Steve Broad, Dave Smith, Trevor Pritchard, Mathew Ashmore and Dave Foster will be present.
Meanwhile, there's still time for any would-be contestant who fancies a once-in-a-lifetime chance to join the star-studded cast – by catching a Lakemore catfish heavier than the current season's best of 48lb.
Mark Ashmore, Lakemore owner and event organiser, said: "My aim was to unite specimen and match angling to further the understanding or each others' areas of the sport, plus to boost the profile of catfish in the UK.
"As part of this, I decided to reserve a place for the captor of the biggest catfish before May 19. Terry Lowe from the Wirral caught a 48lb cat plus another of 40lb last weekend, but with two known 50s present he could yet be unseated," he added.
Full details of day tickets, plus spectator time slots within the CCC's itinerary, are available online at www.lakemorefisheries.co.uk or by calling Mark Ashmore on 07771 848801.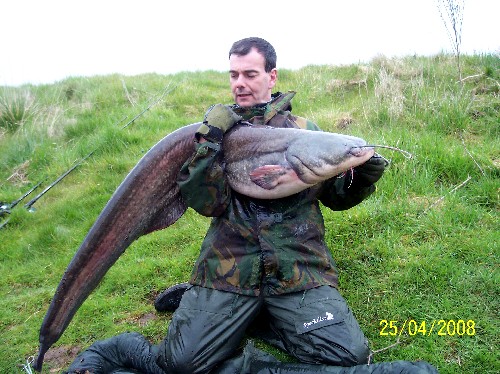 • Terry Lowe displays the 48lb Lakemore catfish which put him in the driving seat for the fabulous bonus prize of a place in the Lakemore Catfish Challenge Cup. This whiskery specimen took a whole tin of luncheon meat and was backed by a mackerel-tempted 40-pounder!