John Coster from Dagenham won the 4th PartyPoker.com Fish 'O' Mania qualifier on Wednesday at Monk Lakes to secure his place in the final in July.
The 130 lucky anglers faced calm but wet conditions to start with, however, the sun came through towards the end of the qualifier making life a little more comfortable for those taking part. Although the fishing in the calmer areas was a touch inconsistent, overall good weights were recorded with only one of the thirteen 10 peg sections being won with less than 50lbs.
The match started well for the Fox Match Team Raiders angler, John Coster. He was lucky enough to draw peg 134, one of the favoured end pegs. John was fishing on Match Lake 3, opposite peg 113 which has won the PartyPoker.com Fish 'O' Mania, Monk Lakes qualifier for the last two years running. As a result John kept a close eye of proceedings across the water and was feeling confident as the peg struggled to catch as well as it had done in previous years.
John who is the Managing Director of an engineering company went out on the day to fish the pellet waggler, a few feet deep with 6mm banded pellets. This brought home the bounty with his first fish after five minutes, and then a steady flow until the final hooter. Catching mostly carp ranging from 1lb 8ozs to 4lbs, he finished with 137lbs 3ozs.
The winner has been fishing Fish 'O' Mania qualifiers for the last few years now but has never made it as far as the final 16. Talking to John about his upcoming final appearance he commented, "I am very much looking forward to fishing the final at Browning [Cudmore], I will be paying a number of visits to the venue before July to get some practice in. I am really buzzing just through qualifying. For me this is my biggest achievement in the sport and it is a real highlight for me."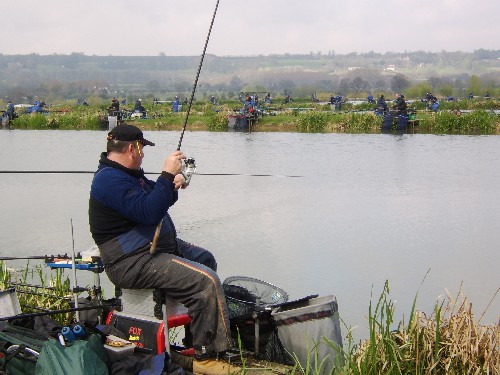 Winner John Coster in action on Monk Lakes.
Runner up at Monk Lakes was Dave Reeve from Woodbridge in Suffolk, who fished peg 91 for his final weight of 128lbs 120zs. Dave who fishes for Carp Vader fished corn down the edge with his biggest fish being a carp to 5lbs.
In third was Graham Dack from Romford who fishes for Middy and weighed in 104lbs 4oz from peg 22 on Lake 1. Graham's catch consisted of carp up to 5lbs caught on the pole and corn. Former Fish 'O' Mania winner and Worms UK angler, Marc Jones from Huddersfield weighed in 98lbs from peg 77 on Lake 2, not being able to replicate his previous successes.
In fifth place was Starlets angler, Simon Fry who caught 96lbs 8oz from peg 56 on Lake 2 and in sixth was Andrew Leathers who took 94lbs 8ozs fishing peg 23 on Lake 1.