A hundred and twenty of the 128 competitors were immediately out of the chance to qualify for the Fish O Mania final when they drew on Barston's Big Lake, which fished disappointingly.
That meant the eight anglers on Barston's small Match Lake were handed a brilliant opportunity qualify as it duly produced the top six weights on the day.
Painter and Decorator Matthew Smith drew the plum peg on the Match Lake and made no mistake securing his place in the final of PartyPoker.com Fish 'O' Mania.
Barston Lakes is one of the most popular match venues in the country and is well known for its big carp and large head of bream. However this year in order to give anglers some extra room in this PartyPoker.com Fish 'O' Mania qualifier, a new 10 peg section was pegged on the adjacent Match Lake.
The additional stretch was a 12 metre wide canal which was heavily stocked with F1's, however as the match got underway, anglers were unsure of which lake would have been preferable to draw on. The Match Lake would certainly give plenty of bites for the competitors whereas just 10 bites on the Main Lake could result in 80lbs of carp going onto the scales.
As the day progressed, it was Main Lake which proved to be the hardest to fish, with the carp not feeding and the skimmers conspicuous by their absence in many areas. However, it was a different story on Match Lake with some great form put in and the top five weights all coming from the lake.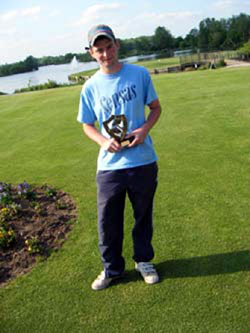 Winner Matthew Smith
It was 20 year old youngster Matthew Smith from Stourbridge who took full advantage of the Main Lakes lack of performance as he caught over 100 fish from peg 5 on Match Lake to finish with 78lbs 10ozs. Matthew has only fished one PartyPoker.com Fish 'O' Mania qualifier previously at Maver Larford finishing fourth however he showed no signs of nerves catching continuously with 60 carp in the first two hours. Fishing on the pole, he had a mixed keep net with skimmers, tench and a huge number of F1's all taken on 4mm pellet, with his biggest being a bonus mirror up to 4lbs.
Matthew, who fishes for Mosella Black Country and will be taking part in the Drennan Super League commented, "I have only fished the Match Lake twice before but luckily won both of those matches from the peg that I also drew today. Thus, I knew what I needed to do and just went out there and fished it and everything seemed to go right for me on the day. I am really looking forward to the final and although the other anglers will have a lot of experience it can be anyone's on the day".
Runner up to the youngster was Shane Trower of Corby who weighed in 48lbs 10ozs from peg 15 from Match Lake, fishing mainly down the near margin on corn and pellet. Nick Roberts came just behind Shane in third place, and caught 46lbs 14ozs from peg 19 again on Match Lake. Richard Payne came in fourth with 39lbs 2ozs and Kevin Retford was fifth with 39lb fishing from peg 3 on Match Lake.
This is the 15th running of PartyPoker.com Fish 'O' Mania. Promoted by Essex-based Matchroom Sport, the event features 16 heats of 130 anglers each with the winner advancing forward to the Grand Final at Browning Cudmore Fisheries, Whitmore near Newcastle-under-Lyme on Saturday 19th July.
The final will be televised live in its five hour entirety on Sky Sports with the eventual winner receiving £25,000. All qualifying events are covered by Sky Sports to be broadcast on their weekly magazine show 'Tight Lines, every Friday.
For angler reaction to this qualifier see this thread:
It's a red hot topic which has already received over 5,600 views.