The Angling Trust is giving anglers over the age of 60 the opportunity to fish for England, with the first 2009 trial for the England Veterans team taking place on Furzton Lake in Milton Keynes on Wednesday 11th March.
This will be the first of a series of trials in which England Team Manager Joe Roberts will ask all attendees to fish the match to international rules to help identify anglers who are of international calibre. The match will give anglers a unique opportunity to fish on this year's F.I.P.S.ed organised World Championship venue using the same tactics that will be needed on 11th and 12th July later this year.
England selectors will be looking for anglers who have an excellent knowledge of bloodworm and joker techniques demonstrating their ability to fish at international level. Anglers will also need to adapt their domestic style of fishing considerably following F.I.P.S.ed rules where only float fishing with a pole up to 11.5m or waggler are permitted.
Any angler who believes s/he has the aptitude to enhance England's standing in international fishing further and contribute to another gold medal summer should contact England Manager Joe Roberts directly on 07860 469 595 or 01604 712 897.
Any potential anglers who would like to fish the trials need to be 60 years of age on or before the 31st December 2008 and join the Angling Trust to be eligible to fish, which can be easily done via the new website, www.anglingtrust.net or by calling 0844 7700616.
Joe Roberts, England Team Manager, is expectant of a good year for 2009, commenting: "Last year we had an incredibly successful World Championship in Portugal winning team bronze and individual gold with Mark Addy. This year the eyes of the world will be upon us, especially as we are fishing on home water. The anglers that come to trial will need to be at the very top of their profession, as nothing short of gold will be expected."
International Events Manager Dick Clegg supported Joe, adding: "There will be huge pressure on this year's Angling Trust England Veterans team due to the venue. However, the team will be able to take nothing for granted as the skills required to fish to international rules are completely different to domestic angling techniques. This makes the series of trials that will be conducted by Joe, become even more important ensuring selected anglers have the abilities required to bring success on our home waters."
Angling Trust Chief Executive Mark Lloyd commented: "we want the best team possible to ensure that the England veterans can continue their winning streak, and so I would encourage all eligible anglers to register with Joe as soon as possible. As the old saying goes: time spent fishing is time added onto life."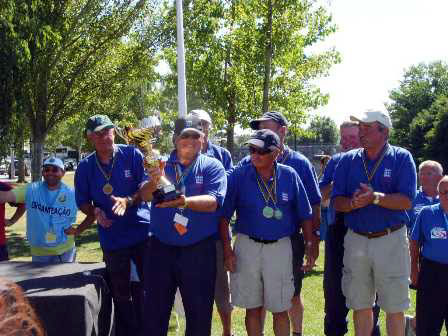 England Veterans

Click on http://www.total-fishingclub.com– the UK's No1 online match fishing club – to win a trip to the world match fishing championships, and save money off tackle…