Perch, pike, bream, bleak, and dace are just some of the fish which are returning to a River Thames backwater this year after it was restored by the Environment Agency.
The fish have been detected following monitoring work carried out at the backwater in Water Eaton, near Cricklade in Wiltshire last week. The monitoring is being carried out as part of a £30,000 Environment Agency project to restore the backwater and other lost habitat carried out last year.

Wildlife habitats were largely destroyed during dredging work undertaken following the Second World War, which saw agricultural land drained to boost food production in the area. Large sections of the main channel were dredged and straightened, and many valuable habitats, such as shallow gravel fish spawning areas and backwaters, were lost.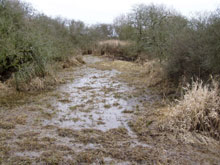 Water Eaton before the EA work…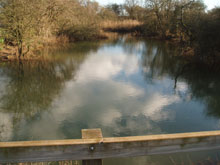 … and after.

The Environment Agency partially excavated a former backwater which had been dry for many years and reconnected it to the Thames. The aim was to re-establish a valuable backwater refuge for fish fry, water voles and otters during high winter flows.

Local limestone was also placed in the river channel at alternate sites of the channel to create flow deflectors, with the aim of increasing habitat diversity and spawning areas within the river channel.

Flow monitoring carried out by Environment Agency fisheries officers on the stretch last week, using a new piece of equipment known as an Acoustic Doppler Current Profiler, has proved that things are getting better. It uses acoustic lens technology to deliver high quality images of flows over a cross section of river.
Charts produced by the monitoring equipment have shown that the gravel flow deflectors have formed shallow, fast flowing areas which maintain clean gravels for fish such as chub, barbel and dace to spawn upon. The monitoring also showed that slack areas have formed behind the flow deflectors which provide valuable areas for fish to shelter.
Environment Agency fisheries officer Chris Bell said: "This kind of diversity of habitat is exactly what we hoped to achieve through this project, by providing habitats for all life stages of fish, and we are delighted by the results. We hope that the fish populations in this section will continue to utilise these habitats and fish populations in the area grow.
"We also netted the backwater, looking at both fry and adult fish populations. It is obvious that the newly created habitat is successfully providing a safe haven for fry and adult fish, particularly during high flows, for species such as perch, pike, bleak, bream and dace.
"This is particularly important for fry, which can be washed out of river systems and are increasingly vulnerable to predation, so the creation of the backwater has provided a great refuge area for these fish."

This was the first project of its kind on the Upper Thames and has been fully funded by sales of anglers rod licences.

Mr Bell added: "We have worked closely with local landowners, the Swindon Golden Carp angling club and local groups to improve the Thames for fish and other river wildlife for years to come. To watch fish, damselflies and kingfishers move into these restored areas bodes very well for the sustainability of the river in the future."