Caption: Dave Harrell caught this beast first put-in – on a whip!
The River Wye is one of those rivers where you're never quite sure what's going to happen before a match gets underway, writes Dave Harrell. This is because the huge fish population moves around so much over the course of a season, it's impossible to accurately say where they're going to be from one match to the next. The Belmont stretch of the river, in Hereford, is a prime example of this.
Go there in the summer months and you'll be faced with a river that doesn't move very much, is extremely clear and doesn't hold a big head of small fish. Sure, there are big fish like carp and barbel there and there's also a healthy head of perch but the silver-fish population is conspicuous by its absence. Go to the same length between November and March, though, and it's a very different story. Suddenly the length is transformed into a fish-filled paradise where some huge weights of dace, roach and chub can be had.
Quite where all the fish go after the river season ends on March 14th is anyone's guess. There are other rivers in this country where the same phenomenon happens of course. I've been going to Shrewsbury on the Severn since 1979, and every year since I've become increasingly aware of the huge fish migration that takes place there. Like the Wye, you go there in the summer and you'll struggle but go there in the winter and you'll get a bite a chuck.
I've been going to Belmont since the early 1990s and have always enjoyed the matches there. I've been lucky enough to win a few and most of my visits have been enjoyable. In fact, considering how relatively few matches I've fished there in that time, I've recorded some of my best silver-fish river catches ever. The only disappointing aspect of the matches at Belmont, for me, is the fact that there are not enough of them. Organiser Pete Pembridge has been running the opens for many years. Every season, just after Christmas, he organises a series of matches taking in both banks of the river upstream of the old bridge in Hereford and if the river is at a decent level you can always be sure of some fantastic weights.
For a first-time visitor the Wye can be a daunting-looking river. It's big, deep and fast and it requires specialised approaches if you're going to win anything. Add to that the fact that you also need plenty of bait to get the fish lined up on some days and you can probably appreciate that it's not a venue for the faint hearted. Local tackle dealer Paul (Woody) Woodward is one of the best when it comes to catching big weights from the river. He has lived near to it all his life and his best-ever Wye match weight of 178-12-0 in five hours, also happens to be a record weight from the river. In my opinion it's a record that will stand for a very long time. That weight was made up with chub but he is also an excellent dace and roach angler, so once I'd decided to include the Wye in this series it seemed logical to involve Woody.
| | |
| --- | --- |
| Woody's stick floats go from 6No4 to a whopping 14No4. | Bolo floats go from 4g to 6g. |
A few days before we were due to meet up there was an open match on the stretch and, with the river at a perfect level, big weights were forecast. I had an enjoyable match and weighed in 35lb of dace, caught on stick and bolo rigs, which… get this, was only good enough for 12th overall! Welsh international Darren Frost won the match with 60lb of dace on the pole and other dace and roach weights of 55lb, 53lb, 51lb and 50lb followed. There were 60 anglers fishing the match and there were 47 weights over 10lb recorded. It needed 19-10-0 for the lowest section-winning weight and in anyone's book that's fantastic match fishing!
I couldn't wait to get back to the venue and spend a day with Woody, who had kindly agreed to do a feature for us using a stick-float and bolo approach with groundbait. As part of my day there (and as I couldn't resist the chance of fishing myself) I also agreed to do a feature for our sister magazine, Advanced Pole Fishing on the same day. To fit both features in it meant a very early start from Evesham for yours truly but it turned out to be well worth it. All I'll say for now is that it was a fabulous four hours' dace and roach fishing, despite a near gale-force, downstream wind. I used an elasticated whip in the early part of my session and hooked (and landed) a salmon first put in!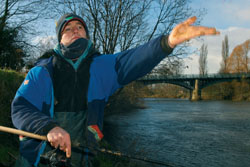 Remember to keep the maggots and groundbait going in.
Once I'd finished my feature I joined Woody a couple of swims upstream to see how he was getting on. As I got to him he was swinging a big dace in on the stick and he told me that he was getting a fish virtually every run down! I sat and watched him in action for a while and it was easy to see just why he has recorded so many good weights from the river. Feeding a ball of groundbait every run down and hooking fish up to 8oz, here was a man who had done this so many times that he was fishing on autopilot. If I'm not fishing myself, I love to watch other good anglers in action and the biggest compliment I can pay Woody is that, having watched him in action, he's as good a river angler as I've ever seen, particularly when it comes to catching big weights on the float. In four hours of fishing in very difficult conditions he put together around 45lb of dace and roach. We decided a visit to a nearby hostelry (where the temperature was decidedly warmer) was in order, to give us the chance to chat about the river over a couple of beers.
Once we'd thawed out and found a quiet corner to talk, it suddenly occurred to me that we could do several very different features on a stretch like Belmont. In addition to the feature we'd just done, there's float fishing for chub with bread, pole fishing, bleak fishing and feeder fishing. At least four good reasons why we need to go back with the cameras again sometime soon I reckon!
We talked about the river and the needs and requirements for it in order to do well. One of the biggest debating areas in the time I've been going there, is how much and what baits are required. Woody has strong opinions on this subject and told me that for a five-hour match he would carry two bags of Sensas Gros Gardons, two bags of River, one bag of PVA binder and around 10kg of brown crumb. "Mixed thoroughly together, this is the mix I'd use if I was targeting roach as well as dace," he told me. "However, if it became apparent that dace were the only species to go for, I'd start to add topsoil, black leam or molehill soil. You can get through loads of groundbait when the dace are on the move, so I usually take around 25kg of soil with me. While I realise that many anglers will have never used that amount of groundbait before, especially on a river, all I will say is that once you've fished the place you'll soon realise that it's a venue that just gobbles up feed. There are so many fish here that, if you draw well, you just can't overfeed them."
| | |
| --- | --- |
| Woody uses Sensas groundbaits as his base mix. | You can get through plenty of maggots. |
| Woody uses Preston Powerline for hooklengths. | Strong, sharp hooks are important. |
Now, for those of you who are struggling to come to terms with that much groundbait, I can endorse Woody's comments totally. I remember the first few times I went there, listening in disbelief to anglers at the match HQ afterwards, talking about how much they'd fed. After a while I started to understand the importance of feeding the river correctly in order to catch big weights. The Wye is a river where, if you don't feed, you don't catch. It's as simple as that. Over our second pint, Woody and I got onto the subject of loose feed and I asked him how much he normally carried to a match.
"When the river is carrying extra water and colour and I think there's a fair chance it's going to be a groundbait job, I carry four pints of casters, four pints of hemp and four pints of maggots," he said. "Most of this will go in the groundbait if there's colour and pace in the river. If the river is clear, I take 10 pints of bronze and red maggots. Whatever the river conditions, though, I always adopt the same philosophy on here, and that's to attack and fish to win. It's been said many times that a faint heart never won anything and that's definitely the case here. After every match I like to feel I've given myself the best possible chance of winning a prize. Feeding lightly never plays a part in that."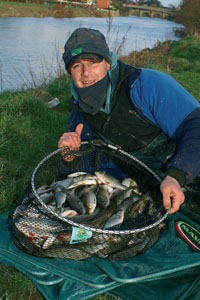 Is it any wonder the matches at Belmont are so popular?
Before we got on to exactly how Woody feeds his swim for a five-hour match, we talked about tackle. Woody was quick to point out that there is plenty of good kit now available for the job. He uses mainly 15ft and 17ft rods, as the extra length is better for controlling a float than a 13ft rod. His current choices are a couple of discontinued Shakespeare rods and he's recently started using the new 17ft Garbolino rod. He favours the old-style (also discontinued) Browning reels but also highly rates the Maver Tica reels. Main line for stick and bolo fishing is 21/2lb Maxima and hooklengths are 0.11mm or 0.13mm Preston Powerline. If you read our recent line-test feature you'll know that the actual diameters of these lines is 0.14mm and 0.16mm, so finesse is definitely NOT high on the agenda for Wye roach and dace. A Kamasan B711 hook in sizes 17, 15 or 13 completes the terminal tackle.
A few years ago Woody designed his own range of stick and bolo floats for big rivers like the Wye and the Severn, and since that time the floats have gained a huge following with anglers all around the country. They're still available at £1.40 each from his shop (tel: 01432 344644) and can also be supplied in trade packs to tackle shops through Premier Floats. The shouldered stick floats run from 6No4 up to 14No4 and the bolos from 4g to 6g and the best shotting patterns, according to Woody, are as per the diagrams.
Declining a third pint, as I was driving, we got onto the subject of starting a match and feeding the swim correctly. Woody was quick to point out that he always tries to keep the fish deep. "By feeding the heavy groundbait mix regularly the fish stay on the deck, where I can slowly line them up and amass a big weight," he told me. "Unless the river is low and clear and I'm waggler fishing, I don't want them coming up in the water, as it becomes a bit of a nightmare trying to work out what depth most of the fish are at. It also results in a lot of missed bites, so I'd always recommend groundbait."
As a starting point we spoke about where to concentrate energies in the early stages of a match. Like me, Woody always starts off on the 'crease' – the band of water where close-in slow water meets the faster flow. It's textbook stuff I know, but this line of the river is always a good place to start off. Woody introduces 10 big balls of feed, about the size of an orange, at the start and these contain a fair amount of casters, hemp and maggots. Be careful not to put too many maggots into the mix though, as it will be difficult to keep the balls holding together. I asked Woody to talk through a typical feeding approach.
"After the initial 10 big balls I loose feed the swim close in, by hand, with maggots. These are thrown upstream and I alternate this with small balls of groundbait that are thrown in slightly downstream. By feeding like this I create two catching areas at different points down the swim. If I'm catching roach I keep with the standard mix and if dace appear I add the topsoil or molehill soil. The key then is to just keep on going. Sometimes it can take an hour or more for the fish to move into the swim but once they move over the feed you can soon build up a weight."
As I stated earlier, after watching Woody in action, it was easy to see why he's a regular Wye winner. He's a very positive angler who always wants to win and if he's drawn on fish he's hard to beat. He's also a really nice bloke who will always help you if he can. If you've never fished the Belmont stretch, do yourself a favour and get there soon, either to fish a match or to have a practice session. Day tickets are available from Woody and club bookings can be made through Pete Pembridge on 01432 270706. You won't regret it I promise you.