fishingbaits.biz  – The Marukyu Specialists
At www.fishingbaits.biz you will find a new online service that sells the range of high quality baits from the Marukyu stable, and plenty of expert advice about how to get the best from it.
The site even includes a bait 'Wizard' (www.fishingbaits.biz/fishing-bait-wizard.php ) which allows you to input the details of the fishing challenge you are facing, and will tell you which bait combination should work best for you.
If this isn't enough, their Fishing Guides section is packed with expert advice, articles and videos.
Customers receive a monthly newsletter on which baits are working best, based upon feedback from the Marukyu field testers and Pro team.
There is plenty more detail on the baits available from their website at www.fishingbaits.biz, however a summary of the baits they can deliver next day is as follows; Maggots, Corn and Hemp, Marukyu Groundbaits, Marukyu JPzs, Marukyu Additives, Marukyu Boilies, Marukyu Pellets, Marukyu Pastes with basic, terminal tackle from Dinsmores and Special offers and packages available for good measure.
The team at www.fishingbaits.biz tries to make ordering from the site as simple as possible, with the promise that your order will be delivered next day.
They offer a friendly service and all emails and questions are responded to promptly. They are anglers themselves, and have spent a great deal of time with the Marukyu experts.
For those who don't know, Marukyu is the biggest bait company in the world that has invested 43 years of scientific investment into understanding what stimulates fish to feed in different conditions, and what fish like to eat.
Maggots, corn and hemp also form part of their range as well some basic terminal tackle. So if you are missing anything and need someone to drop it to your door with next day delivery, fishingbaits.biz are a good team to look at.
The web links below will give you information on these great baits and where and when to use them.
Fact File
Website: www.fishingbaits.biz
Contact: www.fishingbaits.biz/contact.php
Special Offers: www.fishingbaits.biz/special-offers.html

…………………………………………………………………………………..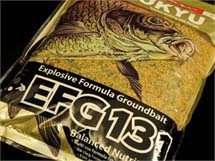 Marukyu Groundbait Range
Marukyu Explosive Formula Groundbaits are light years ahead of anything else on the market in the UK. It is important you understand why this groundbait is different to anything else you can buy, to ensure you have the confidence with it on the water.
FIND OUT MORE – GROUNDBAITS AVAILABLE ARE FOUND HERE
ARTICLE: CHOOSING THE RIGHT GROUNDBAIT
…………………………………………………………………………………..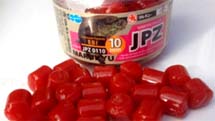 Maruyku JPZs
After 19 years researching alternative baits, a team of Marukyu scientists has created what has been described as a truly massive innovation in fishing bait technology. This is the hook bait revolutionising fishing. Marukyu JPz pellets are available in 10mm and 6mm sizes.
In simple terms, JPzs hook baits have been formulated to ensure that the bait's proteins and their associated amino acids work together to maximum effect in attracting fish, stimulating their feeding behaviour and bringing them back for more.
…………………………………………………………………………………..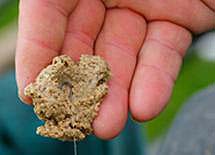 Marukyu Pastes
When baiting with Marukyu GLUTEN pastes, generally it is best to bait the hook by pulling the hook through the bottom of the bait. Doing so will avoid breaking the GLUTEN threads which are very important to keep the bait on the hook.
GLUTEN bait expands in the water making it very light, yet strong bait. Due to the expansion of the bait, you do not need to put much on the hook. Generally place enough bait so as to just cover the hook.  You can find a video on how to mix the pastes here:
VIDEO: HOW TO MIX MARUKYU PASTE VIDEO
……………………………..
MORE LINKS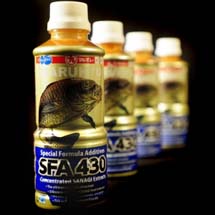 Marukyu Additives
These include Krill powder, Krill concentrate liquid, Liquid Crayfish and Sanagi Extracts and powdered Sanagi.
To find out more about these products, click on the link below and then click on the product image you are interested in.
ARTICLE: USING ADDITIVES CORRECTLY
Kevin Wilmot from Total Coarse Fishing Magazine reports on his tests using silkworm chrysalis or Sanagi as a bait and groundbait additive.
…………………………………………………………………………………..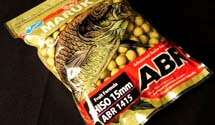 Marukyu Boilies
Marukyu have developed specific boilies for cool and warmer water conditions and also some including Nori that are fantastic not just for carp but also for tench, and bream.
To find out more about these products, click on the link below and then click on the product image you are interested in.http://fishingbaits.biz/marukyu-boilies.html
ARTICLE: HOW TO GET THE BEST FROM BOILIES
Marukyu's Tim Hodges explains how the scientifically formulated ABR range of boilies and pop-ups will help you catch carp throughout the year.
…………………………………………………………………………………..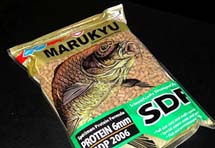 Marukyu Pellets
Marukyu Pellets are developed using a cold process, ensuring ALL key attractants are only released when the pellets hit the water.
The other benefit is that the breakdown is controlled, releasing particles into the water to stimulate the fish to feed and attract them to your hook.
To find out more about Marukyu's Protein and Nori pellets, click on the link below and then click on the product image you are interested in.
VIDEO: WHAT MAKES MARUKYU PELLETS SO GOOD
Roy Marlow explains in this video why Marukyu pellets are different than anything else available on the UK market, giving you visibility of how they breakdown in the water
…………………………………………………………………………………..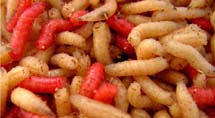 Krilled Maggots
Yes, we sell ready made Krilled Maggots, delivered direct to your door. Krilled Maggots are very attractive to fish. They are frozen with Krill and then thawed and during the thawing process, they absorb loads of Krill, making them irresistable in smell and taste to fish. When they reach you the maggots will be thawed. Please note, they are not live.
Krill is a highly nutritious food for coarse fish. Krill are tiny marine crustaceans found in huge numbers in the Arctic and Antarctic oceans. Marukyu's scientists have blended Krill with specific minerals to make it highly water soluble and the attractants are absorbed through the maggots skin, totally changing their chemical make up and making a unique and very attractive taste for fish.
Krilled Maggots are perfect for all species of carp, bream, tench, chub, barbel, perch and roach.
ARTICLE: FISHING WITH KRILLED MAGGOTS
Rich Bedder explains how he makes up and fishes with killed maggots on the pole.