GAIA 'RAISES THE BAR' AT CAER BERIS AGM !
The Game Angling instructors Association (GAIA) held its bi annual training weekend at Caer Beris is Wales. Individuals had opportunity to take assessments at this event and the following were successful taking the new revised syllabi.
Frank Williams : APGAI Single Handed
Mal Hunter: GAIC Single Handed,
Chris Aldred : GAIC Single Handed
Chris Price : GAIC Single Handed
Those attending were treated to a diverse and varied interactive Continuous Professional and Personal Development (CPPD) programme including master classes from the likes of Thomas Berggren Loop – sharing his skills and advice on underhand fishing techniques;
Charles Jardine passing on experience on how to conduct professional, public casting demos; and on taking fly fishing into schools.
Andrew Toft, Philip Maher, Leslie Holmes, Louis Noble and Mark Roberts all contributed with interactive fly casting development sessions. In addition Phil White, Alan Middleton and Wendy Gibson gave similar help and advice on fly dressing.
For those interested in entomology Dai Roberts of the River Fly Monitoring Group provided an update and the 'bugs point of view' in his inimitable style, complementing the fly dressing sessions.
A great two days of learning and development for all those who attended.
The AGM also held at this event agreed that all Level 1 and 2 ADB coaches in Game Angling would be welcome as Associate members of GAIA to help them to develop the technical skills to match their coaching qualification to become an all-round qualified coach.
The next event will be held at Tweedswood on the Tweed near Melrose in March and anyone one interested in becoming a coach are welcome to attend. For further information and details contact the Administrator through www.gameanglinginstructors.co.uk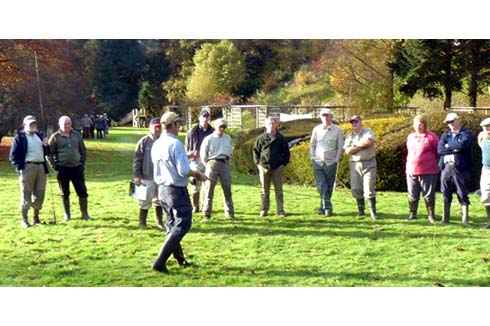 Fly fishing instructors brush up on their techniques at Caer Beris.