THIS area offers a tremendous array of
marks, most of which are noted bass hotspots. You can also catch good numbers of cod in the winter and smoothhounds in the summer.
Before we start, it must be mentioned that the Breaksea Point area is a bass nursery and as such you should return all the bass you catch from that mark.
Some huge cod are caught from these marks each year, especially before and after Christmas, so tie up a few rigs and go get 'em. To get to the marks mentioned here couldn't be simpler, if you're travelling from the west of Barry take the B4265 signs to Cardiff Airport. After the airport you will find various drop-off points to the marks.
Most of the terrain is weed-covered rock, boulders, pebbles or a mix of sand and mud. It is not suitable for the elderly, young or disabled anglers – and always check that the tide does not creep in behind you! Parking can be a problem – and never leave your car unattended at night.
Font–y–gary Point
Look for the signs to the caravan park but ask permission to park there or find a place outside the complex. This is a good base to stay to access the whole area. The path to the east of the area will take you to the point and the sandy, pebbly beach that exposes at low water. Best to fish the beach two hours before low and two hours up on a medium-range tide. Spring to summer can be excellent for smoothhounds to crab bait. Bass too are present. A freshly caught pouting could produce a big bass or conger eel. Sandier patches will produce ray in early summer. In winter codling can be caught at high water near the steps at dusk.
                                                                 East Aberthaw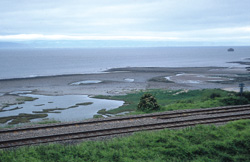 Moving west, the ground becomes rougher and is more of a pebbly nature. It should only be fished two hours before to two hours after low on a mid-range spring tide. It often fishes best on the flooding tide and rotten bottom pulley rigs are essential. Peeler crab works for the hounds, black lug tipped with squid for cod. When parking here for this and the remaining marks, it's best to follow the lanes to west Aberthaw beach car park, west of the power station, and take the long, arduous walk in the appropriate direction.
Breaksea Point, Front Of The Power Station.
From the beach car park, walk east under the power station wall. Out to sea you will see what appears to be a stone island where water is extracted. The rocks here at low water can be particularly good for smoothhound in summer and big cod in winter using baits mentioned previously. The water here is deeper and the current stronger. A low to medium spring tide is more suitable. Dogfish show here with rockling and conger to fish baits. It is too dangerous to fish here in rough weather.
West Aberthaw
The beach car park is a stretch of sand that leads down to low water where you will find rock ledges to the left. Rotten bottoms are essential and you will lose weights in the weed-covered rocks but this is where the big cod run before and after Christmas. Try to fish the higher rock ledges but do not fish in rough weather. Conger, dogfish and rockling are also taken. Smoothhounds nose in on the flooding tide two hours back and two hours up only. Mullet sometimes follow the tide up.
The Pebble Beach
Walking further west along the pebbles it is possible to find cleaner patches of ground but tackle loss is inevitable. In summer, mullet roam through the weed beds and the serious angler could fish for them on the fly, or the traditional harbour ragworm under a float tactic. This mark is best fished on a flooding tide up to high water. In winter there are usually plenty of codling present, along with the occasional whiting.
Summerhouse Point
This is a long walk to a remote spot in a westerly direction but it can be worthwhile. There are some great rock ledges to fish at low water which, coincidentally, is the best time to fish here! It is possible to move back eastwards to the shore as the tide rises. Bass and smoothhound are the main target in summer, along with conger eels and a good chance of a ray from the cleaner ground. This is big-cod ground in the winter and a lugworm/squid cocktail fished on a pulley rig should work wonders.
Tackle Shops
Ewenny Angling Supplies, 11b Ewenny Road, Bridgend, Mid Glamorgan, tel: 01656 662691
Barry Angling Centre, 14 Park Crescent, Barry, South Glamorgan, tel: 01446 747638
TF Top Tip
Try using half a mackerel flapper for the conger eels – there are plenty of decent ones to be caught here. It's worth adding some form of attractor to your hooklength when targeting the cod, like this Booby Bead.