Despite the horrendous weather that battered much of the UK over the weekend, the crowds still turned out in force for the first-ever Fox UK Carp Experience.

Held at The Carp Society Horseshoe Lake, the aim of the event was to let anglers test Fox products in a real fishing environment and to learn the latest carp techniques from Fox's team of top consultants.
One of the most popular attractions was the Casting Area. Anglers were given the opportunity to test every single Fox rod and reel as well as perfecting their casting techniques with help from Ian Chillcott and Shaun McSpadden.
Alongside the Casting Area was the Fox Spodding Championships. Throughout the day anglers were paying £1 (all money went to the Stoney and Friends Charity) to attempt to hit a 2 metre square target set at 75 yards! The final saw Peter Bennett and Dave Gawthorn battle it out in a Penalty Shoot Out-style competition to determine the Fox Spodding Champion 2008.
The winner was Peter Bennett who walked off with a Fox Stratos 12000 MAG reel, SFD Spod rod and Glass Trophy. The runner-up, Dave Gawthorn who is already sponsored, made a superb gesture by auctioning his Fox Stratos 12000 MAG prize and donating all proceeds to the Stoney and Friends Charity.
The Bivvy Village saw seven new 2009 Fox bivvies displayed for the first time. The new pram-hood design bivvies certainly impressed the crowds, with many anglers claiming them to be 'the best bivvies they have seen!'.
Other attractions included the hilarious Play Your Carp Right game by Mike 'Spug' Redfern, a Rig Clinic with the Fox RAF Carp Team, fishing demonstrations, a Fox Rig Masterclass with Steve Spurgeon and Chris Rose and two Q&A Forums featuring a variety of Fox stars.
"I was delighted with how the event panned out. Over 500 carp anglers braved the heavy rain that battered the rest of the country to see our latest products.
"Anglers rarely get the opportunity to cast with a rod and reel before buying, or putting up a bivvy to get a real feel for the space inside. We are so confident in the quality of our products that we wanted to give everyone the chance to truly test Fox products in a fishing environment," said Steve Cole, Fox International media and publicity manager.
"The numbers who attended and the positive comments we received mean we hope to run a similar event next year. We'll be sitting down in the coming weeks to discuss how we can make the 2009 event bigger and better!"
A Video Clip of the Fox Carp Experience will be live at www.foxint.com from wednesday, September 17.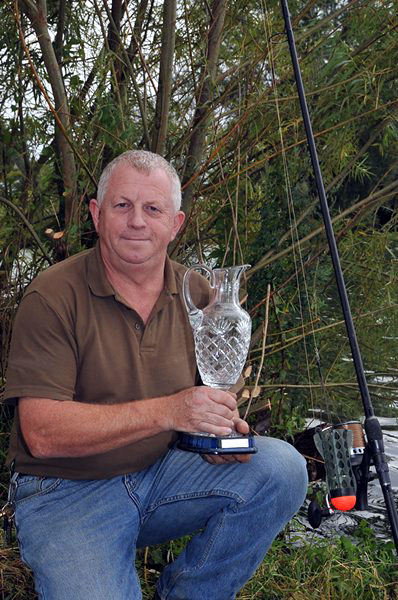 winner Peter Bennett
–