Korum Consultant, Duncan Charman (45) is turning his back on the venue where he's landed one of the biggest stillwater roach ever caught in England – at a whopping 3lb 15oz 8dr.
Targeting an undisclosed southern stillwater and after weeks of frustrations due to the cold weather, Duncan finally grabbed his tackle when he saw a milder spell approaching.
"I've been baiting the water every other day for the past two weeks, spodding out a couple of kilos of Sonubaits hemp plus around a pint of red maggots at dusk in the hope that the tuffties would leave it alone and a few fish may just turn up.
"The water's around a 60-mile round trip and l heard a few rumours that carp anglers had caught the odd big roach. It was a long shot, but with the rivers being so unpredictable at the moment, now was as good a time as any," said Duncan, who is fresh from filming with OnlineFishing.tv for its new 'Session' series.
"I took a water temperature reading a couple of days before this session and it read just 40.5F. But this had risen to 42.6F two days later, so as it was rising I knew roach were as good a target as any.
Duncan arrived at the stillwaters at around 4pm, which allowed him time to spod some bait out to a mark around 60 yards out.
"My intentions were to cast every hour up until 10pm and if nothing happened call it a day. I would have considered even a liner a result, but what happened exceeded all expectations," recalled Aldershot based Duncan.
"The rain was relentless and there was an un-favoured south-easterly wind blowing. However the air temperature had risen steadily over the previous 24 hours from just 2 degrees to 9 degrees and my barometer was reading 986mb and falling, so a couple of things looked favourable."
At around 7-45pm Duncan's alarms signalled a 'one toner' and on picking the rod up he had to give line.
"My first thoughts were that l had hooked a carp and to be honest due to the wet weather I gave it some stick. However halfway in the fish hit the surface in a splashy style and then started kiting like a roach does.
"It was then that l started to realise that l wasn't attached to a carp but maybe a roach, and a big one at that, and I started to play it with kid gloves.
"I can't really describe the emotions that were flooding my body at the time, but l remember talking to myself, saying; 'bloody hell, what the hell have you just landed!'
"I knew straight away this was a huge roach and carefully left her in a landing net whilst l sorted out the weighing and photography equipment."
On the scales the dial stopped just shy of four pounds and Duncan finally decided on a reading of 3lb 15oz 8drams. After taking the photographs he rested her in the landing net and checked the pictures do be doubly sure that the fish was 100% pure roach.
"I almost called a fishing friend, but although l knew numerous people would have rushed out, I also knew that having just one other angler knowing its location would eventually lead to pressure descending on the water," said Duncan, who added that the awesome fish's dorsal fin was as big as his fist.
"So I made a decision there and then to leave the water and not to return, as this fish disserves huge respect and l knew that by keeping its location secret it would mean that l could return another year to search out the venue's true potential.
"Some may say l'm mad not continuing to fish the water, but this fish is a fish of many lifetimes, and l feel truly privileged to have caught her."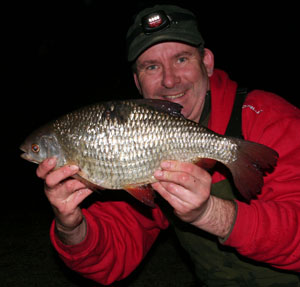 The kind of fish angling dreams are made of – Duncan Charman with his 3lb 15oz 8dr stillwater roach – one of the biggest of the species ever caught by design in England.
Duncan's Big Roach Rig
Duncan, who was fishing in open water and not close to any bars or features, was using what he calls the standard 'Lynch Hill roach rig', his standard set-up when fishing for big roach.
This self hooking helicopter style set-up incorporates a 30gram Preston Quick Load maggot feeder and a short three-inch hook link made from 5lb Reflo Xceed, with a size 16 barbed Drennan Carbon Specialist with two red maggots popped up using some yellow rig foam.
His rod was a Korum Precision Multi Feeder, with a 1.5 lb tip fitted and a KXi50 Freespool reel.
He had spooled up with 8lb Preston Direct Mono a few days before the trip thinking that although the lack of stretch in this line may just cause a few hook pulls, it would exaggerate any liners or bites.
---