The Total-Fishing.com Glebe Festival is now in its eighth year, making it one of the longest running events in the calendar. Once again it attracted a great turnout and with fishery owner Roy Marlow donating the pegging fee over the two days to charity, the 65 anglers raised well over £2,000 for good angling causes.

The anglers found the carp on the Glebe and nearby Foundation Lake in a finicky frame of mind, although there were still come excellent weights recorded including several tons, topped by Jarrad Smith's 174-8-0 from peg 23 on Pool 2 on the second day.
The festival itself is decided on section points and after two days, three anglers had a perfect two-point score. It went to weight, Jamie Adcock becoming the eighth different trophy winner thanks to a very straightforward, almost symmetrical match.
Jamie weighed in 114-4-0 from Pool 1 on the first day, and 114-12-0 from Pool on day two, and never picked up his pole on either day.
It was all plain sailing for the Coalville angler, who started on hair-rigged meat on the feeder right across, fished in conjunction with Fin Perfect 2mm pellets rather than groundbait. He caught fish early on both days and as more anglers came off the line, his feeder swim got better.
"If you have the bottle to stick with the feeder line as others come off it, and can fish it accurately, your swim will usually just keep improving here at the Glebe," said Jamie.
Second spot went to fishery regular Kev Russell, who had won the first day of the Ivan Marks Festival the previous weekend.
Kev knew from the Ivan Marks match that unless you were on a lot of fish, big baits and heavy feeding were out, so he opted for a maggot and caster approach. The first day saw him pegged on Pool 5 where he switched between feeder with Marukyu 131 groundbait and fishing shallow, each time feeding caster and fishing three maggots on the hook, for 70lb. On the second day on Foundation, he fished a five-metre pole line, feeding caster by hand and again fishing three maggots just tripping bottom, for 118-10-0.
Third place went to another Glebe member in Harry Warren, who weighed in 87lb and 83lb from Pool 7 and Pool 1, both days fishing corn and meat over hemp and casters at 7m and down the side.
To fish the festival and other events run through the website, anglers need to join www.total-fishingclub.com at only £5 per year. The club championship is booked for Barston Lakes in July and new members are entitled to fish.
Total-Fishing.com's Gareth Purnell said: "In the current climate it was really pleasing to get such a great turnout. As ever with this festival it was fished in a tremendous spirit, which is what makes it so special."
Results: 1 Jamie Adcock, total-fishingclub.com, 2pts, 229-0-0; 2 Kev Russell, total-fishingclub.com, 2pts, 188-10-0; Harry Warren, total-fishingclub.com, 2pts, 170-0-0; Andrew Williams, total-fishingclub.com, 3pts, 269-0-0.
Anglers wishing to fish the 2011 Glebe Festival click on the link – 2011 GLEBE FESTIVAL LIST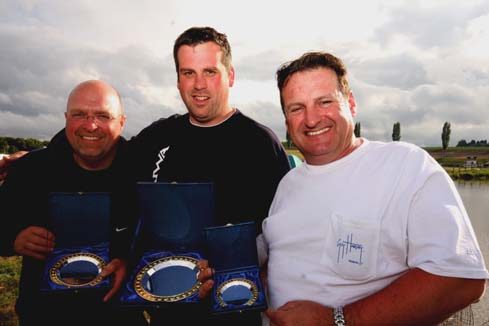 From left to right, Kev Russell, Total-Fishing.com Glebe festival winner Jamie Adcock, and Harry Warren.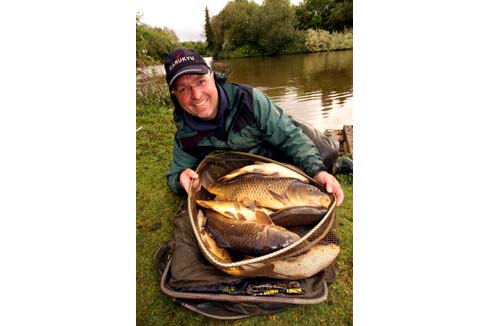 Kev Russell shows off part of his section-winning bag from Foundation, taken on caster and maggot.
Some of the Total-FishingClub boys whose generosity saw over £2000 raised for angling good causes.
---