TFG COMPACT ALLROUNDER
A massive £60.00 saving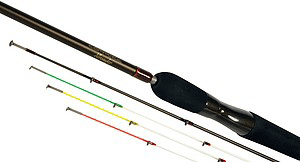 Breakthroughs in rod building gives you a rod that can do it all. Method fishing on commercials: no problem; light feeders on lakes: just the job; heavy wagglers for carp: you bet; delicate float fishing for silver fish: this rod does the lot and then some!
Combining power and sensitivity, the TFG Compact offers you the chance to fish any water with any technique, with just one rod!
• Supplied with 3 quiver tips
• Extension section converts rod from 8' to 10'
• Super fighting action
• Accurate casting performance
• Great float rod
• Superb feeder rod
• Lifetime guarantee
To view details of this great offer click on TFG Compact Allrounder
---
I TONE ALARM
A massive £50.00 saving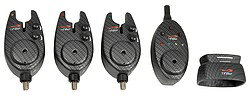 The TFG I-Tone Bite Alarm has been designed to inform you the instant a fish picks up your bait. A super sensitive roller delivers outstanding early warning bite detection, while digital circuits supply a reliable weatherproof alarm system that will never let you down.
• Instant bite detection
• Reliable in all weathers
• Remote wireless receiver
• High visibility LEDS
• LED's remain active for 20 seconds after bite
• Long battery life
• Volume control
• Tone control
• Easy to use deluxe alarm system
To view details of this great offer click I Tone Alarm
---
COMPACT CARRYALL
Save £20.00

Particular care, consideration, extensive testing and a no compromise build quality are just the beginning of why this exciting new range is already the 'must have' luggage for the demanding angler.
Absolutely loaded with extras and special features to make your life easier when fishing. The large interior has two compartments to allow you to organise your tackle the way you want; one compartment for tackle the other for bait, or one for food the other for clothing – the choice is yours.
• FREE medium Lok boxes x 2 worth over £30!
• Removable drop in cool bag
• Large front pocket for keepnets, slings etc
• Padded adjustable shoulder strap
• Top quality zips
• Heavy duty waterproof construction
To view full details of this great offer click Compact Carryall
---
POWER GT FREE SPOOL
Only £29.99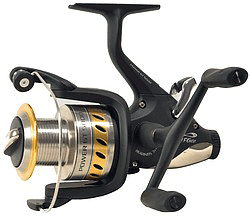 Powerful action
Precision control
Reliable performance
One of the best free spool reels on the market. Precision gears, powerful cranking action and offering great distance casting, this reel performs well no matter how hard you fish with it.
• Easy to use Free Spool
• Lightweight and balanced
• Outstanding casting
• Strong metal body
• Smooth reliable drag system
• Balanced double handle
• 4 ball bearings
To view details of this great offer click Power GT Free Spool
---
MATCH BOSS SEAT BOX
Save a massive £70.00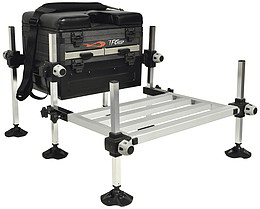 Better box! Better fishing!
The more comfortably you sit the better you fish. The Match-Boss has been designed to suit your individual needs so you can be at your very best, however and wherever you choose to fish.
• Seat cushion reinforcement provides extra thigh support
• Fully adjustable legs- provides level fishing on any peg
• Fatigue free seating – no matter how long you fish
• Easy to use drawer system for your essential tackle
• Compatible with deluxe TFGear match accessories
• FREE Footplate and carry strap worth £40
To view details of this great offer click Match Boss Seat Box