Shakespeare Championship Qualifier
Sunday July 15th
Warwickshire Avon – Evesham Town Waters and Hampton Ferry
70 pegs
After some excellent midweek roach catches most competitors expected the fourth Shakespeare Championship qualifier to dominated by the species but heavy overnight rain and a river that was colouring up during the match paid to that. Instead it was chub which featured in most of the leading catches.
For the first time this season Pegs 1 and 2 failed to produce any bream, much to the delight of match winner Dave Harrell who fished waggler and maggot three quarters of the way across to take a mainly chub weight of 12-2-0 (pictured below).
Second place, again with mostly chub and one small barbel on the waggler went to Howard Kaye at Peg 29.
Ian Sutherland took third with 10-0-8 of tench and eels on an open end groundbait feeder at Peg 42, ahead of Colin Williams with 7-6-0 from Peg 62 and Rich Reynolds with 7-4-0 of small chub from Peg 35.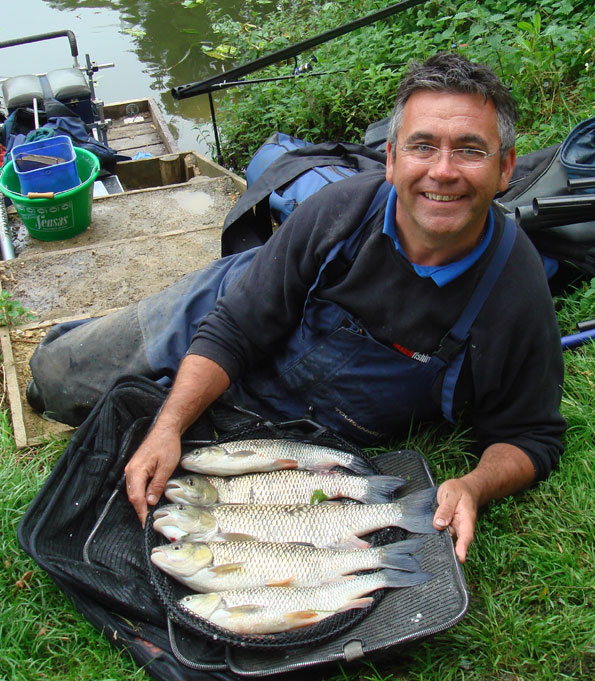 Result
1. Dave Harrell (Match Fishing) 12-2-0 (peg 7)
2. Howard Kaye (Sensas) 11-10-0 (peg 29)
3. Ian Sutherland (Land Rover) 10-0-8 (peg 42)
4. Colin Williams (Britannia Brigg) 7-6-0 (peg 62)