Mallory Park Fisheries will be holding the fifth annual running of the Ivan Marks Memorial Match. It will be, as always, open to all anglers of any standard and offers a great opportunity to 'rub shoulders' with star anglers from all over the country, including Full Internationals from several countries.
This event will take place on Saturday 23rd May and Sunday 24th May 2009 to be fished on The Glebe Pools and Foundation Lake. Entrants need to stipulate which day they wish to fish as first choice, as places are limited, and tickets are already selling fast for the two 100 peg matches held in memory of the legend himself, Ivan Marks … so get your entry in quick! Anglers can fish on both days if the book-up and pay their entry early doors.
The angler recording the biggest weight on either day will receive the coveted Ivan Marks Memorial Trophy and, once again, this award will be presented by Linda Marks and son Chris Marks. Zone winners will also receive engraved trophies.
Entry is £20, all of which goes to the Ivan Marks Memorial Fund, and there will be optional pools on both days with payouts spread out to give every competitor a good chance of winning 'some coin' while bagging one of the many 100lb plus weights always on offer at The Glebe.
A substantial donation is to be given to 'Fish Legal' out of this year's Memorial Fund. Ivan would have wanted to support this cause which benefits all anglers.
Cheques should be made payable to: 'Ivan Marks Memorial Fund' and sent to:
Match Catch
14 The Green
Syston
Leicester
LE7 1HQ
Tel: 0116 260 0850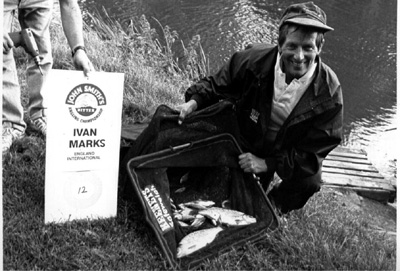 Please enclose a stamped addressed envelope for confirmation of booking, official ticket, fishery rules and details of local accommodation.
The draw on both days will be at The Glebe Fishery from 8.30am to 9.30am and fishing times are from 11.00am to 4.00pm.
Catering, including breakfasts and refreshments, will be available in the marquee at this two day spectacular event, and guests/spectators are more than welcome to visit The Glebe, watch their favourite anglers in action, see some fantastic flora and fauna, and a have a go at winning some special prizes in the mega raffle!