"Wootton Smashes Venue Record In Ivan Marks Memorial"
Hot, still and sunny conditions greeted the anglers fishing the fifth running of the Ivan Marks Memorial Match held at The Glebe complex and Mallory Park's Foundation Lake which had been closed for the previous two months and saw plenty of fish cruising near the surface.
Leicester 'hot-rod' of the moment, 28-year-old Rob Wootton, took the Day Two 100 strong field apart as he smashed his way to a record-breaking victory, taking advantage of his local knowledge to plunder the venue's carp population in scintillating fashion.
The Middy/Dynamite Baits backed star drew peg 26 on Glebe Pool 1 on the second day of this two-day annual event in which almost 200 anglers took part and fished pole shallow to amass 64 carp, five chub and a skimmer to post a 325lb total weight, setting a new 5 hour match venue record in the process.
Rob had carp up to 10lb in his net using one-and-a-half bags of Dynamite Baits Swimstim feed pellets and five pints of casters to keep the fish active up in the water and catching carp in short bursts throughout the five hour match on banded 6mm pellet.
21 competitors bagged over 100lb of fish on Day 2, including runner-up Carl Lee-Hope, who found himself drawn on Glebe Pool 3 (Uglies Lake) in the corner peg by the boards. Carl fished pole tight to the boards to amass 203lb of mainly carp, finishing clear of third placed angler Dave Scott with 175lb from peg 86 over on Pool 6. Team Abu men, Andy Towers and Steve Porter, finished with 166lb and 159lb respectively to take fourth and fifth spots from Glebe Pool 1.
The Day One match was dominated by local Hinckley angler Max Higgott, who drew fancied peg 63 on Glebe Pool 3 and caught fish down the edge on paste to record top weight with 131lb, enough to beat ex- 'Leicester Likely Lad' Brian Envis off the next peg, who netted a level 120lb. Rob Wooton (Middy/Dynamite Baits) was third with 107lb from Foundation while Preston Innovations star Andy Findlay filled fourth place with 104lb taken from Glebe Pool 1 peg 20.
Overall winner with the highest individual weight, Rob Wooton, was presented with the famous Ivan Marks Trophy by Linda Marks and she also presented a £500 cheque to fishery owner Roy Marlow who accepted the donation on behalf of 'Fish Legal' and the Angling Trust.
Results:
Saturday (Day 1)
1st Max Higgott 131lb
2nd Brian Envis 120lb
3rd Rob Wootton 107lb
4th Andy Findlay 104lb
Sunday (Day 2)
1st Rob Wootton 325lb
2nd Carl Lee-Hope 203lb
3rd Dave Scott 175lb
4th Andy Towers 166lb
5th Steve Porter 159lb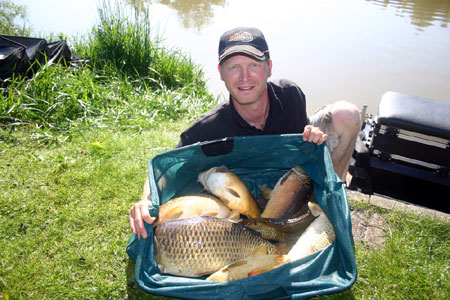 Rob Wooton with a small part of his winning 325lb catch