"Team Marukyu Sizzle To Victory In Ivan Marks Memorial"
Very hot, still and sunny conditions greeted the anglers fishing in the sixth running of the Ivan Marks Memorial Match held at The Glebe complex and Mallory Park which had been closed for the previous two months and saw plenty of fish cruising near the surface and even more in the throws of spawning.
191 anglers fought it out over this two day festival of angling and Day 2 brought about a fish for fish battle over on Glebe Pool 3, known locally as 'Uglies', with Team Marukyu hotrods John Hall and Rich Morgan going at it all guns blazing and matching each other big fish for big fish.
At the final whistle, John Hall slammed down the scales with 29 bulky carp for a breathtaking 271lbs and victory, closely followed by an equally impressive catch of 28 quality carp for 267lbs from Rich Morgan, just an agonising four pound short of the winner's weight.
Both Team Marukyu Pro Rods used their local knowledge in scintillating fashion to plunder the venue's carp population, targeting the bigger specimens with the very latest Marukyu baits from Japan, a sure sign of great things about to burst onto the angling scene as these baits hit the shops this summer.
Drawn on Peg 48, local rod John Hall (27) from South Wigston fished shallow at 16 metres on the pole all day, using 8mm banded Marukyu Protein Pellets on a size 16 hook, feeding 6mm pellets and getting through a one kilo bag during the five hour match. John caught from the start, with his first four carp weighing a total of 50lb, and during the last hour he put no less than 85lb in his final keepnet including individual fish to 15lb.
Runner-up Rich Morgan (53) from Keyworth fished a different pole style on Peg 44, utilising the cover of a small tree and fishing just 5 metres down edge, feeding 1mm Marukyu Nori micro pellets and putting three maggots glugged in Marukyu Liquid Sanagi on a size 12 hook. Rich's first carp went the best part of 19lb but later paid the price of taming these monster fish as a broken top kit possibly cost him the coveted title.
The event was opened on Day 1 with a bang, as Nottingham's 'Kevsan' Russell (46) steamed into Glebe Pool 5, amassing a 194lb weight of mainly carp from end peg 85. The Team Marukyu Pro angler fished long down the side feeding a variety of baits laced with the new Marukyu additives and at one time had carp trying to get inside his keepnet where surplus bait had fallen in!
First time visitor Ian Frith (42) from Market Deeping eased into the runner-up spot from Glebe Pool 7's Peg 98, catching carp shallow at 13 metres using 6mm banded pellet over Dynamite Baits Swimstim pellets, having taken four early fish on feeder and meat.

Overall winner with the highest individual weight over the two days, John Hall, was presented with the famous Ivan Marks Trophy by Linda Marks. Ivan was a big supporter of the ACA, now amalgamated to form the Angling Trust, and Linda continued this theme by donating a cheque for £500 to this guardian body of angling.
Results:
Saturday (Day 1)
1st Kev Russell (Team Marukyu) 194lb
2nd Ian Frith (Dave's Peg ) 152lb
3rd D.Childs (Unattached) 124lb
Sunday (Day 2)
1st John Hall (Team Marukyu) 271lb
2nd Rich Morgan (Team Marukyu) 267lb
3rd Chris Downs (Team Marukyu) 170lb
Website: www.malloryparkfisheries.co.uk
Kev Russell and Linda Marks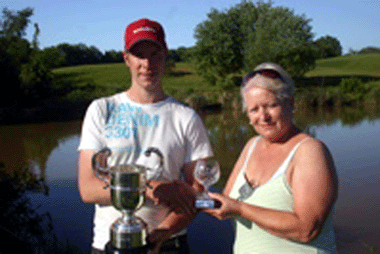 John Hall and Linds Marks