Czech adventure angler Jakub Vagner is closing in on his life quest to land every freshwater fish that swims and grows to over 100kg in weight. And he is back among the world records again – this time with a strange-looking Indian catfish called a Goonch (pictured).

Jakub was on a TWO-MONTH exploratory fishing trip filming with National Geographic, initially through the Congo where he fished Lake Tanganyika for goliath tiger fish and an 'unknown' member of the perch family called Lates angustifrons that's believed to grow to 200lb.
Next stop for our globetrotting hero, who appears on OnlineFishing.tv in his 'Fishing With Jakub' series, was Asia where he did battle with Siamese carp to 45kg and 140kg Himantura chaophraya, the giant freshwater stingray that can grow over 1000lb in weight (see http://en.wikipedia.org/wiki/Himantura_chaophraya ).
As we write he's on his way back from India, where he landed goonch catfish to a world best of 75kg – a flesh-eating fish boasting menacing teeth and a fearsome reputation that's been blamed for the disappearance of bathers on the Nepal: India border!!
Jakub, who broke the world arapaima record with a 130kg Amazonian fish in 2007, and landed a world record 190kg Brachyplatystoma filamentosum Amazonian catfish in the same year, told OnlineFishing.tv:
"I need only five more species to catch all freshwater species which can grow to 100kg. I hope I can reach that goal in the next year."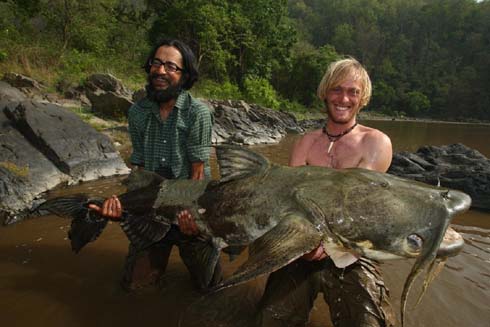 Jakub and guide with the awesome Goonch catfish, a fish with fearsome
teeth that's been blamed for eating bathers!!
Fishing With Jakub: Aligator Gar In Texas
FREE TRAILER 1: http://www.onlinefishing.tv/articles/detailed-article/texas-part-1/low/
FREE TRAILER 2: http://www.onlinefishing.tv/articles/detailed-article/texas-part-2/low/
About Jakub Vagner: http://www.onlinefishing.tv/articles/presenter-article/21/
Goonch Catfish Video: http://uk.truveo.com/river-monsters-catching-goonch-catfish/id/216172828783725725
---