Battling horrendous conditions and a final line-up of the quality we had never seen the likes of before meant this year's Carp Cup champion would be even more of a deserved winner, but who would emerge from 40-hours of top end competition and leave with the coveted UKCC trophy?
The weeks leading up to the final saw many of the finalists Oxford bound to make their last-minute preparations and in some fine early-autumn weather, it's fair to say they made the most of it with some big catches reported.
However, in the days leading up to match weekend the story couldn't have been any more different. A full 180-degree switch in the wind direction brought with it a decidedly wintery feel and with the chilly conditions forecast to last through the final and beyond, there was plenty of uncertainty about how Oxlease would respond.
We needn't have worried though as hardly any of the 40-hours had passed before the first reports of action were filtering through.
Pegged in the middle stretch of Oxlease, it was Ricky Moody who kicked off proceedings with a chunky 22lb 10oz mirror and he would quickly follow it up with an upper-double to move into the first evening on a healthy 41lb 13oz, with Kev Grout in second.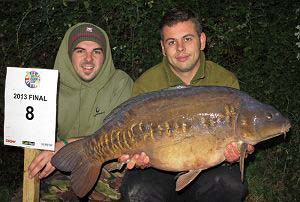 Kev Grout with a 27-pounder
taken during the 2013 UK Carp Cup
Kev got off the mark with a 24lb 1oz mirror whilst James Anderson opposite had also bagged a couple of the smaller Oxlease residents to sit in third on 23lb 2oz. With Martin Cronin and Cliff Kemp also netting a carp apiece, the 2013 Carp Cup final had got off to a flying start.
Early carp for both Grout and Anderson had actually come as a surprise to many of the field as in truth there were few who fancied the swims at the Northern end of Oxlease. However, with a strong and very cold North-westerly hacking towards the far end of the lake, the conditions had brought the un-favoured end of Oxlease well into play. In fact all of the anglers pegged on the sheltered half of Oxlease would find some action overnight and by Saturday morning it really was anyone's match to win. James Anderson had rallied during the early hours to land another three carp topped by a 30lb 10oz mirror and his 83lb was enough for the lead.
Ricky Moody had also caught a couple more overnight and another double at 9am saw Moody edge to within 6lb of Anderson. Following the leading duo were a multitude of big names all sat on two carp apiece and the list sounded like a who's who of carp fishing with Kev Hewitt (who had also bagged himself a thirty), Harry Charrington, Rob Greening, Kev Grout, Lee Baker and Martin Cronin all well in touch. A very welcome 19lb mirror for Cliff Kemp then saw him join the 'two fish' party and despite this group of anglers all hovering around 40lb behind the leader, the stamp of fish in Oxlease meant it was a deficit that could easily be made up.
The big fish were on the feed too as next to see action was Brian Byford with a superb 34lb mirror. Pegged opposite the island where Ryan Need won the competition from in 2012, this area of Oxlease had been fancied by many to provide a similar result this year.
However, Brian had seen little in the way of activity until his margin rod trundled off with an Oxlease thirty on the end, which also kept him in the running. Brian's carp would be the last out for a good few hours though as when conditions finally brightened up and the rain stopped, it seemed to bring with it a temporary halt to the carps' morning feeding spell.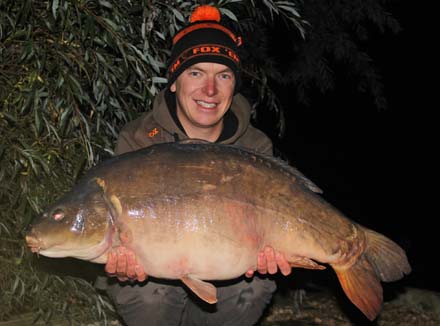 James Anderson with a cracking 30lb 7oz mirror from Oxlease.
Carp were being spotted though and through the afternoon seemed to be congregating in two main areas. The water in between Grout and Anderson was carp soup and whilst bites were proving hard to come by, if the numbers of fish being seen were happy to hang around for long enough, it was only a matter of time before the action started.
A smaller pocket of carp were also being seen around the island and one angler pegged in this area who was more than capable of making inroads into them was Billy Flowers. With the sun making a brief Saturday afternoon appearance, Billy quickly changed his rods over to zigs and was met with an almost instant response. A quite lengthy battle commenced and when the carp finally wallowed over the spreader block, it was clear that one of the Oxlease A-Team had tripped up. The big mirror weighed in at a massive 38lb 11oz and put yet another very capable angler within touch of the leaders.
Late afternoon saw the day fill in once again and with darkness rapidly closing in there was an increase in activity from all the UKCC finalists. As had been predicted, the maggot approach had produced the vast majority of bites and as the rain started to fall again, the last few Spombs of maggots went in.
Whilst everyone was still hopeful of some action, it was fair to say that all eyes were now on the swims of Grout and Anderson who had a serious amount of carp in front of them. Surely it was only a matter of time before one of these anglers got a chance and as the light faded it was Grout in action only to see the Oxlease maggot muncher fall off at the net.
The experienced Kev takes minor setbacks like this in his stride though and soon mustered a second chance from a welcome 24lb mirror. The fifth Oxlease thirty of the weekend then put in a priceless appearance to see Grout move right into contention with 90lb, although opposite there was action to be had in James Andersons' peg too.
A succession of carp including a double-take from 19 and 20lb mirrors saw Anderson quickly add a quartet of carp to his score to hit 148lb 10oz and stretch his lead over the second-placed Grout to 58lb. A couple more carp for Anderson would surely leave too much for Grout to do, although it was Kev who was next out in the driving rain to land a 20lb mirror and then unfortunately lose one to an open water hook pull.
With around 8 hours of the contest to run, Grouts' twenty had left a gap of just 38lb separating the leaders. However, the increasing amount of time since Anderson's hit of four early-evening carp was proving a real concern. There would be two further chances to come and it would be Grout who got the first. Rather than concentrate his rods on one baited area, Grout's tactics of spreading his rods seemed to be paying off and there was soon another Oxlease lump in the net. Weighing in at 27lb 11oz, the gap was suddenly down to just 10lb and there was still five hours of the match to go.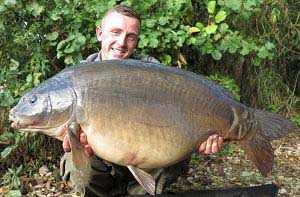 Billy Flowers with the biggest carp of the event at over 38lb.
Despite trying everything, Anderson just couldn't find another chance and at 7.20am his worst fears came true when Grout hooked into yet another big fish. The cracking 27lb 12oz linear was the last of a remarkable run of big fish for Grout and was certainly a worthy carp with which to take the lead.
With fish still in the area and two hours to go there was still time for yet another match-changing capture, but in the worsening conditions it wasn't to be and a more popular winner of the UK Carp Cup would be hard to find. Having appeared in many of our finals in recent years with long-time partner Matt Wyld, it was only a matter of time before Kev Grout took down one of these big events from runner-up James Anderson who had also fished brilliantly. Match tactics for Kev revolved around maggots soaked in CC Moore Liquid Bloodworm with his fish coming to both bottom and zig-rig tactics.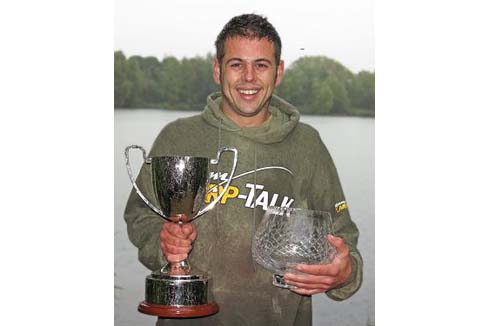 UK CARP CUP 2013 RESULTS
Kev Grout 165lb 11oz
James Anderson 148lb 10oz
Ricky Moody 77lb 5oz