Lake Guri: Venezuala's Best-Kept Secret
By Steve Townson www.amazon-angler.com

I travel all around the world to get my fishing fix and as I am a roving, fish-mad, action-seeking sportsangler and wildlife fanatic, I love nothing better than heading up some undiscovered jungle river or hidden lake in search of crazy, wild fish.
I was invited three years ago to 'sample' the magnificent fishing' on Lake Guri in Venezuela at the Headwaters Fishing Camp run and owned by the most hilarious host I have ever had the pleasure to meet, the very jovial and colourful Mr Steve 'el Ombro' Shoulders from Texas.
He has the whole family joining in, from Venezuelan wife Zulay in the kitchen, their daughters Isabella and Karen as barmaids and waitresses to driver son Alejandro.
This great fishing in Venezuela and unrivalled hospitality is so addictive that I have now just spent my eighth trip there in three years!
And don't even go there with the food! I'm talking about the biggest portions of grub that, as Steve tells every unwary visitor in his deep Texan drawl, are "jus' like your Momma used to cook".
So how did it go my first time? Well, first I had to fly to Caracas, then on arrival I walked directly through to the national terminal and within two hours I was on the way to the town of Puerto Ordaz, an hour's flight away.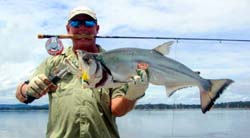 This is the bullet-proof, sabre-toothed speedster known as the Payara which Steve caught on surface lures and large fly patterns.
Alejandro picked me up and off we blasted in Steve's Toyota Land Cruiser towards the little mining town of El Manteco just off Lake Guri.
One of Steve's guides was there to meet me at the water and onwards to camp we went in a large American-style Bass boat with a 75HP engine strapped to its back!
To say I was blown away by the sheer size of this man-made lake is an understatement. It supplies nearly all of Venezuela's hydro-electricity!
An area 80 miles long and about 20 miles wide (or about 3,000,000 acres), it's so vast, it's genuinely like an inland sea. Surrounded by breathtaking jungle scenery, I was salivating in anticipation for my first day's fishing.
I had been told that the savage, tackle bustin' and beautifully-marked Peacock Bass and the Cruise missile-like silver Payara in this fabled water fight like no other. I just had to find out for myself.
Early the next morning, ripping the lake's surface to a froth with propbaits like the big-game Woodchoppers and Pavon Props, I was rewarded by my first Venezuelan Peacock Bass (or Pavon in Spanish).
I have caught literally thousands of these fish in the Amazon jungles of Brazil, but I was just not prepared for the beating I was given when that first 'Pavon' blasted my lure, tearing 50 yards of 80lb PowerPro braid off my Curado baitcaster and hanging me up in a clump of submerged trees.
My guide Elias had to literally dive in and retrieve the lure from down under. We both estimated this fish to have been a 'high teener'.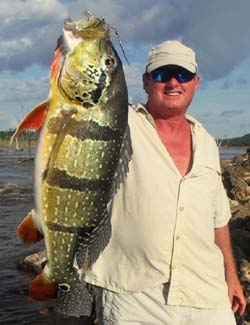 Steve with a magnificently marked Peacock Bass that he has caught to well over 20lb from Lake Guri.
"Okay," said I, "Peacocks 1, Stevie nada. Try again fella!"
And try I did. At the end of the five-day trip, Guri gave up over 150 Peacocks to me from 5lb to 22lb, mostly from surface lures and I have never bettered this anywhere else.
I did try out a few jigs and subsurface lures, but why bother when the fishing is so good on top? To have fish literally explode on a surface lure is a sight to behold, but this fishing is not for the faint-hearted. The Guri Pavon are so much thicker and stronger than your average Amazon Peacock Bass and hence their fierce demeanour.
There are so many much baitfish here that the Peacocks and Payara are constantly gorging themselves and a well-placed lure cast into the middle of a feeding frenzy usually does the trick.
I did catch a few Payara this trip up to 12lb but I was really concentrating on the Pavon to find out what worked there the best.
In following trips I have had to learn to adapt to every situation that an angler could possibly find in a lake, from a drought situation to overflowing, from tornados and tropical storms to hot, sultry days where not even a ripple disturbed the lake's glassy surface.
On my last three trips to Guri this year I was honoured to host three groups of great American and Brazilian anglers and I honestly believe I have had the most exciting fishing I have ever experienced in my fishing career.
Trip one saw the lake at the lowest it has been in many years. The rains had only just started two weeks before but the lake was starting to fill quickly.
What is normally a fairly placid lake in front of Mr Shoulders' camp was a raging torrent of whitewater.
"How can I fish this?" I thought! Well adapt is what I did, listened to the locals and what a fabulous week. In just five days I managed to pull out over 110 Pavon from 10lb to 18lb and also over 90 Payara to 17lb!!
My arms have never hurt so much. I caught them on large, specially-made SOB Guri 1oz spinnerbaits, topwater lures like walk-the-dog Spooks and Pavon Props, heavy rubber shads, Rapala minnow jerkbaits and for my 'piéce de resistance', a tiny little lure called a Little George.
This is El Ombro's favourite bait, a tiddly one-inch, 1/2oz lead lure shaped like a small baitfish, with a tail spinner and which the line passes through the middle of this dinky little bait from top to bottom.
It's then tied to 80lb (yup, 80lb!!) braid and a small but extemely strong 4X #2 treble hook.
You have to cast out and let sink to the bottom, to then be drawn towards the boat while being slowly jigged up and down. Many times Steve el Ombro has put me to shame with these whimpy baits, so now my turn.
The strikes on these baits are nothing but heart-stopping and many a poor, unexpecting and embarrassed angler has lost rod and reel overboard to a heavy Pavon hitting them with such ferocity.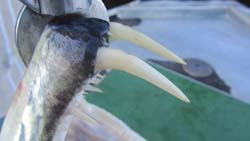 That will be your Dracula Fish then – also known as the Payara. Wow!
On the last morning before setting off on my return leg, I decided to concentrate purely on Payaras and WOW did I succeed – 20 Payaras in three and a half hours from just one spot next to a rapid with ata least another 50 lost. My biggest pulled the boga grip (special scales for toothy predators) down to a respectable 17lb.
Payaras have the most unbelievably bony mouths, and coupled with their huge, lower fangs that fit into conical nose cavities in their upper jaws, they are a true predator and well worthy of their nickname, The Dracula Fish!
Trip two saw the river rising so quickly that places I had fished three weeks before were now over 20 metres underwater!
How to fish now? It seemed most of the fish were deep down with the occasional Pavon taken from surface lures. Spinnerbaits and jerkbaits did well and once we got into the rythmn of things, we caught fish after fish.
A huge storm dumped another metre of water on us on Day 4 and again we had to find new fishing spots after the latest ones were again drowned out.
I continued to catch and release over 90 Pavon and 75 Payaras during my five days and also my first Payara on a home-made streamer fly. Fly fishing for Pavon and Payara make a mockery of normal fly fishing though. I use the term 'fly' loosely, because for these tackle-busting bruisers, we use 20-25cm streamers that would look better on a drag queen's ear!
Nevertheless, a cracking 12lb Dracula came to the boat after a long fight.
You have to remember, to catch big Payaras, you need big baits, as they normally eat other fish from between a third and half their own body weight.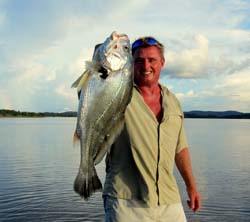 Steve with another weird and wonderful Lake Guri creature.
Trip 3 three weeks later and the fishing turned out to be completely different than the other two. Water levels were at their highest and trees, bushes, beaches, banks, rockpiles, mostly all were now underwater. "Ouch, now what"?
Again, adapt, adapt…. and it paid off. The Peacocks, needing heat from the sun and warm water, were slower, being turned off by the influx of cooler water roaring down from the mountains, but this only turned the Payara on even more. I ended up fishing points and eddies where current was more obvious and I hit pay dirt.
My main two lures this time were the SOB Guri 1oz spinnerbaits and huge Rapala X Raps, Rapala CD 18s and 22s and a deep diving, yellow and green Storm crankbait.
The methods I used were simple and effective. With the SOB spinnerbaits, I would cast off a point or in slow current and let the bait sink all the way to the bottom in 30-40 feet of water. If the Payaras didn't hit on the drop, they would hit on a really slow-roll retrieve, where the blades would only just turn.
But with these big deep-divers, you need muscles. You literally hurl the bait out as far out as you can, strip it in fast until it gets at least 25 feet deep, then crank steadily at a reasonable lick, bumping bottom all the way back to the boat. At the end of a day doing this, my arms were in bits! Tiring work but I managed over 75 Payara that week, with the biggest calling in at 18lb and over 50 Peacocks to 14lb.
An 18lb Payara using the current has the angler at a huge disadvantage from the start, as it's like hooking into an express train. They strike with such speed and then they just keep on running and running. I've seen guys lose thumbprints trying to slow down a baitcaster while attached to big Payaras.
A real surprise was catching a 14lb hard-fighting Corvina or freshwater silver Drum (which tasted wonderful at dinner that night) on a spinnerbait.
I also dedicated a morning to fish with large streamer flies in ripping fast water way upriver with an 8-weight fast-sinking set-up and boy, did I get hammered.
I lost over 20 Payaras and caught four up to 12lb. An average hook-up rate with these brutes is usually 1 in 5.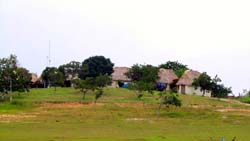 Here's where you will be staying – the best rum 'in town' and the biggest evening meals in the known universe.
Folks, the HFC is a comfortable camp, close to the water's edge, with air-conditioned 'charuatas' with private bathrooms and hot water showers. Steve even has Internet, a phone line, a widescreen TV and a bar stocked with the best rum in town.
But beware, no-one ever leaves weighing less than when they arrived. Fruit, fresh eggs, toast and bacon with freshly brewed coffee and tea everyday for breakfast, a very generous lunch and a HUGE evening meal, finished off with home-made puds and ice cream.
There's fresh fish everyday for whoever wants it instead of meat, great salads and meat to die for. And I'll wait for you to let me know about the size of the pork chop! This meal is the 'farewell, come back soon' last supper and I defy anyone who can finish it!
Steve's guides are some of the best I have experienced in all of South America and the boats are large and comfortable, with swivel seats and fast engines.
The return journey is just the opposite of getting there, a boat ride back to El Manteco, a car ride to Puerto Ordaz airport, a night in a hotel in Maiquetia near Caracas airport and the flight back home from there.
There are no fixed days to fish here, so your holiday can be as few or as many days as you want to make it. A good beginner's package would be a five-day starter trip and after that, you're hooked!
Anyone interested in coming with me on a trip of a lifetime for some amazing fishing in Venezuela, please contact me:
stevetownson@gmail.com and I will set it all up.
www.amazon-angler.com
WATCH STEVE TOWNSON'S 'WELCOME TO THE JUNGLE' SERIES ONLINE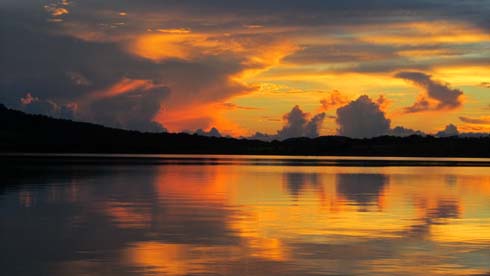 Sunset over Lake Guri – the lake with the hardest fighting predators Steve has come across.
---