BODDINGTON RESERVOIR 14 May 2009
RESULT, ROUND 2
1st Lee ENSALL (Litchfield) 75 lb 2 oz
2nd John ADAMSON (Kobra Feeders) 67 lb 2 oz
3rd Anthony WHITE (Long Eaton Victoria AS) 43 lb 9 oz
4th Lee WESTWOOD (Litchfield) 42 lb 6 oz
5th Dave KENT (Long Eaton Victoria AS) 31 lb 6 oz
Number of anglers fishing: 20
Report
On a very disappointing Boddington Reservoir when three anglers failed to get a single bite, round 2 of the 7 match LE&C Open Thursday Summer League saw Litchfield's Lee Ensall consolidate his position at the top with his second win.
Fishing peg 53, Lee fished method feeder at 80 yards, baiting with a boilie, to catch 13 carp for 75 lb 2 oz. See Photograph of Lee Ensall with half his catch.
Long Eaton angler John Adamson (Kobra Feeders) fished method feeder at 70 yards on peg 54 for his second placed 67 lb 2 oz, while third place fell to Beeston angler Anthony White (Long Eaton Victoria AS) with 7 carp for 45 lb 9 oz from peg 47.
Biggest fish landed was a carp of 15 lb 8 oz taken by Ex-NFA President Terry Fell (see photograph attached).
After two matches Lee Ensall is top with 24 points, John Adamson on 22, followed by Lee Westwood and Anthony White, both with 18, Tony Billington 17, Dave Kent 15, and Alan Jones 10.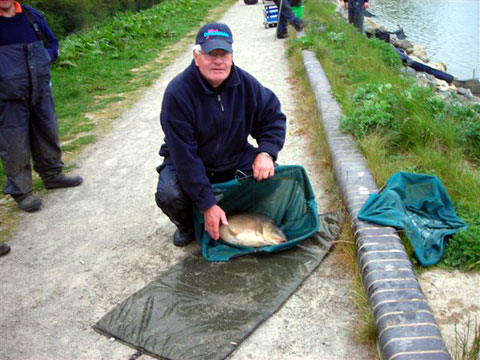 Terry Fell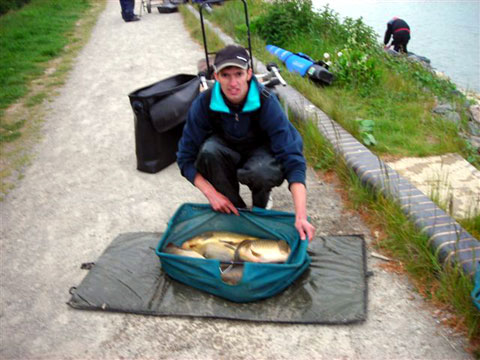 Lee Ensall
Next match is on 11 June.