It's boat fishing only on Leven – there is a fleet of fifty.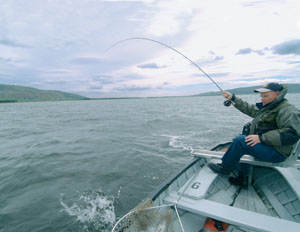 Loch Leven has a very long history. While being netted since the early 1300s, it was in the mid-19th century when Leven became popular as a rod fishery.
Leven is famous for its wild brown trout, offspring of which have been exported worldwide for stocking – guess where many of the monster Argentinian sea trout have their roots!
Due to various environmental factors, the fishing declined in the 1980s and the decision to stock with rainbows was made in 1993. At 3,500 acres, Leven is a large water and without local knowledge can be very daunting.
The loch is also an important refuge for a wide variety of wildfowl and accommodates an RSPB reserve on the south shore.
There are excellent facilities at Loch Leven, including a large lounge bar, toilets and changing rooms. Also onsite is a well-stocked tackle shop, ensuring that you won't go afloat unprepared.
Permits: There is a wide range of permits available with the day split up into 'sessions'. For more detailed information, why not check out the superb website. This allows booking online and gives weekly reports on successful flies and tactics.
Directions: From Edinburgh, cross the Forth Road Bridge and head north on the M90 until you come to Junction 6 for Kinross. You will actually see the loch on your right before coming to this junction. Turn off into Kinross, bearing right at the mini-roundabout and proceed down the main street. You will see the signpost for Loch Leven on your left. Proceed carefully down this narrow road until you reach the anglers' car park.
Contact: Tel (1): 01577 863407, Tel (2): 01577 865386
Web: www.myghillie.com
Season: March 27th to October 3rd
Opening times: 10am 'til 8pm
Cost: From £18